Industry Outlook
Prebiotics market projected to exhibit the CAGR of 10.8% during the forecast period from 2018 to 2026. Prebiotics are functional ingredients that stimulates the growth of favorable bacteria's present in the gut to facilitate digestion system. Prebiotics also facilitate the immune system, mitigate the risk of cardiovascular disease, and helps in improving gut health, thereby improving overall health of the host. Prebiotics are among the key ingredients in functional food industry. Prebiotics stimulates the growth of the bacteria present in the gut, and hence helps in metabolism. Rising awareness regarding the benefits associated with prebiotics coupled with rise in the consumption of functional food especially in developed economies expected boost the prebiotics demand across the globe during the forecast period. Other factors such as high market penetration of high-nutrition and low-calorie processed food products, easy availability of low-cost raw materials, increasing chronic disease among people globally, persistent problems of obesity among the rising youth population, steady growth of dietary supplements and ban on the use of antibiotics in animal feed and multiple health benefits associated with prebiotics for animals fuelling the use of prebiotics in food and feed industry. Increasing demand for prebiotics, motivating manufacturers to find a new and economical source of prebiotics compared to commercially available prebiotics. However, the demand for prebiotic products has been restricted owing to presence of competitive ingredients with the same common objective of improving body functionality by enhancing the enzymes produced by microorganisms inside the body. Moreover, stringent government regulation regarding the approval and usage of prebiotics in different food products might hamper the market growth in coming years.
Europe was the leading region in prebiotic market in 2017. Rising demand for functional foods among consumers in the region boosting the market growth. Prebiotics as a dietary supplements is gaining traction owing to rising focus on preventive healthcare coupled with ban on use of antibiotics in animal feed in the region driving the overall market growth. Some of the key players operating in the market includes Beneo-Orafti SA (Belgium), Cargill Inc. (US), Jarrow Formulas, Inc., (US), Beghin Meiji (France), Clasado Ltd. (England), and Abbott Laboratories (US) among others.
Market Snapshot
Market Snapshot: Global Prebiotics Market Volume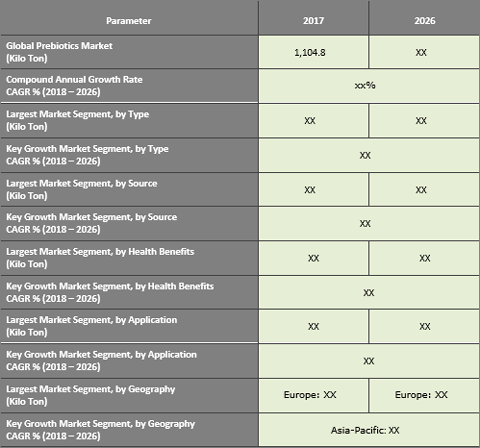 Get a sample copy for more information
"Inulin Segment Dominated the Prebiotics Market"
Inulin occupies top position in the list of prebiotics because of their availability from a wide resources with minimum cost involvement. Inulin and its different forms are present in a wide variety of plants as natural storage carbohydrates. Growing demand for inulin from drinks and baked goods expected to catapult the market growth. Inulin is the most extensively used prebiotics in animal feed due to its diversified health benefits such as slowing & improving digestion process, increasing fullness, etc. Chicory is a major source of inulin and oligofructose that are used in functional food. Moreover, it is easily available from various natural source thus making it widely used ingredient in various application.
Mannan-oligosaccharides (MOS) segment projected to be the fastest growing segment. Growth of the segment is augmented by large number of key consuming economies such as U.S., Canada, China, India, South Korea, etc.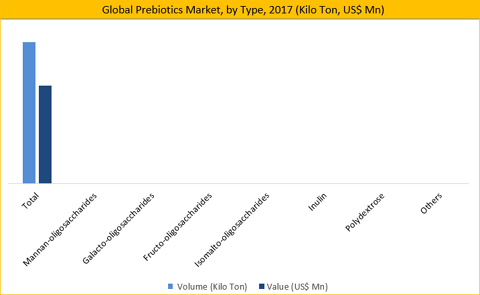 Get a sample copy for more information
"Increasing Demand for Functional Food Making Food & Beverages the Leading Application Segment of Prebiotics Market"
Food & Beverages segment accounted for more than 55% of global prebiotics demand in 2017. Prebiotics find promising application in the food and beverages products such as dairy products, nutritional supplements, infant formula, energy drinks and so on to enhance the taste, texture, and nutritive value of the food products. Moreover, rising popularity of healthy energy drinks among consumers over conventional carbonates also promote the use of prebiotics in food and beverages, thereby propelling the segment development. High consumption of dairy products in emerging economies, such as China and India, also bolstering the segment growth.
Animal feed application segment is identified as the fastest growing market during the forecast period. The rise in global meat consumption and ban of antibiotics as growth promoters in animal feed are the factors driving the growth of this market.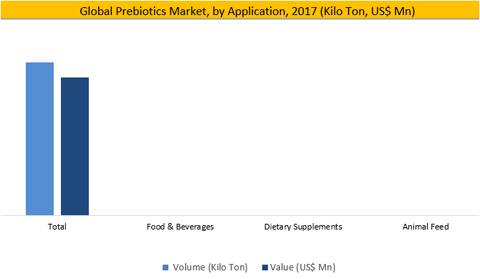 Get a sample copy for more information
"Europe Led the Global Prebiotic Consumption In 2017"
Europe is the largest market in terms of value and volume consumption of prebiotics ingredients, globally. U.K. dominates the European market in terms of value and volume consumption, followed by Germany and France. In Europe, demand for prebiotics ingredients remarkably varies from country to country due to different preferences, traditions, enforced legislation, and cultural heritage of the consumers. Consumers are generally open towards functional food for reasons of health and well-being, but with taste also being an important growth factor for prebiotics market in Europe. Also, Europe ban on antibiotics in animal feed further escalating the demand for prebiotics in the region. Strict regulations and government uncertainties on health claims made on food (and the related approval process) may hamper the development of this market and can act as an entry barrier for new companies. Asia-Pacific expected to witness fastest growth during the forecast period owing to rising consumer awareness of health and fitness, growing baby boomer population, changing lifestyle patterns, increasing urbanisation and huge consumption of dairy products fuelling demand for prebiotics from Asia-Pacific food & beverages industry.
"Cargill Inc. is the leading Player in Prebiotics Market"
Prebiotics market is highly competitive owing to presence of large number of established players such as Friesland Campina Domo, Roquette Freres, Jarrow Formulas, Inc., Abbott Laboratories, Cargill Incorporated and others. On account of rising demand for prebiotics in different application key players are aggressively investing on R&D and geographic expansion. Moreover, players have undertaken several business expansion strategies, such as M&A and new product development, to meet the increasing demand from food and beverages sector. For instance, to expand its offering of animal health and wellbeing focused feed additives, Cargill Inc., acquired Diamond V in November, 2017.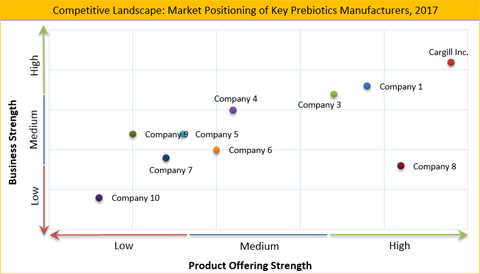 Historical & Forecast Period
Each market segment is analyzed in our study for the period of 2016 to 2026 with 2017 as the base year while period from 2018 to 2026 is considered for the CAGR calculation.
Report Scope
The report enlightens the thorough outline of global Prebiotics market by categorizing the market in different segment given below:
ATTRIBUTE
DETAILS
Research Period
2016-2026
Base Year
2017
Forecast Period
2018-2026
Historical Year
2016
Unit
USD Million
Segmentation

By Type (2016–2026; Kilo Ton, US$ Mn)
• Mannan-Oligosaccharides
• Galacto-Oligosaccharides
• Fructo-Oligosaccharides
• Isomalto-Oligosaccharides
• Inulin
• Polydextrose
• Others (human milk oligosaccharides, xylo-oligosaccharides, etc.)

By Health Benefit (2016–2026; Kilo Ton, US$ Mn)
• Gut Health
• Cardiovascular Health
• Bone Health
• Immunity
• Weight Management

By Source (2016–2026; Kilo Ton, US$ Mn)
• Roots
• Vegetables
• Grains
• Others (dairy products, seaweed, etc.)

By Application (2016–2026; Kilo Ton, US$ Mn)
• Food & Beverages
• Animal Feed
• Dietary Supplements

Geography Segment (2016–2026; Kilo Ton, US$ Mn)
• North America (United States and Canada)
• Europe (U.K., Germany, Rest of Europe)
• Asia Pacific (China, Japan, Rest of Asia Pacific)
• Latin America (Brazil, Mexico, Rest of Latin America)
• Middle East and Africa (GCC, Rest of MEA)
Key questions answered in this report
What are the current market trends in the prebiotics market and valuable opportunities for the players?
How the government regulations affect global as well as the regional markets?
Which is the most lucrative region for investment?
What is the market size and trends in emerging markets?
Which are the prime application of prebiotics across different geographies?
Which are the major type of Prebiotics and their market sizes?
Which are the major health benefits of Prebiotics and their market sizes?
Which are the major sources of Prebiotics and their market sizes?
Which are the leading players and their market position?