Prebiotics are the non - digestible functional ingredients that selectively stimulate the growth of favorable bacteria's in the gut of the host. Prebiotics facilitate the immune system thereby improving animal health.The market for prebiotics in animal feed is growing on the back of rising meat consumption. Meat and its products is considered as one of the major source of proteins, vitamins and mineralswhich are essential for growth and development.
Prebiotics in animal feed enhance the overall health and metabolism of animals. Furthermore, use of prebiotics in animal feed improves the digestion, animal performance and immune systems is expected to augment market growth. Many countries has imposed a ban on usage of antibiotics as growth promoters in animal feed. Therefore, prebiotics emerged as the new alternative for antibiotics. Thus, the ban impose on usage of antibiotics in animal feed by many countries will propel the overall market demand for prebiotics in animal feed.
However, greater shelf space and market visibility of probiotics can hamper the market growth for prebiotics. Moreover, stringent government regulations regarding the use of prebiotics in animal feed is another major factor which will hindermarket growth. The rising awareness about the benefits of prebiotics will provide a good growth opportunity for players present in this market.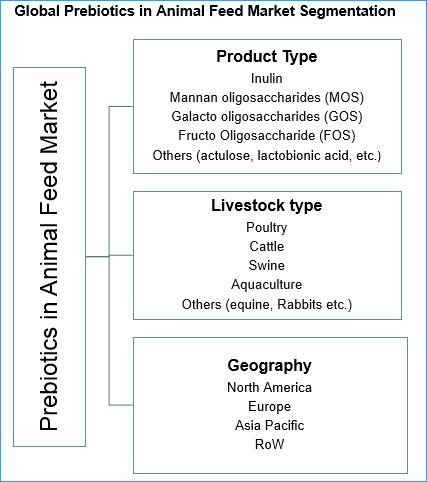 The report titled "Global Prebiotics in Animal FeedMarket- Growth, Share, Opportunities and Competitive Analysis, 2015 – 2022" offers strategic insights into the global prebiotics in animal feed market along with the market size and estimates for the duration 2014 to 2022. The said research study covers in-depth analysis of multiple market segments based on products type, livestock type and cross-sectional study across different geographies. The study covers the comparative analysis of different segments for the years 2014 & 2022. The report also provides a prolific view on market dynamics such as market drivers, restraints and opportunities.
In order to help the strategic decision makers, the report also includes profiles of the leading prebiotics in animal feed manufacturers, their SCOT (Strength, Challenges, Opportunities and Weaknesses) analysis and key developments. The major players profiled in the report areFrieslandCampina Domo, Arrow Formulas, Inc, Roquette Freres S.A, Royal Cosun, Yakult Honsha Co. Ltd., Abbott Laboratories, BENEO-Orafti SA, Cargill Incorporated, Cosucra-GroupeWarcoing SA and
Beghin Meiji. Further, the report also covers market positioning of the key players operating in the prebiotics in animal feed market. Other in-depth analysis provided in the report includes:
Current and future market trends to justify the forthcoming attractive markets within the prebiotics in animal feed industry
Market fuelers, market impediments, and their impact on the market growth
In-depth competitive environment analysis
SRC (Segment-Region-Country) Analysis
Overall, the research study provides a holistic view of the global prebiotics in animal feed market, offering market size and estimates for the period from 2015 to 2022, keeping in mind the above mentioned factors.