Industry Outlook
The global proteomics market held US$ 15.1 Bn in 2017 and expected to grow at compound annual growth rate (CAGR) of 10.4% during the forecast period from 2018 to 2026. The market is fueled by the growing importance of sensitive and accurate diagnosis offered by proteomics in personalized medicine. Detailed study of proteins provides superior understanding and opportunities for the development of drugs that can target disease pathways more efficiently. With the advent of new protein biomarkers during the disease prognosis and corresponding development of novel drugs for various chronic diseases have further strengthened the global proteomics market. Many researches have proved that proteomics analysis provide a deeper understanding of disease progression and mechanism as compared to genetic studies; hence, proteomics has proven to be gold standard in developing novel drugs for diseases such as cancer, cardiovascular diseases and neurodegenerative diseases. Supportive government funding and initiatives from the private research organizations for proteomics research, development in novel technologies such as mass spectrometry, chemoproteomics and growing focus of biopharmaceutical companies on novel drug discoveries have further assisted the growth of global proteomics market. However, stringent regulatory scenario, lack of qualified and skilled research infrastructure and high cost associated with proteomics studies are the major hindrance faced by the proteomics market.
Market Synopsis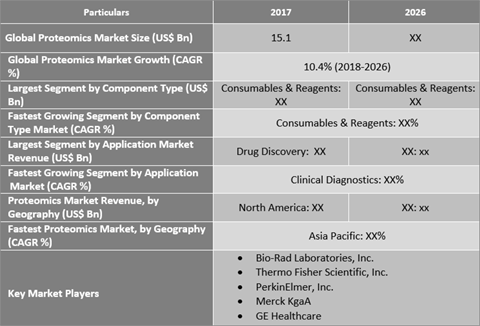 Get a sample copy for more information
"Growing Applications of Proteomics in Drug Discovery Pave the Future of Proteomics Market"
Better understanding of the proteome have led to the development of advanced sequencing methods and improved technologies that have assisted in the expansion proteomics application. Discovery of protein biomarkers have enabled the development of novel drugs. Biomarker based drug discovery is the main area of focus due to its efficiency in treating chronic diseases. Technological advancements in instrumentation and development of biochip devices will further create milestones in drug discovery and clinical diagnosis. Clinical diagnostics held the largest market in proteomics market in terms of application. Moreover, it is further projected to foresee lucrative growth during the forecast period due to development of cancer biomarker and other biomarkers in various diseases. Personalized medicine will assist the growth of drug discovery market during the forecast period.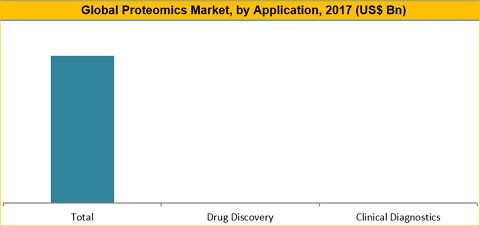 Get a sample copy for more information
"North America Dominated the Global Proteomics Market"
In 2017, North America held the largest regional market for global proteomics market owing to the domicile of major biotechnology and pharmaceutical companies carrying out proteomics research. Moreover, North America has been the spearhead in the development of novel drugs for the treatment of various chronic diseases such as cancer, neurological and cardiovascular diseases. U.S. held the lion's share in North America due to substantial funding from the government bodies to foster the growth of proteomics research in drug discovery and clinical diagnostics. Europe held the second largest share in global proteomics market attributed to the significant government funding in the region. Furthermore, the region has been an early acceptor of novel diagnostics and drugs owing to growing prevalence of chronic diseases in the region. Asia Pacific is projected to exhibit highest growth rate during the forecast period owing to rigorous growth in biopharmaceutical R&D in China, South Korea and India. Outsourcing and foreign investments in the region further makes the region lucrative for proteomics research.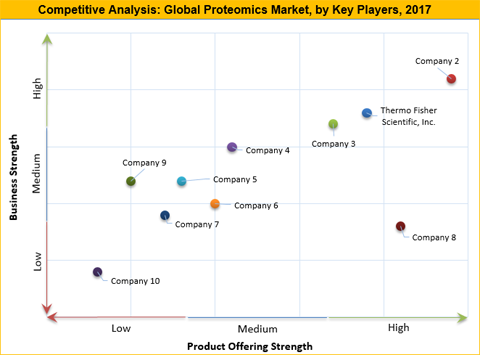 Get a sample copy for more information
Historical & Forecast Period
This research report presents the analysis of each segment from 2016 to 2026 considering 2017 as the base year for the research. Compounded annual growth rate (CAGR) for each respective segments calculated for the forecast period from 2018 to 2026.
Report Scope by Segments
Proteomics market report furnishes quantitative analysis along with its latest market trends. The market is segmented based on component type, application and geography.
ATTRIBUTE
DETAILS
Research Period
2016-2026
Base Year
2017
Forecast Period
2018-2026
Historical Year
2016
Unit
USD Billion
Segmentation

By Component Type (2016–2026; US$ Bn)
• Instrumentation Technology
o Protein Microarrays
 Biochips
 Microarray Instruments
o Spectroscopy
o ELISA
o X-Ray Crystallography
o Chromatography
 HPLC
 Ion Chromatography
 Others (Affinity Chromatography & Supercritical Fluid Chromatography)
o Electrophoresis
o Others (Surface Plasmon Resonance, Western Blotting, & Protein Fractionation Systems)
• Consumables and Reagents
o Protein Microarray Consumables and Reagents
o Spectroscopy Consumables and Reagents
o X-Ray Crystallography Consumables and Reagents
o Chromatography Consumables and Reagents
o Electrophoresis Consumables and Reagents
o Immunoassay Consumables and Reagents
o Protein Fractionation Consumables and Reagents
• Services
o Analytical Laboratory Services
o Data Analysis & Maintenance
o Quantification Services

By Application (2016–2026; US$ Bn)
• Drug Discovery
• Clinical Diagnostics

Geography Segment (2016–2026; US$ Bn)
• North America (United States and Canada)
• Europe (U.K., Germany, Rest of Europe)
• Asia Pacific (China, Japan, Rest of Asia Pacific)
• Latin America (Brazil, Mexico, Rest of Latin America)
• Middle East and Africa (GCC, Rest of MEA)
Market is studied in order to understand the current dynamics and future trends in the global proteomics market. The study includes market size and forecast for all considered segments presented in the report for the period from 2016 to 2026, along with respective compound annual growth rate (CAGRs) for the forecast period from 2018 to 2026, considering 2017 as the base year. The key players currently engaged in proteomics market include Bio-Rad Laboratories Inc., ThermoFisher Scientific, Waters Corporation, Merck KgaA, PerkinElmer Inc., Bruker Corporation, Caprion Proteomics Inc., GE Healthcare, and Shimadzu Biotech, among others. The companies are engaged in development of various reagents and technologies that assist the efficacy of proteomics research. Mergers & acquisitions of smaller biotechnology companies by biopharmaceutical giants is the major trend observed in the proteomics market.
Key questions answered in this report
How the global proteomics market will perform during the forecast period from 2018 to 2026?
What are the latest trends in the proteomics market and valuable opportunities for key players?
Who are the leading players in the global proteomics market?
Which is the leading/and fastest region in the global proteomics market?
What are drivers and restrains governing the global proteomics market?
What are the applications of proteomics and which is the currently leading application?