Market Excerpt
The global seborrheic keratosis (SK) treatment expected to reach US$ 1,320.8 Mn by 2026. Growing preference for cosmetic and aesthetic quotient and high prevalence of seborrheic keratosis are observed to be the key factors driving the seborrheic keratosis treatment market. This market is further characterized by the presence of a multitude of players operating in various treatment modules such as laser, cryosurgery, surgical removal etc. In addition, with promising topical candidates in the pipeline, the seborrheic keratosis treatment market will witness a boost in future growth.
According to an article published by Jackson JM et.al in 2015 (Jackson JM et.al. Current Understanding of Seborrheic Keratosis: Prevalence, Etiology, Clinical Presentation, Diagnosis, and Management, J Drugs Dermatol; 2015 Oct; 14(10):1119-25.), an estimated of 83 million people were affected by seborrheic keratosis in 2014 and dermatologists reported an average diagnosis of 155 patients per month with the disease in the United States. Of these patients, 33% had over 15 lesions and 67% had 15 or lesser lesions. In addition, with the surge in geriatric population, the eligible patient pool for SK treatment further expands, thus driving the overall market growth. Furthermore, it was estimated that around 43% of the patients opt for the surgical treatment due to benign and less painful nature of the growth. Additionally, lack of reimbursement policies in developed as well as developing countries for the treatment hinders the market growth. Reimbursement is considered for seborrheic keratosis treatment only in cases of bleeding, itching and other medical reasons, and not for cosmetic treatments. Manufacturers are investing in research and development for the non-invasive and non-surgical treatment methods for seborrheic keratosis. For instance, in 2017, a topical solution - Eskata, 40% hydrogen peroxide, was approved for the treatment.
Market Synopsis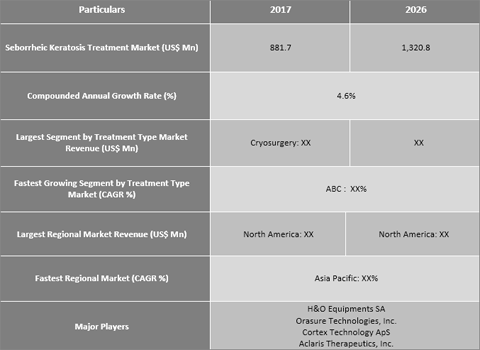 Get a sample copy for more information
"Approval of topical solutions will drive the market during the forecast period"
Several topical solutions are used as off-label therapeutics to reduce the height of the seborrheic keratosis including ammonium lactate and alpha hydroxy acids among others. However, in 2017, the FDA approved hydrogen peroxide (40% solution), branded as Eskata developed by Aclaris Therapeutics, Inc. for the treatment of seborrheic keratosis. The product will be available in the United States after its expected commercialization in the first half of 2018. A few other topical solutions are currently in pipeline, which are expected to be approved within the forecast period. Development of cost-effective and non-surgical treatment options are anticipated to drive the market coupled with the rising awareness in the patient population.
Cryosurgery is the most preferred treatment for seborrheic keratosis, followed by other surgical treatment options such as electrocautery, curettage etc. With the adoption of laser treatment methods, the market for seborrheic keratosis treatments will experience an upsurge. In 2017, cryosurgery segment led the market in terms of market value and will retain its lead during the forecast period. High preference by physicians due to significant treatment outcomes mainly contribute to the dominance of this segment. Demand for topical solution treatment (Eskata) as a viable treatment option in the market, after its commercialization in 2018, significantly contribute to the market growth.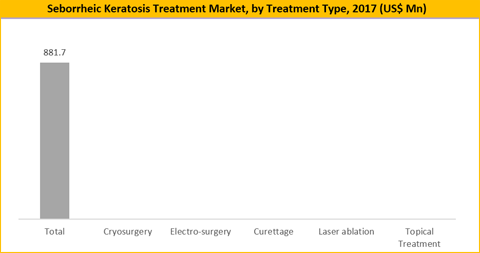 Get a sample copy for more information
"Asia Pacific to experience lucrative growth during the forecast period"
Asia Pacific is expected to experience the fastest market growth during the forecast period owing to growing prevalence of SK and increasing adoption of surgical treatment in the region. Since there is no clarity on commercialization of Eskata (40% hydrogen peroxide) in the region, other treatment segments in the region will not face any substantial competition. In 2017, North America dominated the global seborrheic keratosis market owing to the adoption of advanced treatment options and awareness of the disease. Additionally, a majority of the players are headquartered in the United States, which further contributes to the supremacy of North America. In terms of market value, North America was followed by Europe in 2017. In Europe, it has been estimated that over 90% of adults aged over 60 or more have at least one or more SK lesions. Approximately 40%-60% of the entire population in Europe has at least one SK lesion. Northern Europe has a higher prevalence of seborrheic keratosis.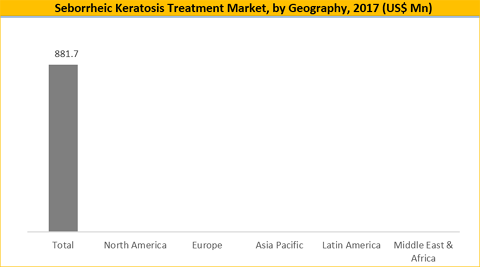 Get a sample copy for more information
"Cryosurgery devices are among the major revenue contributors to the manufacturers"
Although several options are available in the market for seborrheic keratosis treatment, cryosurgery is the most preferred treatment method due to proven better treatment outcomes. Preference as viable treatment method coupled with high prevalence resulted in growing installation of cryosurgery devices in the United States and other developed countries. Furthermore, players are investing in introduction of cost-effective and non-surgical treatment of the disease. For instance, EpiPharm AG, a Switzerland based company, is investing in new and non-invasive therapies for the treatment of benign skin tumors. EPI-SK14, pipeline product, of EpiPharm is in Phase II clinical trials and is a non-invasive treatment for seborrheic keratosis. Furthermore, manufacturers have diverse product portfolio, which satisfies the growing demand of the disease burden.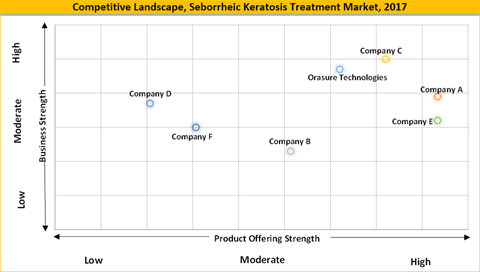 Historical & Forecast Period
Each segment is analyzed from 2016 to 2026 considering 2017 as the base year for the study. Compound Annual Growth Rate (CAGR) are calculated for the forecast period from 2018 to 2026 for each segment.
Report Scope by Segments
This report on seborrheic keratosis treatment market presents market outlook along with quantitative research of the global trends. The report provides detailed outline of the global seborrheic keratosis treatment market by categorizing the market in terms of treatment type and geography. The objective of publishing this extensive research report is to aid the stakeholders in making decisions and strategic initiatives in the seborrheic keratosis treatment market.
ATTRIBUTE
DETAILS
Research Period
2016-2026
Base Year
2017
Forecast Period
2018-2026
Historical Year
2016
Unit
USD Billion
Segmentation

Treatment Type Segment (2016–2026; US$ Mn)
• Surgical Treatment
o Cryosurgery
o Electrocautery
o Curettage
o Laser Ablation
• Topical Solution Treatment

Geography Segment (2016–2026; US$ Mn)
• North America (U.S, Canada)
• Europe (Germany, U.K., Rest of Europe)
• Asia Pacific (Japan, China, Rest of APAC)
• Latin America (Brazil, Mexico,Rest of LATAM)
• Middle East and Africa (GCC, Rest of MEA)
This report further describes the major qualitative assessment factors including key market trends, market drivers & restraints, to aid in better understanding of global seborrheic keratosis treatment market. Furthermore, the key players are graphically mapped based on their product offering, market strategies and business strength. The report also provides attractive investment proposition based on the extensive geographical research. Key players profiled in the report include Aclaris Therapeutics, Inc., Cortex Technology ApS, CryoConcepts LP, Cryoswiss GmbH, EpiPharm AG, H&O Equipments SA, Orasure Technologies, Inc., Special Medical Technology Co., Ltd., and Wallach Surgical Devices, Inc.
Key questions answered in this report
Which are the prominent segments in seborrheic keratosis treatment?
What will be the effect of topical solution approval by FDA on global market?
What are the current market trends in the seborrheic keratosis treatment industry and valuable growth opportunities for the players?
Which prominent geographies are appropriate for product launch?
Which segment is the fastest growing segment during the forecast period?
What is the size of North America seborrheic keratosis treatment market, and how the other regional markets stand in the global competition?