Industry Outlook
Starch-based Plastics market was 320.6 kilo ton in 2017, projected to exhibit the CAGR of 15.7% during the forecast period from 2018 to 2026. Starch is hardly usable as a bio plastics due mainly to its high melting point and brittleness and must be plasticized by application of heat, mechanical shear and the addition of plasticizer, mostly polyols and glycerine, etc. in the presence of water, to produce a thermoplastic material known as thermoplastic starch (TPS). Thermoplastic starch is further modified for improved properties by compounding TPS with other compostable bio plastics such as PLA, PBAT, PBS, PCL, PVOH, and PHAs. Furthermore, TPS is processable with common equipment which makes it the preferred material most of the packaging application. Each starch-polymer blends have their own characteristics and advantages. For instance, PBS/Starch or PBAT/Starch polyester blends enhance the processing properties, water resistance, and mechanical properties of the thermoplastic starch. Starch content of starch-based polymer blends is lower than 60% and the overall bio-based content of these materials depends on the nature of the other components. Starch-based plastics offer superior physical properties that alternative bio plastics lack, such as tensile strength and heat tolerance at the comparatively lower price. Starch blending with polymers mitigates the carbon footprint of traditional petroleum-based polymers. Starch-based plastics are highly degradable and are often used with a compostable polymer without interfering with the degradation process. Starch-based Plastics market is currently gaining traction owing to rising demand for eco-friendly compostable material from end-use industries such as food & beverages, medical, etc. coupled with growing public awareness and increasing customer interest in bio-based plastics. Starch-based plastics accounts for the second largest share of total bio-plastic production after PLA. Starch-based plastics will be bolstered by increased government regulation across the world for the use of conventional plastic bags. Growing manufacturer's interest towards bio-degradability over bio-based content further escalating the market growth during the forecast period. Apart from extensive use in food & beverages industry, starch-based plastics also have positive outlook in horticulture & agriculture industry owing to water permeability and heat preservation properties that makes it an ideal material for agriculture industry as it facilitates lower soil contamination and enhance sustainability, which in turn increases the use of renewable raw materials obtained from agro-industrial waste. However, limited production capacity, reliance on petroleum-based bio plastics, and its hydrophilic nature that restricts its growth in humid environment applications expected to hamper the market growth in near future. Key players operating in the starch-based plastics includes Biome Bioplastics, BASF SE, Warner-Lambert, Novamont S.p.A., Biotech, Corbion Purac, Cardia Bioplastic, Toray Industries Inc., Braskem S.A., and Biobag International among others.
Market Snapshot
Market Snapshot: Global Starch-based Plastics Market Volume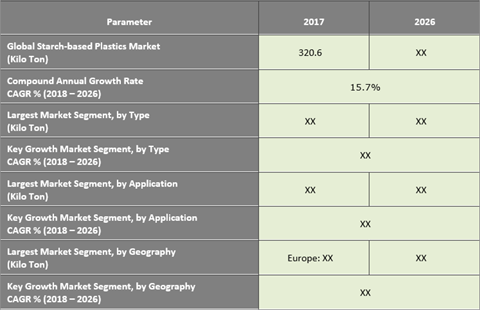 Get a sample copy for more information
Starch-based Polymer Blends Segment Propelling the Growth of Starch-based Plastics Market
Blending of starch with synthetic/biodegradable polymer improves the mechanical properties and hydrophobicity of the starch. A wide range of bio plastics have been blended with thermoplastic starch, and these include PCL, PLA, PVOH, PBS, PBSA, etc. These blends possesses appropriate biocompatibility, degradation rate and physical properties for various applications at acceptable cost. Starch-based polymer blends is projected to witness robust growth during the forecast period.
In 2017, thermoplastic starch segment led the starch-based plastics market in terms of value and volume. Thermoplastic starch normally contain at least 70 wt% starch with other composition such as plasticiser, polymeric property modifier and fillers. TPS finds promising application in food packaging trays and cushion packaging. High content of starch TPS products retain hydrophilic characteristics which restricts its usage to short service life packing for foams in transit packaging, or in the packaging of low moisture products, such as confectionary.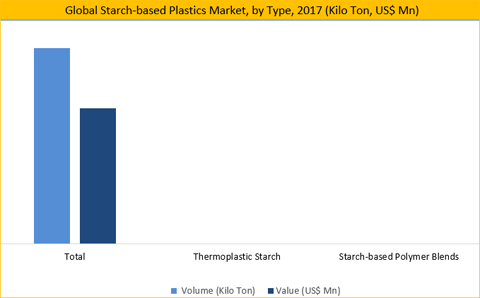 Get a sample copy for more information
Food & Beverages End-use Industry Held the Largest Share in 2017 and Projected to Remain Dominant during the Forecast Period
Food & beverages is the largest end-use industry during 2017-2018. Traditional, food & beverages packaging are non-biodegradable and contribute to the environmental pollution. Starch-based plastics are competitive alternative available for food packaging to overcome environmental problems while keeping the advantages of traditional packaging materials. Starch-based films are ideal material for food packaging owing its low permeability to oxygen at low relative humidity that helps to improve the quality and shelf life of the products without impairing consumer acceptability. Moreover, starch-based plastic foams are replacing polystyrene foam from rigid packaging such as trays and disposable dishes that are able to dissolve in water and leave a non-toxic solution, then can be consumed by microbes in the environment. Food & beverages segment is closely followed by consumer goods and agriculture & horticulture segment in 2017.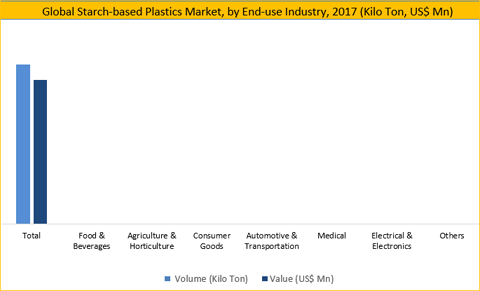 Get a sample copy for more information
Europe to Remain Dominant Region during the Forecast Period
Europe was the largest regional market of starch-based plastics in 2017, also expected to see strong gains in coming years as well, on account of added regulations and incentives that favor bio plastics over conventional resins. Europe is followed by North America in terms of volume consumption of starch-based plastics. Growth in North America region can be attributed to rapid acceptance of bio-degradable products from environmentally conscious consumers. Asia-Pacific was identified as the fastest growing region during the forecast period on account of robust growth in manufacturing sector of Japan and China. Asia-Pacific economies such as China and Thailand are catalysing the growth of bio-plastics production in Asia-Pacific due to abundance in agricultural materials, production capacity, and demand potential. Low-cost Cassava starch, wheat and sugar cane production in South-East Asia, several incentive schemes to support investment in the bio-plastics industry, and ban on free conventional plastic bags in China promoting the growth of overall bio-plastics industry in Asia-Pacific, thereby propelling the growth of starch-based plastics in the region.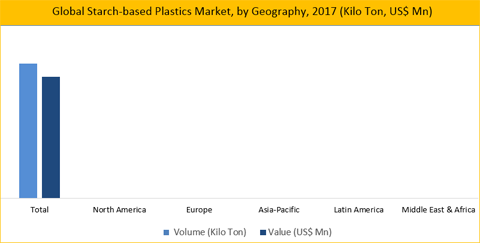 Expansion is the Preferred Strategy Adopted by Key Players in Starch-based Plastics Market
Rising prices of petrochemical feedstock, consumer shift towards environmentally friendly products, and rising interest of manufacturers to develop sustainable biodegradable solution to cater varying consumer needs while complying with strict regulation laid down by governments and environment agencies especially in developed economies giving rise to the need of increasing starch-based plastics production capacity. Currently, there are around 150 manufacturers of starch-based plastics across the world. Manufacturers are striving to ramp up the adequate quality and quantity of starch-based plastics in order to meet the ever-increasing demand for bio-degradable plastics.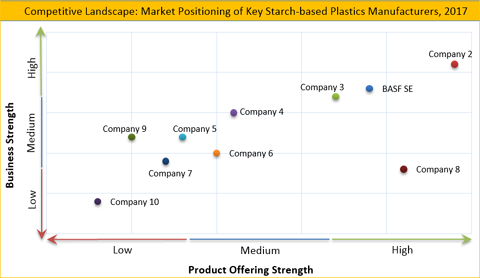 Historical & Forecast Period
Each market segment is analyzed in our study for the period of 2016 to 2026 with 2017 as the base year while period from 2018 to 2026 is considered for the CAGR calculation.
Report Scope
The report enlightens the thorough outline of global starch-based plastics market by categorizing the market in different segment given below:
ATTRIBUTE
DETAILS
Research Period
2016-2026
Base Year
2017
Forecast Period
2018-2026
Historical Year
2016
Unit
USD Million
Segmentation

By Type Segment (2016–2026; Kilo Ton, US$ Mn)
• Thermoplastic Starch
• Starch-based Polymer Blends (PCL, PLA, PVOH, PBS, PBSA, etc.)

By End-use Industry (2016–2026; Kilo Ton, US$ Mn)
• Food & Beverages
• Agriculture & Horticulture
• Consumer Goods
• Automotive & Transportation
• Medical
• Electrical & Electronics
• Others (personal care & cosmetics, building & construction, etc.)

Geography Segment (2016–2026; US$ Mn)
• North America (United States and Canada)
• Europe (U.K., Germany, Rest of Europe)
• Asia Pacific (China, Japan, Rest of Asia Pacific)
• Latin America (Brazil, Mexico, Rest of Latin America)
• Middle East and Africa (GCC, Rest of MEA)
Key questions answered in this report
What are the current market trends in the starch-based plastics market and valuable opportunities for the players?
How the environmental regulations affect global as well as the regional markets?
Which is the most lucrative region for investment?
What is the market size and trends in emerging markets?
Which are the prime end-use industries of starch-based plastics across different geographies?
Which are the different types of starch-based plastics and their market sizes?
Which are the leading players and their market position?