Industry Outlook
The treatment-resistant depression treatment market is set to reach from US$ 1,010.6 Mn in 2018 to US$ 1,389.3 Mn exhibiting good growth at a compounded annual growth rate (CAGR) of 3.6% during the forecast period from 2019 to 2027. Depression is the most common mental disorder affecting approximately 300 million people worldwide. The prevalence rate is high in women in comparison to men. In the last 2 decades there has been significant rise in the number of ailing patients showing resistance to first line therapy drugs for treating depression. Recently USFDA gave approval to Esketamine nasal sprays for treating TRD. Currently AXS-05 drug developed by Axsome Therapeutics, Inc., is under phase III clinical trial investigation for its application in treating TRD.
Market Synopsis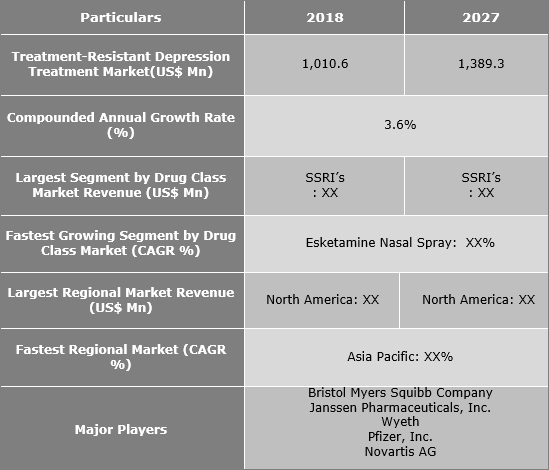 Recent USFDA approval of Spravato (esketamine nasal spray) will register impressive growth during the forecast period
In one third of the patients suffering with depression treatment resistant in encountered when patients fail to respond to first line therapy drugs. The underlying factor responsible for this resistance is not known, accurate diagnosis and identification of possible cormorbid condition determines treatment resistant depression (TRD) in ailing patients worldwide. The treatment regimen followed is prescribing drugs such as SSRI's, MAOI's, tricyclic antidepressant and serotonin 1A receptor agonist for treating TRD. Increasing the dose of prescribed medicine to maximum toleration level, combination of antidepressants or switching to different class of antidepressant is the best possible and conventional method adopted in its treatment globally. Recently USFDA has approved Esketamine nasal spray (Spravato) developed by Janssen Pharmaceutical, Inc., as the novel prescription drug for treating TRD in conjunction with an oral antidepressant. Researchers anticipate its faster adoption rate owing to its excellent pharmacokinetic and pharmacodynamic profile observed during clinical trial investigation.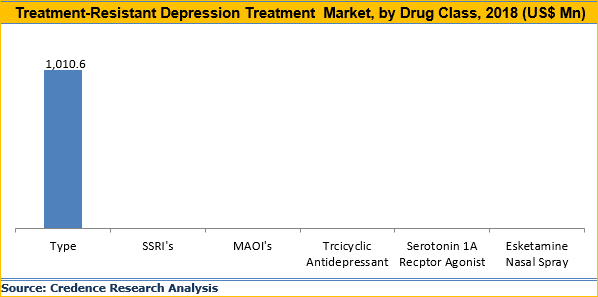 Growing incidence of depression and anxiety to drive the market growth in North America region
North America with a share of 34.2% is dominating the regional segment for treatment-resistant depression treatment market. According to the latest statistics provided by Center for Disease Control and Prevention (CDC) the incidence rate of suicidal deaths is 14.5 per 100,000 people in the United States. Affordable reimbursement scenario for the drugs employed in treating mental disorders further propels the market growth in the region. In the second place is Europe representing a market share of 30.5% owing to the domicile of key players such as Novartis AG, Janssen Pharmaceuticals, Inc., Pfizer, Inc., Mylan Pharmaceuticals, Inc. etc. Asia Pacific is currently holding 17.3% market share on account of rising prevalence of mental disorders, effective implementation of treatment regiment to treat depression and suicidal tendency across all age groups.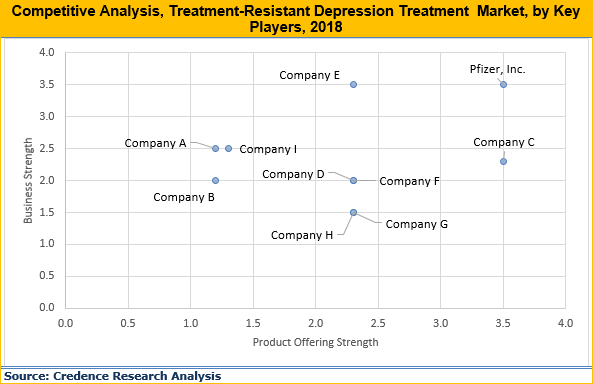 Historical & Forecast Period
2017 – Historical Year
2018 – Base Year
2019-2027 – Forecast Period
This research report presents the analysis of each segment from 2017 to 2027 considering 2018 as the base year for the research. Compounded annual growth rate (CAGR) for each respective segments are calculated for the forecast period from 2019 to 2027.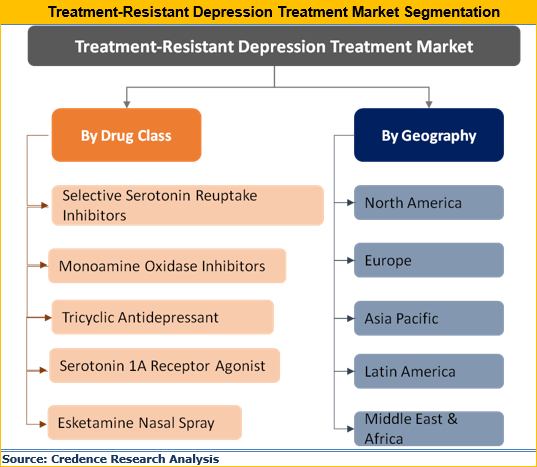 Report Scope by Segments
The market is segmented by drug class and by geography.
By Drug Class (2017–2027; US$ Mn)
Selective Serotonin Reuptake Inhibitors (SSRI's)
Monoamine Oxidase Inhibitors (MAOI's)
Tricyclic Antidepressant
Serotonin 1A Receptor Agonist
Esketamine Nasal Spray
Geography Segment (2017–2027; US$ Mn)
North America

Europe


United Kingdom
Germany
Rest of Europe

Asia Pacific (APAC)

Latin America (LATAM)


Brazil
Mexico
Rest of Latin America

Middle East and Africa (MEA)


GCC
Rest of Middle East and Africa
Pharmaceutical companies manufacturing drugs for the treatment regimen of treatment-resistant depression are Bristol Myers Squibb Company, Eli Lilly & Company, Janssen Pharmaceuticals, Inc., Mylan Pharmaceuticals, Inc., Novartis AG, Otsuka Pharmaceutical Co., Ltd., Pfizer, Inc., Valeant Pharmaceuticals International, Validus Pharmaceuticals LLC and Wyeth.
Key questions answered in this report
Which pharmaceutical companies are actively engaged in providing medicine for the treatment of TRD?
What are the drivers, restraints and opportunities associated with TRD treatment market?
What is the treatment regimen adopted by psychiatrist for the treatment of TRD worldwide?
What is the prevalence rate of TRD in different regional segments throughout the globe?