"Emphasis on Data Security to Bolster the Demand for User Activity Monitoring"
User Activity Monitoring (UAM) accounted for the market value of US$ 1,363.3 Mn in 2018, and expected to grow with promising CAGR of 14.5% across the forecast period from 2019 to 2027. User Activity Monitoring tools enable organization to monitor and gather employee's real-time user actions as well as behavior data on business networks, connected devices, and other monitored workstations. With increasing open access to enterprise internet and more relaxed work regulations, increased vulnerability of data breach paves to serious damage. Similarly, real-time activity monitoring offers to have overall analysis of employee activities that helps to manage resources efficiently. Subsequently, adoption of such technology increases efficiency of organization by ensuring efficient use of resources and evading suspicious activity that may cause productivity loss or further mutilation. With all aforementioned benefits, UAM referred as proactive surveillance that enables to prevent misuse of access privileges.
Market Synopsis
Get a sample copy for more information
"Database Monitoring Application to Experience Rapid Adoption across the Forecast Period"
Database monitoring refers to tracking of database functioning and resources in order to enable high performance and highly available application infrastructure. Database activity monitoring offers multiple level of security with monitoring database transaction. Data definition, as well as data manipulation activity, highlights malevolent activity such as dropping integrity constraints to fleece indecorous changes to data or operating on large number of rows from table that contains personal financial consumer data. Database monitoring enables to reduce time and resources needed for supporting database and underlying IT infrastructure along with improved end-user performance. With aforementioned benefits, adoption of user activity monitoring for database monitoring is expected to surge with promising rate across the forecast period.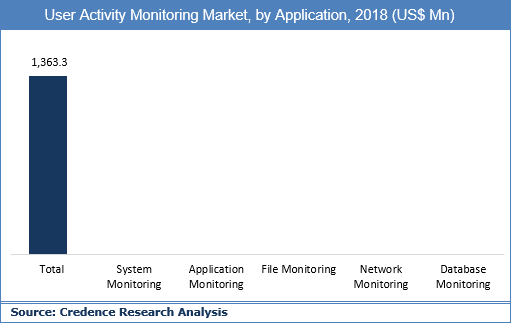 Get a sample copy for more information
"Promising Upsurge of End-use Industry Verticals to Ensure Higher Growth Rate of Asia Pacific Market"
At present, North America is the major contributor in overall user activity market accounting for over 1/4th of the overall market shares. The U.S. majorly drives the market growth here with established corporate sector. Similarly, the presence of several key market players here is expected to drive the user activity monitoring market growth with promising rate. Further, Asia Pacific accounted to register the higher growth rate across the forecast period. This is majorly due to rapid growth of end-use industry verticals across the region. With growing awareness for data security and identity governance the market here expected to grow with higher CAGR.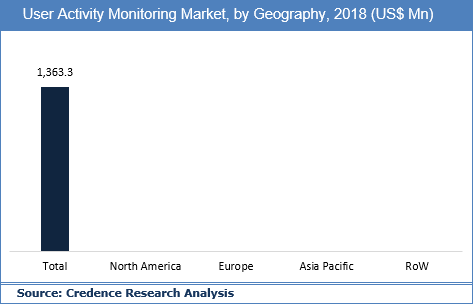 Key players of global activity monitoring market include Hewlett Packard Enterprise, Micro Focus, Centrify Corporation, Securonix Security Analytics, Digital Guardian, CyberArk Software Ltd., TSFactory LLC., Balabit Corporation, Forcepoint, Taramind Inc., ObserveIT, Systancia, Splunk, IS Decisions and RSA Security Solutions among others.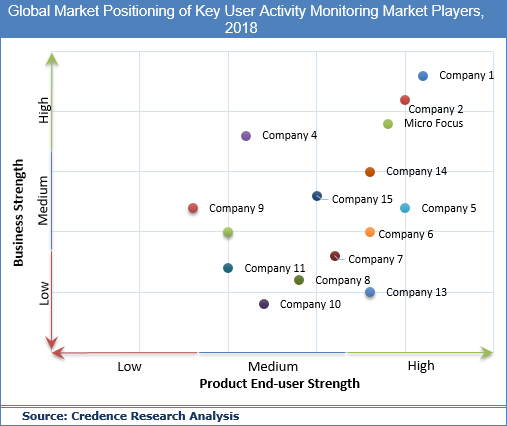 Get a sample copy for more information
Historical & Forecast Period
This research report presents the analysis of each segment from 2017 to 2027 considering 2018 as the base year for the research. Compounded Annual Growth Rate (CAGR) for each respective segments calculated for the forecast period from 2019 to 2027.
Report Scope by Segments
User activity monitoring report provides market size and estimates based on market dynamics and key trends observed in the industry. The report provides a holistic view of global user activity monitoring market based on component, technology, installation type, application area, deployment model, industrial vertical and geography. Key segments covered in the report are as follows:
ATTRIBUTE
DETAILS
Research Period
2017-2027
Base Year
2018
Forecast Period
2019-2027
Historical Year
2017
Unit
USD Million
Segmentation

Component type Segment (2017–2027; US$ Mn)
• Solution
o Privileged Session Management
o Privileged Identity Theft
o Privileged Compliance
o SIEM Log Management
o User Auditing & Reporting
o User Behavior Analytics
• Services
o Consulting Services
o Training & Education
o Maintenance
o Managed Services

Technology Segment (2017–2027; US$ Mn)
• Behavior Analytics
• Log Management
• Auditing and Reporting
• Others

Installation Type Segment (2017–2027; US$ Mn)
• Proxy-based
• Agent-based

Application Segment (2017–2027; US$ Mn)
• System Monitoring
• Application Monitoring
• File Monitoring
• Network Monitoring
• Database Monitoring

Deployment Model Segment (2017–2027; US$ Mn)
• Cloud Deployment
• On-premise Deployment

Industrial Vertical Segment (2017–2027; US$ Mn)
• Banking, Financial Services and Insurance (BFSI)
• Retail
• IT & Telecommunications
• Government & Defense
• Healthcare
• Manufacturing
• Others

Geography Segment (2017–2027; US$ Mn)
• North America (U.S., Rest of North America)
• Europe (U.K., France, Germany, Rest of Europe)
• Asia Pacific (Japan, China, India, Rest of APAC)
• Rest of the World (Latin America, Middle East & Africa)
Key questions answered in this report
What was the market size of activity monitoring in 2018 and forecast up to 2027?
Which is largest regional market for activity monitoring?
What are the key market trends observed in the activity monitoring market?
Which are the most promising component, technology, installation, application, deployment model and industrial vertical in activity monitoring market?
Who are the key players leading the market?
What are the key strategies adopted by the leading players in market?
What are the key end-use industrial vertical trends across different geographies and sub-geographies?