Industry Outlook
The growth of anti-drone systems market is growing in proportion to the growth in the demand by several end-use verticals. Consequently, overall anti-drone systems market expected to experience a notable surge in terms of market value. At present, global anti-drone systems market registered a market value of US$ 2,478.6 Mn and projected to reach market value of US$ 17,333.0 Mn by 2026. The market is expected to make significant leaps growing with a growth rate of 24.3% throughout the forecast period from 2018 to 2026.
Market Synopsis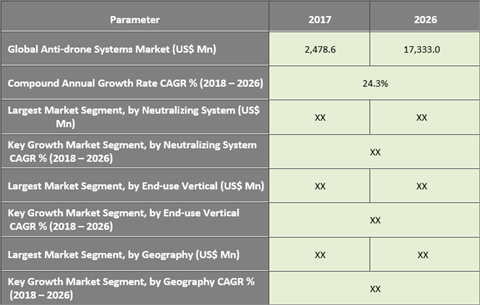 Get a sample copy for more information
"Detection and Laser Anti-drone Systems Stood Supreme Among Other Neutralizing Systems"
In 2017, drone detection systems run in close quarters with anti-drone laser systems in terms of market value. Drone detection systems are extensively incorporated by military and defense units from several nations in order to get safeguard national borders from unidentified drone surveillance and attacks. Besides military & defense, the drone detections are prevailing across homeland security and commercial end-use verticals. However, military & defense end-use vertical rely heavily on anti-drone laser system to target enemy or unidentified drones before their approach. Consequently, the two systems currently lead the overall segment in terms of market value.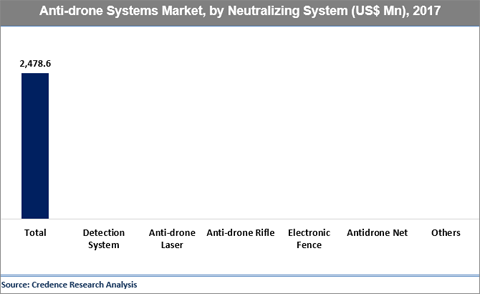 Get a sample copy for more information
"Military & Defense is and Will be the Most Dominating End-use Vertical in the Global Anti-drone Systems Market"
Military & defense are unarguably the biggest end-use vertical incorporating anti-drone systems. Every major army across the world including the U.S., China, and Russia among others are fortifying their national security against illegal infiltration or attacks from drones. Approximately 85% of the market share in global drone market is captured by military & defense. Consequently, a major chunk of the anti-drone market is claimed by military and defense end-use vertical and the projected to remain dominant throughout the forecast period from 2018 to 2026.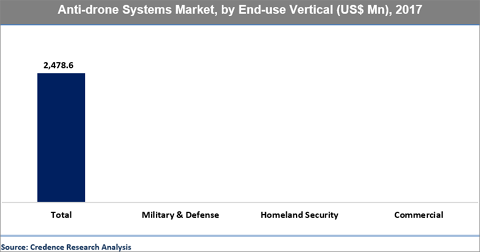 Get a sample copy for more information
"North America to Retain its Market Leader Tag in Coming Years"
North America emerged as the leader in the overall anti-drone systems market in 2017. Overall progressive expenditure on defense budget backed by a presence of several anti-drone systems providers expected to help the market in this region to flourish. As the technology is still in its nascent stages, more advanced in anti-drone systems is projected to be incorporated in the developed economies of the U.S. and Canada consistently. Europe trails North America in terms of market value, while Asia Pacific expected to register the fastest growth in overall snit-drone systems market.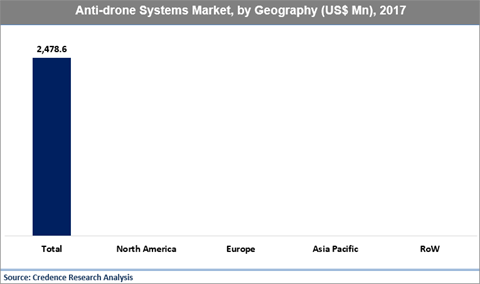 Market Segmentation
ATTRIBUTE
DETAILS
Research Period
2016-2026
Base Year
2017
Forecast Period
2018-2026
Historical Year
2016
Unit
USD Million
Segmentation

By Neutralizing System (2016–2026; US$ Mn)
• Detection System
• Anti-drone Laser
• Anti-drone Rifle
• Electronic Fence
• Anti-drone Net
• Other

By End-use Vertical (2016–2026; US$ Mn)
• Military & Defense
• Homeland Security
• Commercial

Geography Segment (2016–2026; US$ Mn)
• North America (U.S. and Rest of North America)
• Europe (U.K., Germany, France, and Rest of Europe)
• Asia Pacific (Japan, China, India, and Rest of Asia Pacific)
• Rest of World (Middle East & Africa (MEA), Latin America)
Competitive Landscape
The research study covers some of the leading anti-drone system manufacturers including The Boeing Co., Thales Group, Lockheed Martin Corp., Saab AB, Raytheon Co., Israel Aerospace Industries Ltd., BSS Holland BV, Prime Consulting & Technologies, Dedrone GmbH, Security and Counterintelligence Group, DroneShield Ltd., Theiss UAV Solutions, Airbus Group SE, and Advanced Radar Technologies. All the aforementioned leading defense manufacturers and contractors are locking horns with each other for acquiring government contracts. Besides, the race to develop new drones and the technology to counter those has been the key strategy of the leading participants in the market.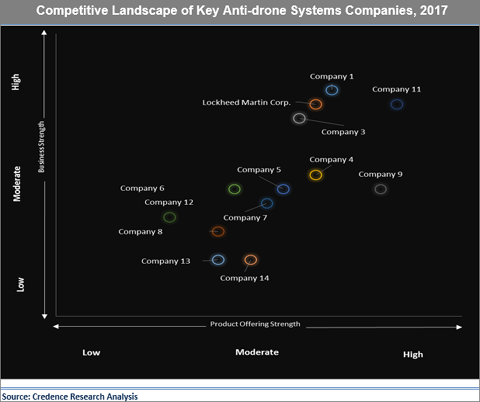 Key questions answered in this report
How grossing demand for drones and their applications for several end-use verticals are affecting the anti-drone systems market?
Which are the most notable end-use verticals and how their growth is assisting anti-drone systems market to grow?
What are different types of anti-drone systems and what is their standing in terms of market value?
What role do rising defense budget and continuously evolving technology play and its effect on the demand of anti-drone systems?
How developing region such as Asia Pacific and Latin America emerge as the game-changer in coming years?