Industry Outlook
The growing prevalence of infections such as influenzas, ebola virus and HIV have brought significant changes in the outlook of the general population about infections and their management, and consequently in the consumption of anti-infective agents. Furthermore, collaborative attempts from organizations such as the WHO and ministries of health to spread awareness and improve treatment outcomes of communicable diseases also are critical aspects governing the growth of the anti-infectives market. Additionally, introduction of novel therapeutic agents, extensive R&D initiatives, and swift commercialization of pipeline products will also contribute to the market growth. The global anti-infective drugs market expected to reach US$ 168,628.1 Mn by 2026, growing at a CAGR of 4.3/5 during the forecast period from 2018 to 2026.
Market Synopsis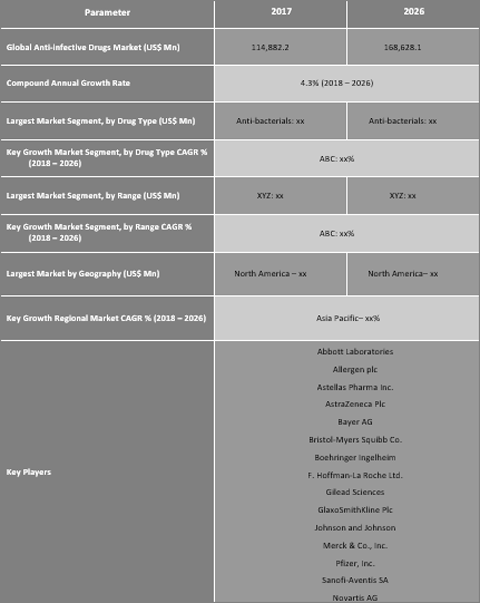 Higher Prevalence of Bacterial Infections to Contribute to the Dominance of Anti-bacterial Drugs
The antibacterial segment is the largest revenue contributor to the global anti-infective drugs market. High incidence of bacterial infections, high prescription rates, and greater adoption of broad-spectrum antibiotics mainly drive the dominance of this segment. Antifungals such as azoles, polyenes and echinocandins are in high demand due to their proven ability in treating systemic fungal infections. Furthermore, anti-viral drugs segment will register the fastest growth during the forecast period from 2018 to 2026, due to swift introduction of novel drugs and ever-growing prevalence of viral infections worldwide that demand prolonged administration of anti-virals. Discovery of newer forms of viral agents and growing collaborations of governments with research organizations and drug manufacturers also support the swift growth of this segment.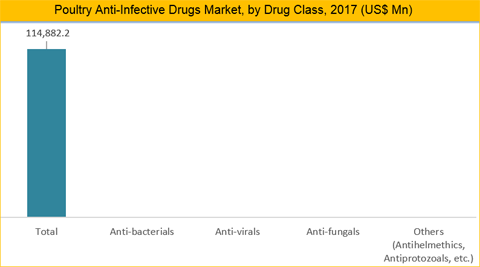 Broad Spectrum Anti-infectives to Spearhead the Global Market
Growing incidence of drug resistant bacterial infections is a prime aspect governing the demand for broad-spectrum anti-infectives. Broad-spectrum antibiotics act on both gram-positive and gram-negative pathogens, therefore expanding the range of treatment. This aspect of broad-spectrum antibiotics makes such drugs ideal in cases of drug resistance and when infection from multiple bacteria is suspected. On the other hand, the demand for narrow-spectrum anti-infective drugs will be steady and limited to such infections wherein the identity of causative pathogen is known.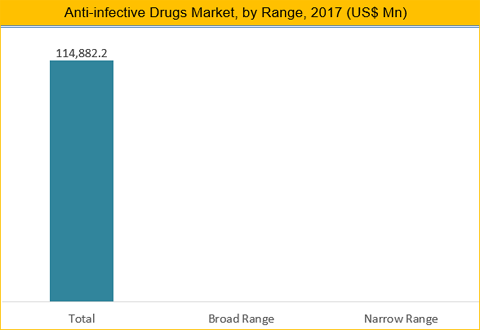 High Burden of Hepatitis, HIV and Tuberculosis to Direct the Market Growth
The Global Burden of Disease report released in 2017 stated that the number of deaths caused by viral hepatitis has surpassed all chronic infections including HIV & AIDS, tuberculosis and malaria. The study reported that in 2016, the total deaths caused by hepatitis including cirrhosis, hepatitis A, B, C, D & E, liver cancer account for 1.34 million, which exceed tuberculosis at 1.2 million and HIV/AIDS and Malaria at 1 million and 719,000 deaths respectively. Increasing incidence and reporting of hepatitis with the help of advanced diagnostic techniques mainly contribute to the growing demand for anti-infectives for the treatment of these diseases.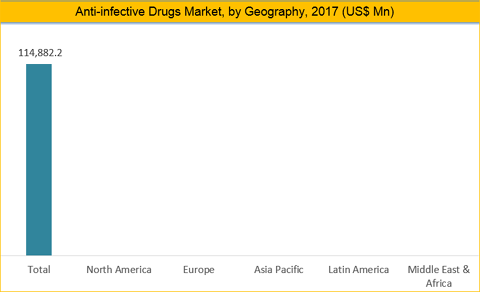 Asia Pacific Set to Become a Lucrative Market for Anti-infectives
Anti-infective drugs market is dominated by North America in terms of revenue and volume consumption. Presence of sophisticated and well-organized healthcare infrastructure and greater adoption of advanced and novel medications drive the prominence of North America market. United States is the prime stakeholder in the global market due to large pool of geriatric population, and swift introduction and adoption of novel therapeutics in the zone. Favorable reimbursements also play a critical role in assisting the dominance of United States market. Asia Pacific, on the ground of escalating patient pool and rapid improvements in the healthcare system will be the fastest progressing regional market during the forecast period.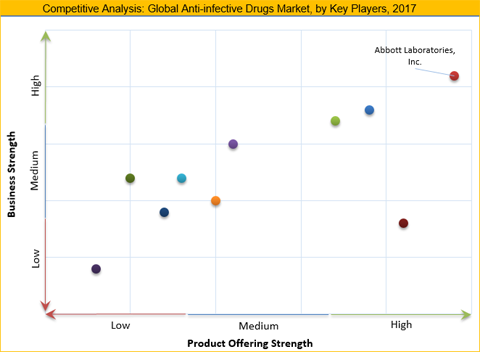 Historical & Forecast Period
2016 – Historical Year
2017 – Base Year
2018-2026 – Forecast Period
This research report presents the analysis of each considered segment for the period from 2016 to 2026, having 2017 as the base year for estimations. Compounded annual growth rates (CAGRs) for each segment are calculated for the forecast period from 2018 to 2026.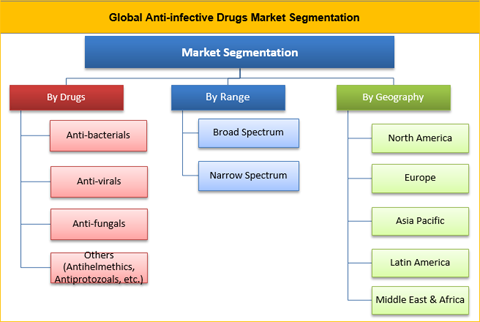 Report Scope by Segments
The anti-infective drugs market report provides quantitative assessment of the industry terms of current and forecasted market size, while also presenting the market dynamics. This market is segmented based on drugs, type of infection, range of action, and geography.
By Drugs (2016–2026; US$ Mn)
Anti-bacterials
Anti-virals
Anti-fungals
Others (Antihelmethics, Antiprotozoals, etc.)
By Range (2016–2026; US$ Mn)
Broad Spectrum
Narrow Spectrum
By Range (2016–2026; US$ Mn)
Hepatitis B
Hepatitis C
HIV
Malaria
Tuberculosis
Urinary Tract Infection
Others (meningitis, pneumonia, sexually transmitted diseases, etc.)
Geography Segment (2016–2026; US$ Mn)
North America

Europe


U.K.
Germany
Rest of Europe

Asia Pacific (APAC)


China
Japan
India
Rest of APAC

Latin America (LATAM)


Brazil
Mexico
Rest of Latin America

Middle East and Africa (MEA)


GCC
Rest of Middle East and Africa
The ongoing dynamics in the global anti-infective drugs market are scrutinized in this study for understanding the progress of this market. The market dynamics are assessed in terms of drivers, challenges and opportunities thus giving insights on the positive aspects and pain points prevalent in the market. Prominent players in this market are also analyzed in terms of business overview, financial status, product portfolio and key developments. The major companies engaged in the global anti-infective drugs market include Abbott Laboratories, Inc., Allergen plc, Astellas Pharma Inc., AstraZeneca Plc, Bayer AG, Bristol-Myers Squibb Co., Boehringer Ingelheim, F. Hoffman-La Roche Ltd., Gilead Sciences, GlaxoSmithKline Plc, Johnson and Johnson, Merck & Co., Inc., Pfizer, Inc., Sanofi-Aventis SA, and Novartis AG.
Key questions answered in this report
How the current status of the anti-infective drugs market is in 2017?
In which direction will the market progress through the forecast period from 2018 to 2016?
What are the major factors driving and challenging the progress of the global anti-infective drugs market?
How the current market movements are opening new opportunities in the global market?
What are the key strategic initiatives being undertaken by major market players to augment or retain their positions?
Which treatment type currently holds prominence in the global market and how the scenario will move during the forecast period?
What impact will technological innovation and introduction of DNA vaccines will have on the global anti-infective drugs market?
What is the current status of Asia Pacific market in the global anti-infective drugs market?
How Latin America market is moving towards future growth?
Will the market position of North America be challenged by Asia Pacific within the forecast period?