The bowel management systems market is set to grow from US$ 1,745.5 Mn to US$ 2,391.4 Mn at a compounded annual growth rate of 3.6% from 2018 to 2026. Bowel disorder is a medical condition which affects the small intestine and large intestine. The common bowel disorders identified are irritable bowel syndrome, Crohn's disease, celiac disease and intestinal obstruction. The disease etiology is unknown with alteration in the normal gut peristalsis resulting in chronic constipation and diarrhea.
Market Synopsis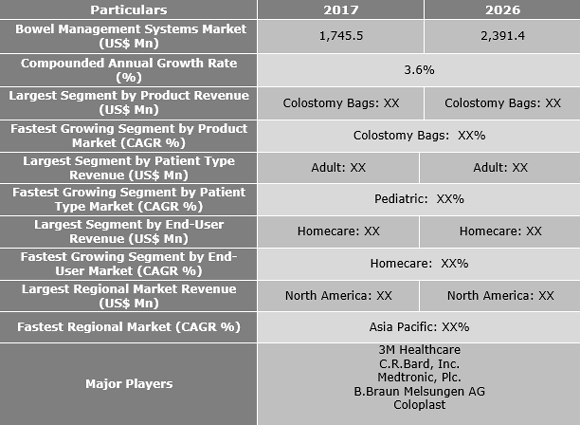 "Excellent cleaning & hygiene maintenance and favorable reimbursement scenario drive the colostomy bags market"
Colostomy bags are required in patients undergone colon surgical procedure and a permanent stoma is created to clean stool. It will be the leading and fastest growing market during the forecast period owing to its inherent features such as excellent cleaning and hygiene maintained during disposal of stool. Favorable reimbursement scenario will also further propel the colostomy bags market growth. Colonic irrigation systems are being in tremendous demand in naturopathy clinics to achieve body detoxification and in pediatric patients suffering with chronic constipation. Nerve modulation devices are used to stimulate the sacral nerve to stimulate the gut peristaltic activity in disabled and paralyzed patients suffering with fecal incontinence.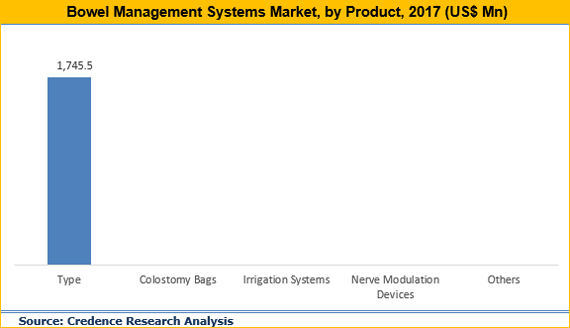 "Sedentary lifestyle, stress and craving for fast food trigger bowel disease in the adult population worldwide"
Presently adult patient are ruling the patient type segment for bowel management systems market. Sedentary lifestyle, craving for fast food and stress induce bowel disease in the adult population worldwide. According to World Health Organization research findings the occurrence of Crohn's disease is 6-15 per 100,000 people. It is more common I women in comparison to men population worldwide. Pediatric patients will be growing at a steady pace during the forecast period on account of features such as genetic predisposition, environmental factors and decreased gut mucosal immune response against commensal intestinal microbiota.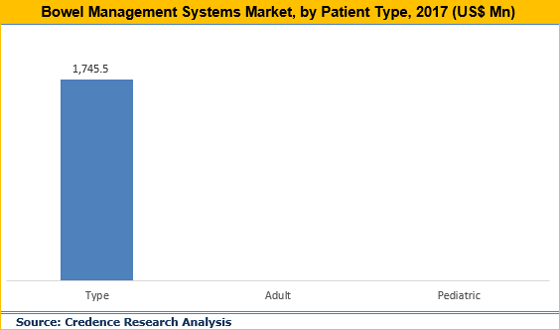 "Availability of diverse range bowel management systems products and less maintenance cost incurred drive the home care market"
Home care settings are reigning the end-user segment for bowel management systems market. Increasing geriatric population suffering with chronic constipation, availability of diverse range bowel management products and low maintenance cost incurred drive the home care market growth. There has been a significant rise in the number of hospitals and ambulatory surgery centers providing intestinal care owing to rising public health awareness, and huge funds provided by government healthcare agencies to cater medical requirements of patients suffering with bowel disorders in remote locations.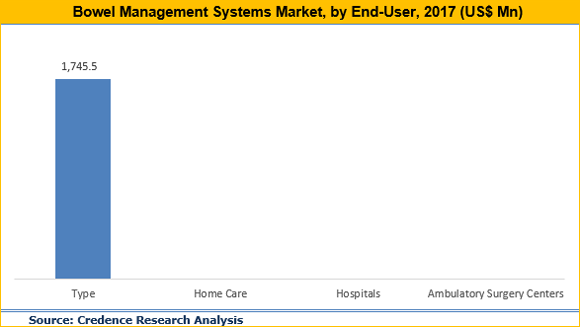 "Rising prevalence of inflammatory bowel disease (IBD) and domicile of major players drive the market growth in North America"
In the present scenario North America represents 35.6% share in the global bowel management systems market. According to the statistics provided by Center for Disease Control and Prevention (CDC), in 2016, approximately 1.3% of United States citizens were reported to be suffering with IBD such as Crohn's disease and ulcerative colitis. The parameters that influence the market growth in North America are rising prevalence of IBD and domicile of major players such as Medtronic, Plc., C.R.Bard, Inc., 3M healthcare etc. As per the research findings published in the scientific journal BMC Gastroenterology the prevalence rate of constipation in Europe is 17.1%. Increasing geriatric population, sedentary lifestyle and unhealthy eating habits propel the bowel management systems market growth in European region. It is the second largest regional market with a share of 30.4%. Asia Pacific is reported to currently hold a share of 18.9% and is set to register significant growth in the near future owing to factors such as rising prevalence of irritable bowel syndrome and increasing medical tourism market.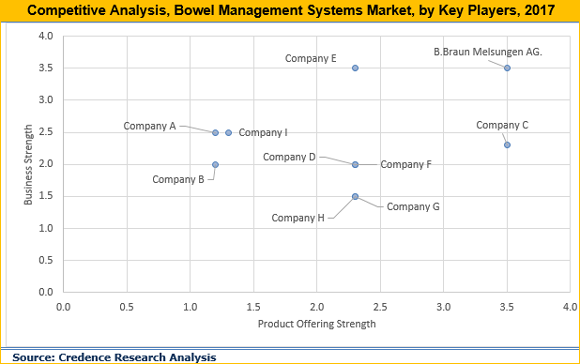 Historical & Forecast Period
This research report presents the analysis of each segment from 2016 to 2026 considering 2017 as the base year for the research. Compounded annual growth rate (CAGR) for each respective segments are calculated for the forecast period from 2018 to 2026.
Report Scope by Segments
Bowel management systems market segmentation is as follows:
ATTRIBUTE
DETAILS
Research Period
2016-2026
Base Year
2017
Forecast Period
2018-2026
Historical Year
2016
Unit
USD Million
Segmentation

By Product (2016–2026; US$ Mn)
• Irrigation Systems
• Colostomy Bags
• Nerve Modulation Devices
• Others

By Patient Type (2016–2026; US$ Mn)
• Adult
• Pediatric

By End-User (2016–2026; US$ Mn)
• Home Care
• Hospitals
• Ambulatory Surgery Centers

Geography Segment (2016–2026; US$ Mn)
• North America (United States and Canada)
• Europe (U.K., Germany, Rest of Europe)
• Asia Pacific (China, Japan, Rest of Asia Pacific)
• Latin America (Brazil, Mexico, Rest of Latin America)
• Middle East and Africa (GCC, Rest of MEA)
Market leaders existing in bowel management systems market are Aquaflush Medical Limited, ConvaTec Group, Plc., Axonics Modulation Technologies, C.R.Bard, Inc., B.Braun Melsungen AG., Cogentix Medical, Inc., Coloplast A/S, 3M Healthcare, Medtronic, Plc. and Mederi Therapeutics, Inc.
Key questions answered in this report
Which inorganic and organic market trends are utilized to determine the market assessment for bowel management systems?
What is inflammatory bowel disease and fecal incontinence?
What is the prevalence of intestinal disorders in adult and pediatric patient population?
What are the advantages associated with the use of colostomy bags in bowel management and car?
What will be the performance of home care segment during the forecast period from 2018 to 2026?
Why is North America the clear leader in global bowel management systems market?