Industry Outlook
Breast biopsy procedure refers to extraction of tissue sample from the breast for examination and diagnosis. Due to the advantage of least disfigurement and pain, physicians are increasingly performing minimally invasive biopsy procedures. Therefore, the prime factors that support the market growth of breast biopsy devices are increasing incidence of breast cancer, growing awareness about cancer screening programs and advancing preference for minimally invasive procedures and dedicated systems. Perpetual technological advances in diagnostics and treatment methods for breast cancer have facilitated the introduction of minimally invasive procedures, thereby improving the treatment outcome rate. Breast cancer is among the most common cancer types in women worldwide, and growing awareness has thereby facilitated high demand for advanced diagnostic techniques. However risk of infections and affordability issues may hold back the growth of this market.
Market Synopsis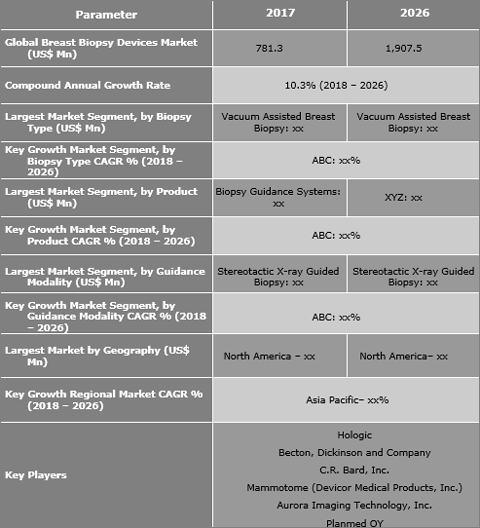 Vacuum Assisted Breast Biopsy Technology to Spearhead the Global Market
Conventionally, open surgical breast biopsies were the gold standard for sample extraction. However, with the advent of fine needle aspiration, the clinical scenario underwent transition and minimally invasive procedures witnessed significant growth in demand. However, drawbacks of fine needle aspiration procedures such as compromised accuracy in determining PR, ER and Her-2 status, high risk of negative results and dearth of standard interpretation guidelines led to replacement of this technique by further advanced procedures such as vacuum assisted breast biopsy and core needle biopsy. Currently, the global breast biopsy devices market is dominated by widespread acceptance of vacuum assisted breast biopsy procedure and as it conveniently overcome the drawbacks of conventional methods.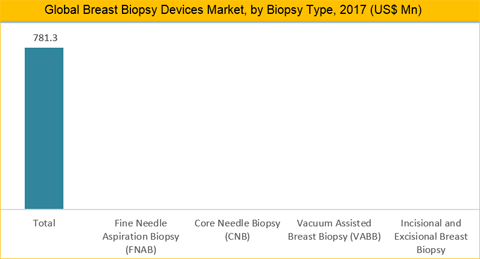 Uptake of Guidance Systems to Remain Steady through the Forecast Period
In the base year 2017, the global breast biopsy devices market witnessed biopsy guidance systems to have the largest revenue share. The segment will continue to dominate the overall market through the forecast period. Long equipment life, established clinical evidence on efficacy and moderate equipment cost are the major factors that are contributing to the prime position of biopsy guidance systems segment. The share of this segment will be cannibalized by the growing uptake of biopsy needles during the forecast period. Faster uptake of these products and growing demand for disposable needles in both developed and developing markets contribute to the faster growth rate of this segment.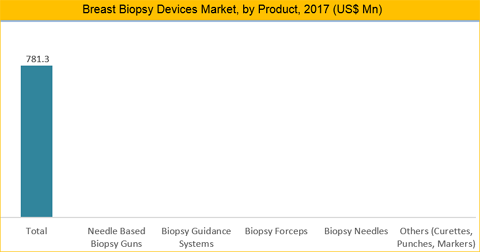 Upswing in Adoption of MRI Guidance Modality to Boost the Market Growth
Currently, stereotactic x-ray guided biopsy systems enjoy dominance in the overall breast biopsy devices market. This modality since its introduction had gradually replaced the conventional open surgical biopsies. This modality is often viewed as cost effective and has been adopted worldwide. However, the dominance of stereotactic x-ray guided biopsy is critically challenged by the growing uptake of MRI guided biopsy. MRI guided biopsy is being widely adopted in developed markets of North America and Europe on the ground of better precision and greater awareness in paints and physicians.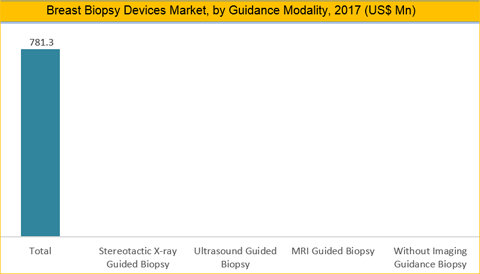 Asia Pacific Set to Cannibalize on Market Shares of North America and Europe
Breast biopsy devices find wide usage in not just cancer diagnosis, but also in disease progress and treatment outcome monitoring. At present North America is the largest regional market for breast biopsy devices due to complete replacement of open surgical biopsy procedures with the minimally invasive counterparts. Additionally, better reimbursements to the latest and advanced biopsy modalities are also attributed to the dominance of North America market. However the North America market will lose significant market share to the rapidly advancing Asia Pacific market during the forecast period. Fast evolution of healthcare infrastructure, growing replacement of stereotactic X-ray biopsy systems with MRI guided systems and growing base of breast cancer patients are the key drivers of Asia Pacific breast cancer devices market. Additionally, swift progress of medical tourism in the region will also open further market penetration opportunities for manufacturers.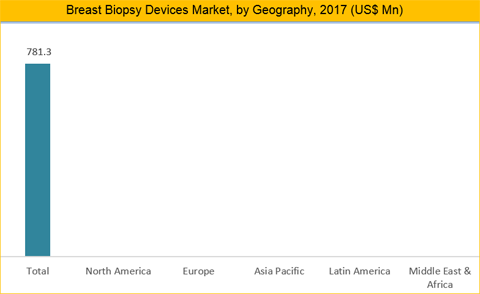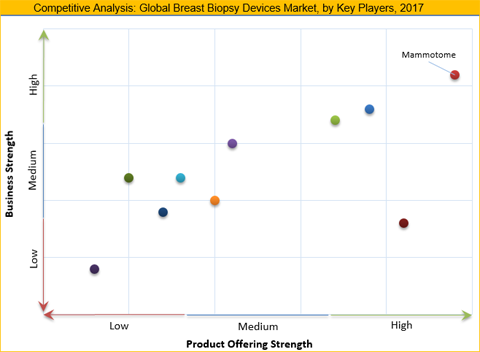 Historical & Forecast Period
2016 – Historical Year
2017 – Base Year
2018-2026 – Forecast Period
This research report presents the analysis of each considered segment for the period from 2016 to 2026, having 2017 as the base year for estimations. Compounded annual growth rates (CAGRs) for each segment are calculated for the forecast period from 2018 to 2026.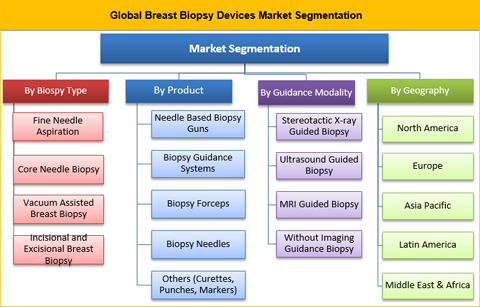 Report Scope by Segments
The breast biopsy devices market report provides quantitative assessment of the industry terms of current and forecasted market size, while also presenting the market dynamics. This market is segmented based on products, biopsy type, guidance modality, and geography.
By Biopsy Type (2016–2026; US$ Mn)
Fine Needle Aspiration Biopsy (FNAB)
Core Needle Biopsy (CNB)
Vacuum Assisted Breast Biopsy (VABB)
Incisional and Excisional Breast Biopsy
By Product (2016–2026; US$ Mn)
Needle Based Biopsy Guns
Biopsy Guidance Systems
Biopsy Forceps
Biopsy Needles
Others (Curettes, Punches, Markers)
By Guidance Modality (2016–2026; US$ Mn)
Stereotactic X-ray Guided Biopsy
Ultrasound Guided Biopsy
MRI Guided Biopsy
Without Imaging Guidance Biopsy
Geography Segment (2016–2026; US$ Mn)
North America

Europe


U.K.
Germany
Rest of Europe

Asia Pacific (APAC)


China
Japan
India
Rest of APAC

Latin America (LATAM)


Brazil
Mexico
Rest of Latin America

Middle East and Africa (MEA)


GCC
Rest of Middle East and Africa
The current market dynamics in the breast biopsy devices industry are studied in the market overview section of the report where the drivers, challenges and future prospects in the market are scrutinized. This section also includes graphical presentation of the competitive landscape currently prevalent in the global breast biopsy devices market. Major players operating in the global breast biopsy devices market are studied based on their business overview, product portfolio, financial information and key developments. Hologic, Becton, Dickinson and Company, C.R. Bard, Inc., Mammotome (Devicor Medical Products, Inc.), Aurora Imaging Technology, Inc., and Planmed OY are the prime market players considered in this sevtion.
Key questions answered in this report
How the breast biopsy devices industry currently sands in the global market?
What is the future roadmap of the global breast biopsy devices market during the period 2018 to 2026?
What are the key drivers and challenges prevalent in the market?
How the current market movements are opening new opportunities in the global market?
What are the key growth initiatives or steps undertaken by the major market players for sustenance or dominance?
Which guidance modality will enjoy prominence in the global breast biopsy devices market within the forecast period?
How Asia Pacific market will fare within the forecast period?
In what terms will Asia Pacific challenge the dominance of North America market?
What are the positions held by key players in the global breast biopsy devices market?