Building information modeling (BIM) refers to a parameter based 3D model which can be used to generate design and plan out the entire lifecycle of a construction project. Numerous aspects associated with a construction project including architecture, planning, schedule and cost estimation, among others can be completely covered under a single 3D model with the use of BIM software. Thereby, a model created using a BIM software essentially works as a shared resource for information between various stakeholders in the construction activities. The BIM software has been widely adopted in order to avoid general issues during construction activities and reduce resource wastage. Numerous issues such as miscommunication, lack of coordination and delayed turnover between parties can be effectively addresses with the introduction of BIM software. Thereby, BIM software has been widely used by various architects, engineers, contractors and developers, among others across the world. Some of the key applications of BIM include planning and designing for architecture; sustainability; structures; mechanical, electrical and plumbing (MEP); construction and facility management.
The BIM software can be deployed in either on-premise or cloud-based model depending on the usage and preference of the end user. In addition, end-users can employ various professional consultation service providers to design and maintain BIM based 3D models. On account of the wide array of deployment models, BIM has been witnessing increasing adoption in various end-use segments. Construction companies have been making use of BIM software for various projects including water and wastewater; roads, bridges and highways; rail, transit and aviation; residential; commercial and industrial. With numerous benefits such as effective planning and efficient execution of construction activities, the building information modeling (BIM) market is expected to witness significant growth during the forecast period.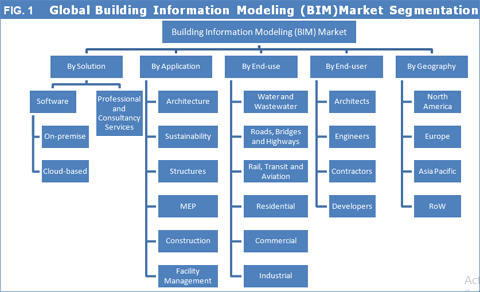 The report titled "GlobalBuilding Information Modeling (BIM)Market- Growth, Future Prospects and Competitive Analysis, 2017 – 2025" offers strategic insights into the global building information modeling (BIM)market along with the market size and estimates for the duration 2015 to 2025. The said research study covers in-depth analysis of multiple market segments based onsolution, application, end-use, end userand cross-sectional study across different geographies and sub-geographies. The study covers the comparative analysis of different segments for the years 2016&2025. The report also provides a prolific view on market dynamics such as market drivers, restraints and opportunities. In addition, the report covers a section providing government initiatives and norms across the world mandating the use of BIM software for construction activities.
In order to help strategic decision makers, the report also includes competitive profiling of the leading providers of building information modeling (BIM), market positioning and key developments. Some of the major players profiled in the report are Autodesk, Inc., Bentley Systems, Inc., DassaultSystèmes SA, AECOM, Tekla Corporation, Nemetschek SE, Trimble Navigation Limited, Intergraph Corporation, ASSA ABLOY Group, 4M Building Solutions and CYPE Ingenieros, S.A.
Other in-depth analysis provided in the report includes:
Current and future market trends to justify the forthcoming attractive markets within the building information modeling (BIM)industry
Market fuelers, market impediments, and their impact on the market growth
In-depth competitive environment analysis
Trailing 2-Year market size data (2015 – 2016)
Overall, the research study provides a holistic view of the global building information modeling (BIM)market, offering market size and estimates for the period from 2017 to 2025, keeping in mind the above mentioned factors.