Key Market Insights
"Growing inclination towards corrosion-loss reduction, driving the market growth"
The rising demand from the oil & gas industry to lower the losses incurred due to corrosion is driving the global cathodic protection market. Cathodic protection is a technique to control the corrosion of a metal surface by making it a cathode of an electrochemical cell. Corrosion can destroy the integrity of infrastructure and regular patching of the damaged area may be simple but is found to be less effective in the long run. Eventual repairing of the infrastructure may add-up to the cost of repairing. Further, cyclical repairs weaken the structure and may lead to a total replacement of infrastructure. Thereby, adding the burden of replacement and increase in repair time which results in loss of revenue to the companies.
Moreover, the NACE study on the "International Measures of Prevention, Application, and Economics of Corrosion Technologies" highlighted that the global cost of corrosion estimated to be US$ 2.5 trillion, which equals 3.4% of the global GDP of 2013. Therefore, to reduce this loss, industries are deploying cathodic protection systems. Major industries such as oil & gas, marine, construction, and energy & power are at the forefront of deploying this system. Rising oil & gas demand and increasing construction activities across the developing region of the world are driving global demand.
Besides, stringent government regulations for corrosion protection has furthered the adoption of a cathodic protection system across the industry. For instance, U.S. PHMSA Cathodic Protection Regulations, and India's Petroleum & Natural Gas Regulatory Board (PNGRB)'s Notification dated February 2016, further stressed on regular implementation of cathodic protection. Overall, the global cathodic protection market was US$ 4,265.1 Mn in 2018 and expected to reach US$ 7,063.5 Mn by 2027, growing at a CAGR of 5.8% from 2019 to 2027.
Market Snapshot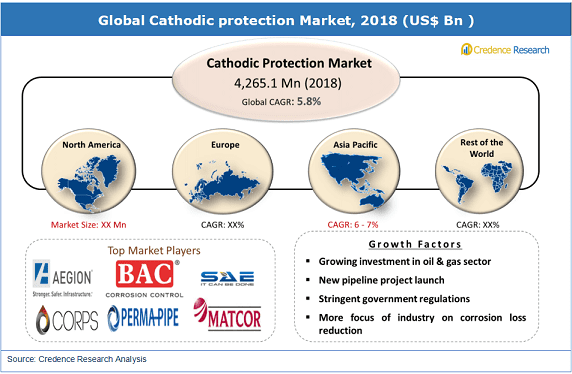 Get a sample copy for more information
Application Segment Analysis
"Pipelines segment dominating the market"
Based on the application, pipeline segment captured the highest share of the global cathodic protection market in 2018. The growing network of pipelines across the regions due to rising demand for oil & gas and petroleum products are driving the segment growth in 2018. Further, there is the continuous use of these pipelines throughout their operational life has made it crucial to keep its safety at the top level. Industries working in oil & gas sector are hugely investing in decreasing their losses in pipeline repairing; thereby, there is a hike in demand for cathodic protection system in the pipeline segment.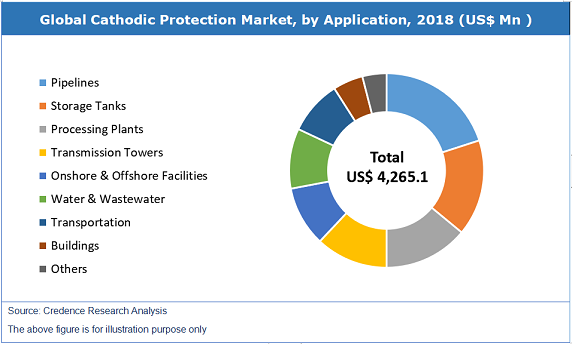 Get a sample copy for more information
Regional Analysis
"North America dominating the global market by region"
Based on the region, the global cathodic protection market was dominated by North America, accounting for more than 35% of the market share in the year 2018. In North America, the U.S. captured the major share of the regional market, pertaining to the high demand for oil & gas. Further, technological advancement in extracting shale oil & gas in the U.S. pushes the oil demand to a new high. With the growing investment from the strong corporate sector of the U.S., there is a high demand for pipelines and storage tanks construction across the region.
Moreover, stringent government regulations concerning the safety of pipelines and other corroding infrastructures present in the industry like PHMSA cathodic protection regulations have further made it stricter to follow safety check-ups and regular surveying for installing cathodic protection systems wherever required. Altogether, this has positively impacted the regional cathodic protection market.
In addition to the above, the Asia Pacific region is expected to show strong growth during the forecast period. The regional countries such as China, India, and ASEAN countries are swiftly going through the infrastructure and other developmental activities. The region is experiencing growth in the construction, manufacturing, and transportation industries. This, in the future, expected to be the driving factors for the Asia Pacific cathodic protection market.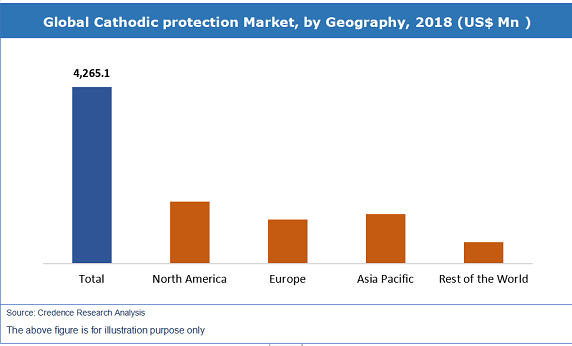 Get a sample copy for more information
"Technological advancement is keeping the market competitive"
The global cathodic protection market is competitive. Prominent players operating in the cathodic protection market are adopting strategies such as a partnership with other companies, acquisition of smaller players to increase their production capacity and geographical reach. Following is the list of players included in the published reports.
List of Companies Covered:
Aegion Corporation
Perma-Pipe
BAC Corrosion Control Ltd.
Cathodic Protection Company
Cathodic Protection Management, Inc.
Corrosion Protection Specialist Pvt. Ltd.
Farwest Corrosion Control Company
Imenco AS
MATCOR, Inc.
SAE Inc.
Southern Cathodic Protection
Tecnoseal Marine Anodes USA Inc.
Nippon Corrosion Engineering Co., Ltd.
SunRui Marine Environment Engineering Company Ltd. (CSIC)
PureHM (Xylem Inc.)
STORK
C M BEASY Ltd.
Others
Key Industry Development:
In January 2020, C M BEASY Ltd. presented its paper on the corrosion data management system combined with digital twin simulation. With this simulation, data engineers can manage and visualize 3D CP survey data that will help to predict more accurate decisions for the protection of CP structure and the status of anodes in the CP system. With the incorporation of technologies, the cathodic protection timing can be predicted in a much better manner.
In December 2019, PureHM announced their partnership with the Commonrow Consulting, working in AC mitigation design and engineering house. With this partnership PureHM has added AC mitigation solutions to their cathodic protection solutions. This partnership will able to provide turnkey AC mitigation solutions to pipeline operators, providing personal safety and pipeline integrity solutions throughout the pipeline networks.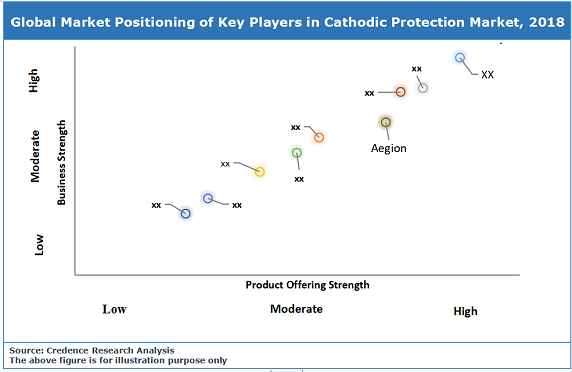 Historical & Forecast Period
The research report presents the analysis of each segment from 2017 to 2027 considering 2018 as the base year for the research. Compounded annual growth rate (CAGR) for each respective segment calculated for the forecast period from 2019 to 2027.
Market Segmentation
ATTRIBUTE
DETAILS
Research Period
2017-2027
Base Year
2018
Forecast Period
2019-2027
Historical Year
2017
Unit
USD Billion
Segmentation

Protection Type Segment (2017-2027; US$ Bn)
• Galvanic CP
• Impressed Current

Solution Segment (2017-2027; US$ Bn)
• Product
o Anodes
o Test Stations
o Ground-beds
o Power Supply
• Services
o Inspection & Surveying
o Design & Construction
o Maintenance
o Others

Application Segment (2017-2027; US$ Bn)
• Pipelines
• Storage Tanks
• Processing Plants
• Transmission Towers
• Onshore & Offshore Facilities
• Water & Wastewater
• Transportation (Airports, Railways, Bridges, etc.)
• Buildings
• Others

Industry Vertical Segment (2017-2027; US$ Bn)
• Oil & Gas
• Manufacturing
• Construction
• Energy & Power
• Marine
• Others

Geography Segment (2016–2026; US$ Bn)
• North America (U.S. and Rest of North America)
• Europe (U.K., Germany, France, and Rest of Europe)
• Asia Pacific (Japan, China, India, and Rest of Asia Pacific)
• Rest of World (Middle East & Africa (MEA), Latin America)
The current report also comprehends qualitative market valuation factors such as key market drivers, market trends, restraints and opportunities that give a better market understanding of the global cathodic protection market. Additionally, the global report also comprises a graphical representation of a competitive landscape based on their market initiatives and strategies, product portfolio and business strengths.
Unique data points of this report
Recent trends across different regions in terms of development of cathodic protection market
Attractive investment proposition for application segment as well as geography
Key questions answered in this report
What was the market size of cathodic protection market in 2018 and forecast up to 2027?
What are the key factors driving the global cathodic protection market?
What are the key market trends and high-growth opportunities observed in the cathodic protection market?
Which is the largest regional market for cathodic protection market?
Which segment will grow at a faster pace? Why?
Which region will drive the market growth? Why?
Which players are leading the cathodic protection market?
What are the key strategies adopted by the leading players operating in the market?