Customer communication management (CCM) encompasses numerous software suite and managed customer engagement services which enable organizations to achieve certain level of automation in online customer interaction. With the use of CCM software, organizations can design and create rule-based content delivery packages which would ensure prompt and appropriate response to the customer with minimal human intervention. The CCM software have proved immensely helpful in various structured communications such as sending bills, offers, account statements and other periodic delivery of content automatically. Furthermore, CCM software is widely used in various on-demand communication wherein the software delivers content as per certain pre-defined rules set by the organization. One of the key factors leading to the success of CCM software is its multi-channel approach. The software enables organizations to simultaneously reach out to individual customers through a wide array of communication channels such as email, SMS and social media, among others. Thereby, the use of CCM software ensures effective and timely delivery of appropriate content to customers resulting into enhanced customer satisfaction.
One of the major factors driving the growth in the CCM market is the increasing need to keep customers engaged through communication over various channels. Organizations need to constantly deliver relevant documents and promotional offers to their customers in order to maintain a healthy customer relationship. CCM software enables organizations to achieve this effectively while limiting human labor costs. Another factor driving the adoption of CCM software includes technological advancements in natural language processing. Organizations have been keenly working towards generating personalized content for customers based on their inputs or queries received though emails or web portals. CCM software plays a critical role in assessing and comprehending various input files from customers and generating appropriate output.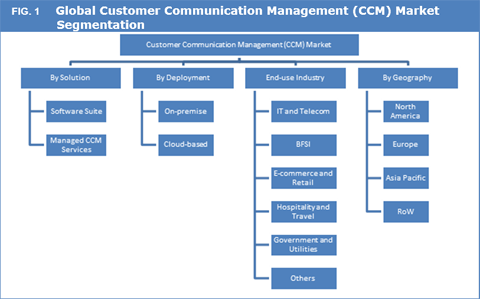 The report titled "Global Customer Communication Management (CCM) Market- Growth, Future Prospects and Competitive Analysis, 2017 – 2025" offers strategic insights into the global CCM market along with the market size and estimates for the duration 2015 to 2025. The said research study covers in-depth analysis of multiple market segments based on solution type, deployment type, end-use industry and cross-sectional study across different geographies and sub-geographies. The study covers the comparative analysis of different segments for the years 2016 & 2025. The report also provides a prolific view on market dynamics such as market drivers, restraints and opportunities. In addition, the report provides competitive landscape of various vendors in the CCM space.
In order to help strategic decision makers, the report also includes competitive profiling of the leading providers in the CCM industry, market positioning and key developments. Some of the major players profiled in the report are GMC Software AG, OpenText Corp., SmartComms SC, Limited, XMPie (Xerox Corporation), HP Exstream (Hewlett-Packard Development Company, L.P.), EMC Corporation, Pitney Bowes, Inc., Oracle Corporation, Ecrion, Inc., Adobe Systems Incorporated, Zoho Corporation, Striata, ISIS Papyrus Europe AG, Fidelity National Information Services, Inc. (FIS), Cincom Systems, Inc., Kofax, Inc., Newgen Software, Inc., Doxee S.p.A. and Intense Technologies Limited.
Other in-depth analysis provided in the report includes:
Current and future market trends to justify the forthcoming attractive markets within the customer communication management industry
Market fuelers, market impediments, and their impact on the market growth
In-depth competitive environment analysis
Trailing 2-Year market size data (2015 – 2016)
Overall, the research study provides a holistic view of the global customer communication management market, offering market size and estimates for the period from 2017 to 2025, keeping in mind the above mentioned factors.