Increase in the Safety Demand for Drivers to ensure Positive Growth in Driver Monitoring Systems Market
Global Driver Monitoring Systems (DMS) market was valued US$ 5,170.5 Mn in 2017 and set grow at CAGR of 16.4% throughout the forecast period from 2018 to 2026. Increasing demand for driver's safety tools is pointed as the most prominent factor influencing overall DMS market growth. Rise in road accidents contributed with high share in overall DMS market growth in recent years. In addition, increasing count health issues such as fatigue, low vision among others resulting in increasing demand for such driver's safety tools. Emerging need for safe, efficient and convenient driving experience along with the strengthened government safety regulations regarding drivers safety further set DMS market to grow over the review period. Increasing market for luxury cars ensures positive impact on DMS market, thereby placing high demand for advanced DMS systems. DMS find major adoption among luxury cars considering high price of the system. Luxury passenger cars has witnessed rise in market penetration in year 2017, owing to increase in driver safety concerns coupled with the improving per capita income of developing countries.
Market Snapshot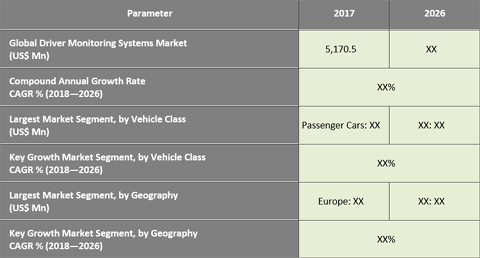 Passenger Cars Segment to Lead DMS Market throughout the Forecast Period
Global DMS market was dominated by passenger cars segment by securing more than 70% of market share in 2017. Increasing popularity of luxury cars coupled with high demand for advanced driver safety tools allows DMS to register significant growth, for passenger cars segment. Consistent rise in road accidents owing to driver's inattentiveness is observed as one of the promising factors causing DMS market to witness high market penetration. Growing luxury passenger cars market coupled with increasing road accidents together set DMS market to report significant growth. Among developed countries, despite of improved road safety, road accidents claimed the lives of 1.3 million people worldwide in 2017 with driver's inattentiveness as a major reason. Global driver monitoring systems market for passenger cars was valued US$ 4,063.2 Mn in 2017 and expected to grow with CAGR of 15.8% from 2018 to 2026..
Europe Dominates DMS Market with more than 40% Market Share; North America to Emerge as the Next Promising Market
Europe accounted for highest market share in recent years, owing to increasing automotive industry coupled with high demand for driver safety tools in global DMS market. Government initiatives such as New Car Assistant program (NCAP) pointed as a major cause behind Europe leading overall market for driver monitoring systems (DMS). European government has strengthened the safety regulations regarding integrations of safety tools among both passenger as well as commercial cars. DMS witnessed high adoption in both passenger as well as commercial cars segments in this region. Technological advancements in automotive industry is pointed as one of the highly contributing factor in overall DMS market growth. European luxury cars market witnessed tremendous growth in 2017, thereby increasing market demand for driver monitoring systems. On 1 June 2018, European Automotive Manufacturers Association (EAMA) announced growth of 2.7% in production of passenger cars, thereby successfully completing the target of 16.6 Mn in 2017.
North America along with Asia Pacific are projected to register fastest growth in global DMS market during the forecast period from 2018 to 2026. Global DMS market further witness high contribution of developing automotive industry in North America along with increasing demand for luxury cars in Asia Pacific region, in overall market growth. Growing safety concerns coupled with increasing demand for advanced driver safety system are some more factors supporting the DMS market growth among these regions. In addition, Technological advancement across some of leading countries including China, Japan and South Korea among others reported for their crucial role in overall DMS market expansion.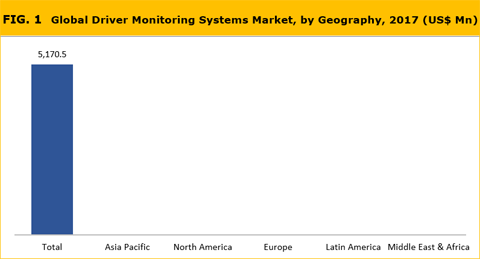 Development in Products Remains Key Strategy
Product developments pointed as one of the major strategies getting rapid traction in overall DMS Market in recent years. Developments in terms of software upgrade reported as one of the highly adopted strategy to maintain leading position in global DMS market. In addition, hardware advancements coupled with the introduction to the newer technologies in existing system are some more ways for product development, observed during company profiling. For instance, on 15 December 2016, Pioneer Corporation, one of the leading company in proving autonomous driving solutions, announced launch of driver alertness monitoring systems for both passenger as well as commercial cars. This newly launched DMS system comprises advanced technology such as image processing, artificial intelligence among others coupled with highly innovative sensors capable in detecting signs of drowsiness by heart rate.
By 2020, drivers monitoring systems market expected to witness introduction to the low cost and highly effective solution owing to cost-effective sensors fusion in existing system. Commercial cars segments also witnessed huge product development considering increasing demand coupled with technological advancements in automotive industry. For instance, on 7 February 2017, Bharatbenz Corporation, full owing subsidiary of Daimler AG, one of the leading German multinational automotive corporation, launched DMS specifically designed for commercial cars segment. This DMS employs state-of-the-art artificial intelligence along with computer vision technologies in order to identify facial patterns and others natural causes of accidents.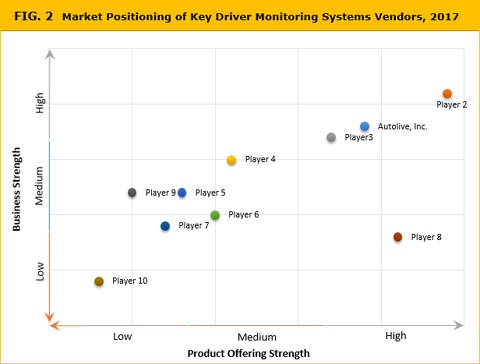 Historical & Forecast Period
2016 – Historical Year
2017 – Base Year
2018—2026 – Forecast Period
This research report presents the analysis of each segment from 2016 to 2026 considering 2017 as the base year for the research. Compounded Annual Growth Rate (CAGR) for each respective segments are calculated for the forecast period from 2018 to 2026.
Report Scope by Segments
The driver monitoring system market report provides market size and estimates based on market dynamics and key trends observed in the industry. The report provides a holistic view of global driver monitoring systems market based on vehicle class and geography. Key segments covered in the report are as follows:
Driver Monitoring Systems Vehicle Class Segment (2016—2026; US$ Mn)
Passenger Cars
Commercial Vehicles
Geography Segment (2016—2026; US$ Mn)
North America


U.S.
Rest of North America

Europe


U.K.
Germany
France
Rest of Europe

Asia Pacific (APAC)


China
Japan
South Asia
Rest of Asia Pacific

Rest of the World (RoW)


Middle East and Africa (MEA)
Latin America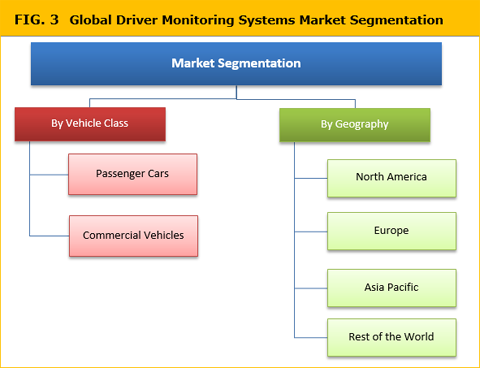 Key questions answered in this report
What was the market size of driver monitoring systems in 2017 and forecast up to 2026?
Which is the largest regional market for driver monitoring systems?
What are the key market trends observed in the DMS market?
Which is the most promising type in DMS market?
Who are the key players leading the market?
What are the key strategies adopted by the leading players in market?
Unique data points of this report
Statistics on adoption of DMS in both passenger as well as commercial vehicles segment per region
The market size for DMS market has been calculated on concrete parameters including distribution of DMS among passenger cars as well as commercial cars worldwide
In addition, dynamics in automotive industry across different geographies have been equally considered for estimating the growth rate and forecast market size
Comparative scenario for all the segments for years 2017 (actual) and 2026 (forecast)