Industry Outlook
Eggs are considered as one of the most gifted food items after milk and tagged as complete food packed with several essential macro and micro-nutrients. Egg has been a part of human diet from hundreds of years and the demand for eggs continues to grow perpetually with the growth in global population. Eggs are used as the main ingredient in several food preparations both in residential as well commercial platforms. Commercial food industries need to process millions of eggs per day and the task cannot be performed efficiently without using machines & equipment. Growing food processing industry and continuously rising demand for eggs certainly encouraged the demand for egg processing equipment. Consequently, egg processing equipment market registered market value of US$ 507 Mn in 2017 and expected to reach US$ 699.9 Mn by 2026 growing with a growth rate of 3.6% throughout the forecast period from 2018 to 2026.
Market Synopsis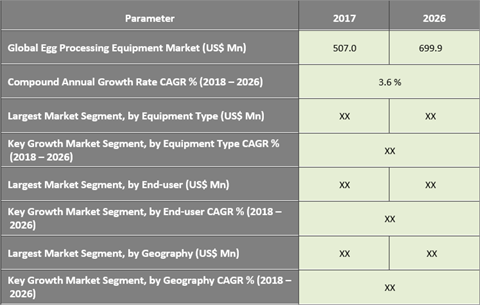 Get a sample copy for more information
"Standalone Equipment Holds an Upper Hand Over Assembly of Egg Processing Equipment"
A number of egg processing equipment in the form of standalone and assemblies are available for egg processing depending upon the capacity and nature of end-product required. End-use industry can easily procure a single equipment or can customize the assembly required with a turnkey alternative always at disposal. Standalone egg processing equipment is further classified into loader, washer, accumulator, breaker, pasteurizer, spray dryer, boiler ar, and several other equipment. These equipment are procured individually according to the need and capacity and ensure less procurement cost instead of incorporating complete assembly. According to assembly, the equipment is classified on the basis of egg processing capacity. The assemblies are classified as up to 70,000 eggs/Hr, from 70,001 to 200,000 eggs/Hr and above 200,000 eggs/Hr. In 2017, standalone egg processing equipment leads the equipment type segment in terms of market value. Standalone equipment projected to retain their dominance over the market throughout the forecast period from 2018 to 2026.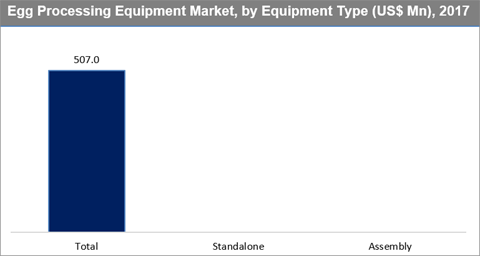 Get a sample copy for more information
"Flourishing Food Processing Industry Stimulating the Egg Processing Equipment Growth"
Food processing industry made some radical development in past few years and the progression expected to run a long way in future. Egg is a vital element in food group, it is used extensively across several delicacies and an important component of processed food. Millions of eggs are processed by food processing industry each day and hence the industry claims the majority of market share in egg processing equipment market. The segment is closely followed by bakery & confectionery industry in terms of market value. Bakery products are relished worldwide on a considerable scale and egg processing is an essential part of the bakery & confectionaries industry. In order to produce large batches of eggs, the industry extensively depends upon egg processing equipment. Therefore, bakery & confectionery industry also contribute major share along with food processing industry in overall egg processing equipment market.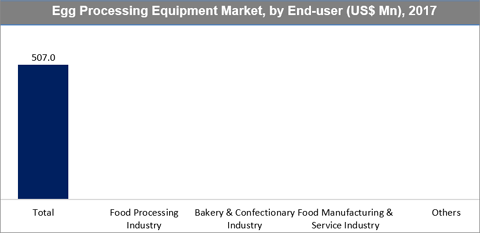 Get a sample copy for more information
"Asia Pacific Hold the Key to Become Market Leader in Coming Years Owing to its Vast Population"
North America currently holds the title of the most dominating region in global egg processing equipment market in terms of market value. In 2016, the U.S. produced more than 101.95 Bn eggs and citizens here love to start their day with eggs in some form. This helped the region to register majority of market share in egg processing equipment market. However, presence of number of agricultural countries and vast population expected to help Asia Pacific to emerge as the new egg processing equipment market leader in coming years. Countries such as China, India, Japan, and Indonesia together contribute more than 65% of the global egg production and continuous proliferation in population stimulating the demand for more eggs and egg products. Consequently, the demand for egg processing equipment experiencing continuous rise from past few years and projected to grow in multiples throughout and beyond the forecast period.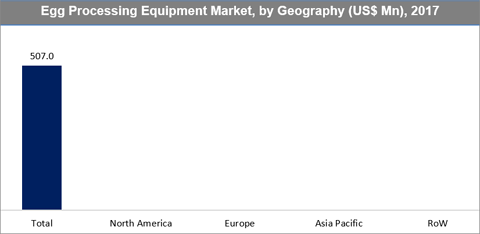 Market Segmentation
ATTRIBUTE
DETAILS
Research Period
2016-2026
Base Year
2017
Forecast Period
2018-2026
Historical Year
2016
Unit
USD Million
Segmentation

By Equipment Type (2016–2026; US$ Mn)
• Standalone
o Loader
o Washer
o Accumulator
o Breaker
o Pasteurizer
o Spray Dryer
o Boiler
o Others (Centrifuge, Filling & Packaging, Homogenizers, etc.)
• Assembly
o Up to 70,000 Eggs/Hr
o From 70,001 to 200,000 Eggs/Hr
o Above 200,000 Eggs/Hr

By End-user (2016–2026; US$ Mn)
• Food Processing Industry
• Baking & Confectionary Industry
• Food Manufacturing & Services Industry
• Others (Government Cafeterias, Hostels & Dormitories, Universities, etc.)

Geography Segment (2016–2026; US$ Mn)
• North America (U.S. and Canada)
• Europe (U.K., Germany, France, and Rest of Europe)
• Asia Pacific (Japan, China, India, and Rest of Asia Pacific)
• Rest of World (Middle East & Africa (MEA), Latin America)
"Big Players Face Tough Competition from Local Manufacturers for Market Share"
Egg processing equipment market is quite fragmented characterized by a number of local as well as international manufacturers. Company faces great many challenges to establish their presence in mature markets of North America and Europe. Manufacturers are shifting their focus on the developing regions of Asia Pacific and Latin America. In addition, the companies are concentrating on product development by introducing new features to their existing product line. The research study include business strategies and current progress of few of the most prominent players in egg processing equipment market includes Sanovo Technology Group, Actinit Group, OVO Tech, OVOBEL, PELBO S.p.A., Moba Group, Bouwhuis Enthoven BV, Dion Engineering, Midwest BRD, Inc., Ovoconcept, and ZenYer Egg Machinery Co., Ltd. among others.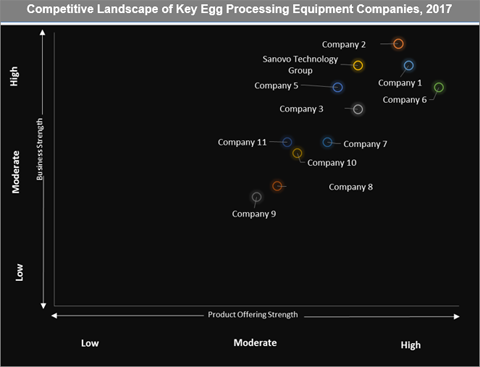 Key questions answered in this report
How changing food habits and evolution of in food processing equipment aided egg processing equipment market to flourish?
Which are the most prominent end-user and how their growth is helping egg processing equipment market to grow?
How standalone equipment and egg equipment assemblies standoff each other in terms of market value?
How geography, demography and consumers' choice affect the sales of egg processing equipment market?
What role do the governments worldwide play in the promoting egg consumption and ultimately their effect on the sales of egg processing equipment?
How agricultural region such as Asia Pacific and Latin America emerge as the game-changer in coming years?