Electronic batch record (EBR) refer to software that electronically stores and manages data for a given batch as well as the whole manufacturing process step-by-step. The software uses the existing enterprise resource planning (ERP) system to systematically produce a formal master batch record or electronic batch record. This stores all of the materials, processes and activities that went into producing a given product. Electronic batch records provide a seamless way to automatically assemble batch production data into a commonly organized electronic document. Thus, EBR helps replace paper records and keep an accurate track of all of the factors that have affected the batch. EBR solutions are principally used by the healthcare sector comprising pharmaceutical manufacturing and related research and development.
One of the most crucial concerns for pharmaceuticals sector is complying with the stringent regulations enforced different governing bodies such as Food & Drug Administration (FDA). This has significantly fueled the penetration of quality management solutions (such as EBR) across different healthcare organizations. The EBR software market is strongly supported by the rising pharmaceuticals manufacturing and research amongst these industries. With the growing quest for reducing errors as well as overheads along with effective process control, EBR software is set to continue witnessing steady demand over the following years. Factors such as advancing cloud technology, decreasing cost off digital storage and availability of variety of quality management software bundles too have contributed greatly to EBR software market.
Apart from the aforementioned factors, EBR software is also driven by their immense advantages as compared to the conventional paper-based manual batch record management. Due to minimal involvement of human resources, EBR software becomes highly convenient for recording process information. In addition, with the advent of cloud-based deployment, concerns regarding data storage and its cost get eliminated. Some of the major advantages of using EBR are as listed below:
Improved accuracy and consistency
Reduced inventory wastage
Reduced cycle time
Reduced data entry errors
Enhanced visibility through processes
Substantial return on investment
Improved decision making
Reduced operating costs
Better compliance with the regulations
Additionally, modern EBR software are now designed to be easily integrated with the existing ERP systems. This further facilitates and enhances the overall quality management system for pharmaceutical companies.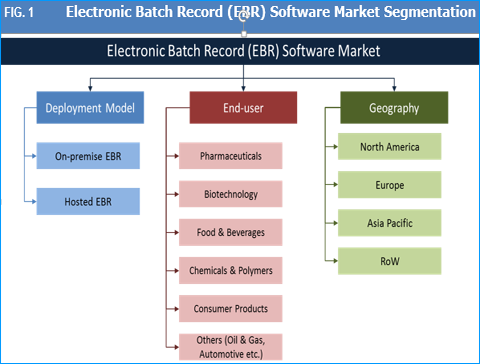 Some of the major companies profiled in the report include Siemens AG, Sparta Systems, Inc., QUMAS, SAP SE, Emerson Electric Company, Oracle Corporation, MAXLife Life Sciences Software, MasterControl, Inc., Honeywell International, Inc., Schneider Electric SE, ABB Ltd., Accelrys, Inc., Werum IT Solutions GmbH, Deem Sensing Technologies Pvt. Ltd., MetricStream, Inc., LZ Lifescience and others.