"Electrophysiology Devices Market to Exhibit Healthy Growth during the Forecast Period between 2018 & 2026"
The global electrophysiology devices market accounted for a value of US$ 6,513.3 Mn in 2017 and expected to attain US$ 16,730.2 Mn by 2026. Variables of the market are globally growing older population base coupled with rising prevalence of atrial fibrillation (AF) & cardiovascular diseases (CVDs), technological advancements in electrophysiology devices, and the presence of favorable government initiatives. The elderly population is more prone to develop AF and cardiovascular diseases. The World Health Organization (WHO) reported that global elder population has surged from 841.0 Mn in 2013 to 962.3 Mn in 2017, and will surpass 2.0 Bn by the end of 2050. Currently, the number of individuals suffering from atrial fibrillation across the world are more than 33.5 Mn. AtriCure, Inc., an atrial fibrillation (Afib) treatment devices firm stated that the U.S. has 6.0 million AF patients who incurred a total cost of US$ 26.0 BN for the disease in 2017 and currently, the country holds more than US$ 1.0 Bn market for atrial fibrillation. According to the American College of Cardiology (ACC) Foundation, about 422.7 Mn patients were living with the cardiovascular disease in 2015, and around 17.9 Mn patients died from CVDs in 2016, accounting 31.0% of all worldwide deaths.
Market Synopsis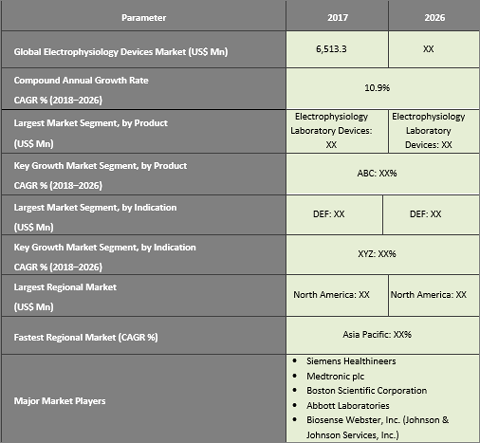 Get a sample copy for more information
"The Electrophysiology Laboratory Devices Segment to Command the Market from 2018 to 2026"
The electrophysiology laboratory devices segment is anticipated to hold the lion's share of the market between 2018 & 2026 owing to a surge in the number of electrophysiology labs in developed and developing countries along with increased focus on new product launches with technological advances in devices including EP X-ray systems, EP imaging, 3D mapping & recording systems, intracardiac echocardiography (ICE) systems, radiofrequency (RF) ablation generators, and electrophysiology remote steering systems. Electrophysiology ablation catheters includes catheters for cryoablation & RF ablation, laser ablation systems, and microwave ablation (MWA) systems.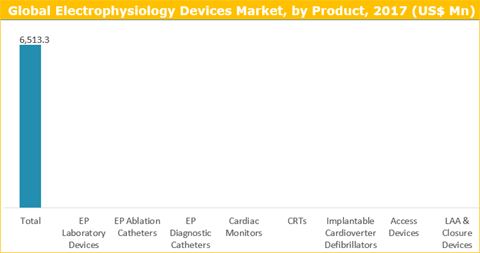 Get a sample copy for more information
"The Atrial Fibrillation Segment is expected to Continue the Dominance During the Forecast Period"
Rising prevalence of atrial fibrillation (Afib), technological developments in atrial fibrillation devices such as novel 3D mapping technology, convergent procedure, WATCHMAN left atrial appendage closure (LAAC) procedure, and focal impulse and rotor modulation (FIRM) ablation are supporting the governance of this segment in terms of value. Moreover, increasing adoption of radiofrequency and microwave catheter ablation procedures and the advent of implantable cardiac monitors (ICMs) are likely to support the market growth throughout the forecast period.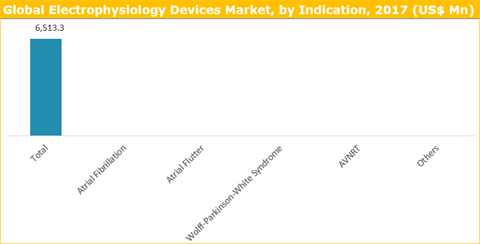 Get a sample copy for more information
"North America to Led the Market in 2017 due to the Presence of Supportive Healthcare Infrastructure and Key Market Players Based"
North America would continue to hold supremacy throughout the forecast period owing to the presence of major market participants & well-established healthcare infrastructure, surging number of EP labs along with supportive reimbursement & coverage for electrophysiology procedures in the U.S. and Canada. Asia Pacific is envisaged to display comparatively higher CAGR during the forecast period attributed to increasing incidence rates of targeted diseases, growing awareness about EP procedures, and rising spending on healthcare in India, China, and Japan.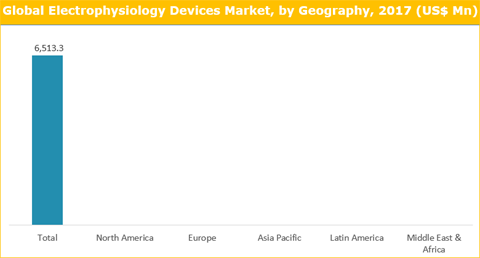 "The Presence of International Market Players Creates Market Penetration Challenging for New Entrants"
Key participants in this space are Siemens Healthineers; Medtronic plc; Boston Scientific Corporation; Abbott Laboratories; Biosense Webster, Inc. (Johnson & Johnson Services, Inc.); BIOTRONIK SE & Co. KG; Nihon Kohden Corporation; MicroPort Scientific Corporation; CardioFocus, Inc.; and Stereotaxis, Inc. In December 2017, Abbott Laboratories, a global healthcare company launched world's first and only smartphone compatible insertable cardiac monitor namely Confirm Rx insertable cardiac monitor (ICM) in the U.S. This device will assist physicians/cardiologists to remotely identify cardiac arrhythmias. Manufacturers have adopted growth strategies such as new product launches, collaborations & partnerships, divestitures, mergers & acquisitions, and operational & geographical expansion. In July 2017, BIOTRONIK SE & Co. KG launched Intica DX and Intica cardiac resynchronization therapy (CRT)-DX implantable cardioverter defibrillator (ICD) systems for atrial diagnostics (without an atrial lead) in the U.S. In May 2015, GE Healthcare and Abbott Laboratories collaborated to provide heart's electrical activity data to cardiac electrophysiology labs wherein GE's CardioLab sends electrogram signal data to Abbott's RhythmView mapping software which assists cardiologists in quickly diagnosing the sources of atrial fibrillation and other heart rhythm disorders.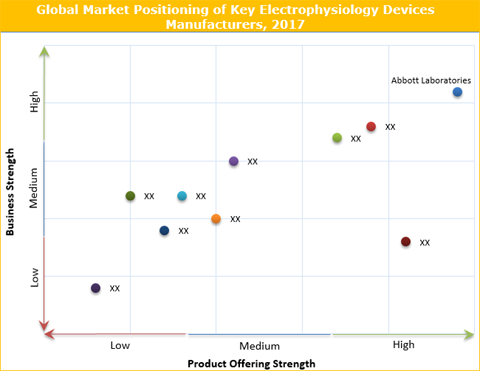 Historical & Forecast Period
This study report represents analysis for each segment from 2016 to 2026 considering 2017 to be the base year. Compounded Annual Growth Rate (CAGR) for each of the respective segments estimated for the forecast period from 2018 to 2026.
Report Scope by Segments
Electrophysiology devices market concentrates on the qualitative & quantitative analysis of present and future market dynamics. The report involves complete information on the global electrophysiology devices market by segmenting the market on the basis of product, indication, and geography. This report will assist the industry investors & associations, medical device companies, venture capitalists, suppliers & distributors of the medical devices, research & consulting firms, research & academic institutes, and healthcare professionals (HCPs) in decision-making and strategizing the market position.
ATTRIBUTE
DETAILS
Research Period
2016-2026
Base Year
2017
Forecast Period
2018-2026
Historical Year
2016
Unit
USD Million
Segmentation

Product Segment (2016–2026; US$ Mn)
• Electrophysiology Laboratory Devices
o Electrophysiology X-Ray Systems
o Electrophysiology Imaging, Mapping & Recording Systems
o Intracardiac Echocardiography (ICE) Systems
o Radiofrequency (RF) Ablation Generators
o Electrophysiology Remote Steering Systems
• Electrophysiology Ablation Catheters
• Electrophysiology Diagnostic Catheters
o Fixed Diagnostic Catheters
o Steerable Diagnostic Catheters
• Cardiac Monitors
• Cardiac Resynchronization Therapy Devices (CRTs)
• Implantable Cardioverter Defibrillators (ICDs)
• Access Devices
• Left Atrial Appendage (LAA) & Closure Devices

Indication Segment (2016–2026; US$ Mn)
• Atrial Fibrillation (AF)
• Atrial Flutter (AFL)
• Wolff-Parkinson-White (WPW) Syndrome
• Atrioventricular Nodal Reentrant Tachycardia (AVNRT)
• Others (retinal diseases and optic nerve diseases)

Geography Segment (2016–2026; US$ Mn)
• North America (United States and Canada)
• Europe (U.K., Germany, Rest of Europe)
• Asia Pacific (China, Japan, Rest of Asia Pacific)
• Latin America (Brazil, Mexico, Rest of Latin America)
• Middle East and Africa (GCC, Rest of MEA)
The current report also covers qualitative & quantitative analysis of market variables such as key market drivers, restraints, opportunities, and trends which convey comprehensive market information of the overall electrophysiology devices. In addition, the report also embraces a graphical illustration of the competitive landscape based on their market initiatives & strategies, product portfolio, financial information, and key developments. Major market players profiled in this study report are Siemens Healthineers; Medtronic plc; Boston Scientific Corporation; Abbott Laboratories; Biosense Webster, Inc. (Johnson & Johnson Services, Inc.); BIOTRONIK SE & Co. KG; Nihon Kohden Corporation; MicroPort Scientific Corporation; CardioFocus, Inc.; and Stereotaxis, Inc.
Key questions answered in this report
What are the current market trends and dynamics in the electrophysiology devices market and valuable opportunities for emerging players?
Which product contributes to the maximum market share?
Which product accounts for the fastest CAGR during the forecast period?
Which indication holds the highest market share?
Which indication would register comparatively higher CAGR over the forecast period?
What is the impact of high cost electrophysiology devices on the market?
Are low and middle-income economies investing in the electrophysiology devices market?
What is the market trend and dynamics in emerging markets such as Latin America and Middle East & Africa?