Facial recognition refers to a biometric security system that is based upon identifying a person from a digital image or video frame. Unlike the conventional security systems such as fingerprints and iris recognition, facial recognition system works on the facial features of human beings. The facial recognition technology conducts identification based on various facial features such as cheek bones, distance between eyes, and eye-brows. This technology does not require any physical contact of the subject for identification. Additionally, the facial recognition technology can be deployed in the existing surveillance systems. Thus, it can be used in public places for monitoring and identification purposes.
The most significant factor fueling the facial recognition market growth is the rising expenditure over surveillance systems worldwide. Due to rising terror threats, surveillance systems are mandatorily installed at public places. These facial recognition systems are deployed in combination with the surveillance systems. Thus, rising expenditure over security and surveillance systems is expected to boost the facial recognition market in the coming years. Nevertheless, the facial recognition systems market is majorly hindered due to privacy concerns such as misuse of personal information and data cloning. Also, these systems are less accurate and reliable as compared to the fingerprint and iris recognition. Nevertheless, with ongoing advancements in the facial recognition algorithms, the market is expected to witness significant growth in the coming years.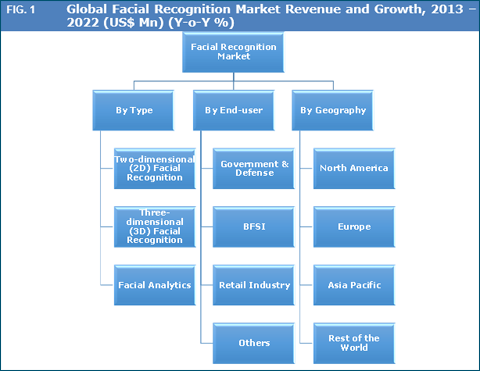 The report titled "Global Facial Recognition Market- Growth, Share, Opportunities and Competitive Analysis, 2015 – 2022" offers strategic insights into the global facial recognition market along with the market size and estimates for the duration 2013 to 2022. The said research study covers in-depth analysis of multiple market segments based on types, end-users and cross-sectional study across different geographies. The study covers the comparative analysis of different segments for the years 2014 & 2022. The report also provides a prolific view on market dynamics such as market drivers, restraints and opportunities.
In order to help strategic decision makers, the report also includes competitive profiling of the leading facial recognition system vendors, their SCOT (Strength, Challenges, Opportunities and Weaknesses) analysis, market positioning and key developments. Some of the major players profiled in the report are NEC Corporation, Cognitec Systems Pty Ltd., Morpho S.A.S. (Safran Group), Aware, Inc., Ayonix, Inc., Cross Match Technologies, Inc., Animetrics, Inc., FaceFirst, Inc. (Airborne Biometrics Group Inc.), ZK Software, Inc., 3M Cogent, Inc., Aurora Computer Services Ltd. and others. Other in-depth analysis provided in the report includes:
Current and future market trends to justify the forthcoming attractive markets within the security systems industry
Market fuelers, market impediments, and their impact on the market growth
In-depth competitive environment analysis
Trailing 2-Year market size data (2013 – 2014)
SRC (Segment-Region-Country) Analysis
Overall, the research study provides a holistic view of the global facial recognition systems market, offering market size and estimates for the period from 2015 to 2022, keeping in mind the above mentioned factors.