Industry Outlook
The primary factors driving the growth of the global fertility and pregnancy test kits market are the growing demand for self-contained solutions that the consumers can directly use, growing risk of infertility, and easy availability of time saving and cost-effective pregnancy detection solutions. In addition, increasing use of rapid testing kits in fertility clinics and home care, growing rate of adolescent pregnancies and high promotions of such solutions are some of the other factors supporting the market growth. On the other hand, lack of awareness about the availability of precise ovulation and fertility kits in low income countries, and questions raised on the precision of such devices, along with risk of false results due to improper use of pregnancy detection kits hold back the growth of this market. The major players in this industry are coming up with intensive marketing strategies, along with alliance with e-commerce platforms and distribution agreements with local players will open new opportunities in the emerging markets.
Market Synopsis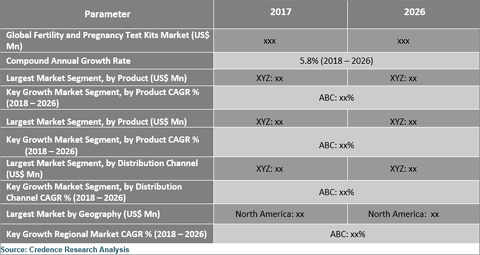 Get a sample copy for more information
"Pregnancy Test Kits Segment to Dominate the Global Market"
Between fertility kits and pregnancy kits, the pregnancy test kits segment occupies over 50% of the global market share in 2017, and the segment is anticipated to lead the global market through the forecast period. The first pregnancy test kits and ovulation kits were approved (U.S.) in 1976 and 1984 respectively. Since the first approval, over 100 pregnancy tests and several home diagnostic solutions have been approved by the US FDA for assisting patients in diagnosis and monitoring of various conditions. Home diagnostic solutions are inexpensive and easy to use, therefore allow the patients to take the ownership of their health. Ovulation tests help women in augmenting their chance of conception. At home pregnancy kits allow women to detect pregnancy at earlier stages than waiting for physician appointment. Such early knowledge assists women to avoid activities that may be harmful for fetal development. Technological advancements have improved the ease of use and precision of pregnancy diagnostic kits.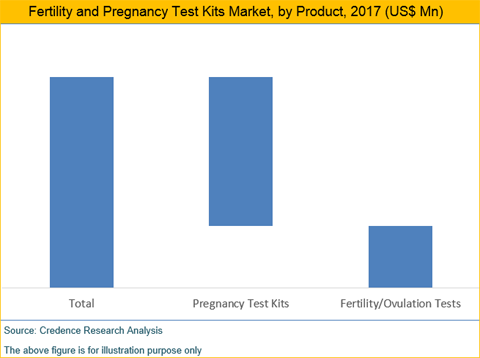 Get a sample copy for more information
"HCG tests Occupy the Largest Revenue Share, Globally"
Owing to the dominance of pregnancy tests in the global market, the dominance of HCG tests, both blood and urine based testing corresponds. These products are also in high demand as an alternative to the radiographic diagnostic solutions. The dose to the normal tissue with pregnancy kits is reduced, therefore minimizing the risk of radiation effects to the fetus and normal tissue. There are several pregnancy detection kits approved for sale in the global markets. Such tests vary in their sensitivity to detect hCG. Higher sensitivity kits are able to detect pregnancy earlier than the tests that detect hCG at 100 mIU/ml. hCG blood tests are more often used in healthcare settings such as clinics and hospitals as they are more sensitive and can deliver earlier prediction than urine tests.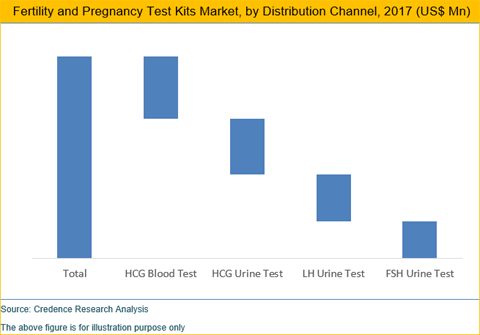 Get a sample copy for more information
"Asia Pacific to Account as the Fastest Market for Fertility and Pregnancy Test Kits"
North America and Western Europe together occupy the largest revenue shares in the global fertility and pregnancy kits market. The large share of this segment is attributed to growing use of fertility monitoring due to advancing maternity age, use of fertility monitoring for contraception and high awareness about the precision of ovulation monitors and pregnancy kits. On the other hand, Asia Pacific is anticipated to witness at the fastest CAGR during the forecast period. Competitive prices of pregnancy test kits, growing preference for at home monitoring of ovulation periods, and consistently increasing female population belonging to maternal age group are the key factors supporting the rapid pace of Asia Pacific market.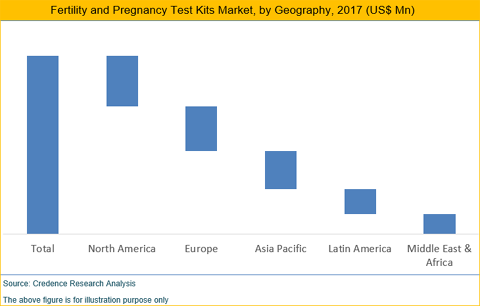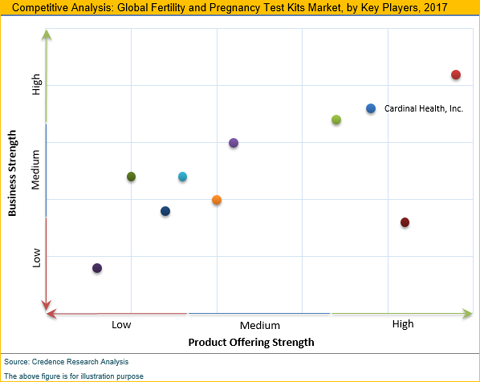 Historical & Forecast Period
This research report presents the analysis of each considered segment for the period from 2016 to 2026, having 2017 as the base year for estimations. Compounded annual growth rates (CAGRs) for each segment are calculated for the forecast period from 2018 to 2026.
Report Scope by Segments
The fertility and pregnancy test kits Market report provides quantitative assessment of the industry terms of current and forecasted market size, while also presenting the market dynamics. This market is segmented based on type, shape, applications, and geography.
ATTRIBUTE
DETAILS
Research Period
2016-2026
Base Year
2017
Forecast Period
2018-2026
Historical Year
2016
Unit
USD Million
Segmentation

By Product (2016–2026; US$ Mn)
• Pregnancy Test Kits
• Strip Tests
• Midstream Kits
• Cassette Tests
• Digital Tests
• Fertility/Ovulation Tests
• Line Indicator Tests
• Digital Tests

By Test Type (2016–2026; US$ Mn)
• HCG Blood Test
• HCG Urine Test
• LH Urine Test
• FSH Urine Test

By Distribution Channels (2016–2026; US$ Mn)
• Hospitals & Specialty Clinics
• Pharmacies
• Online Retail
• Others (Supermarkets, and Specialty Retail)

Geography Segment (2016–2026; US$ Mn)
• North America (United States and Canada)
• Europe (U.K., Germany, Rest of Europe)
• Asia Pacific (China, Japan, Rest of Asia Pacific)
• Latin America (Brazil, Mexico, Rest of Latin America)
• Middle East and Africa (GCC, Rest of MEA)
With the quantitative market information in terms of revenue, this report also includes qualitative information sets for each considered segment. Furthermore the report also comprises study of the current market dynamics such as drivers and challenges along with major opportunities opening the potential in this market. Profiles of key players are included in the report based on factors such as business overview, key developments, financial information and product portfolio. The major market players thus profiled in this report include Abbott Laboratories, Inc., Cardinal Health, Inc., Procter & Gamble Co., Swiss Precision Diagnostics GmbH, Germaine Laboratories, Inc., Church & Dwight Co., Inc., Piramal Healthcare (Piramal Enterprises Ltd.), Confirm Biosciences, Quidel Corporation, bioMérieux SA and Geratherm Medical AG.
Key questions answered in this report
What is the current and projected market size of the global fertility and pregnancy test kits market during the period 2016 to 2026?
At what CAGR will the global market progress during the forecast period?
Between pregnancy kits and fertility kits, which segment occupies global lead and what are the key factors supporting this trend?
Which are the major trends that determine the dominance of hCG tests in the global market?
How is online retail transforming the sales avenues to fertility and pregnancy kits products?