Firefighting robots refer to the unmanned ground vehicles remotely controlled by a human operator in order to mitigate and extinguish fires. The main task of these robots is to minimize the exposure of human firefighters to dangerous and hostile conditions. Besides fire extinguishing application, firefighting robots are also used for numerous other purposes such as fire detection, fire suppression, searching and rescuing of trapped people and to evaluate geographical conditions of the area. Equipped with a number of advanced sensors and GPS systems, firefighting robots are capable of identifying the cause and origin of fire in order to assist first responders by keeping them away from the line of danger. Based on the working environment and conditions, a variety of locomotive techniques such as tracked robots, wheeled robots and legged robots are used for different firefighting applications. These robots can either carry water in an on-board tank or can carry the fire hose to spray water on the fire. Some firefighting robots are also equipped with fans and blowers in order to ward off smoke generated during the fire accident for better visibility and to avoid suffocation.
Leading robotics developer companies have been engaged in design and development of advanced firefighting solutions with a higher degree of safety features and functionality. With the introduction of advanced electromechanical sensor technology, firefighting robots are all set to become an essential component of modern day firefighting systems. Continuous developments have been made to make the firefighting robots capable of tackling critical fire accidents in places such as warehouses, tunnels, other infrastructures and wildfires. The aforementioned utilities of firefighting robots have also encouraged public safety and civil defense organizations across various countries to deploy firefighting robots in their firefighting troops. In addition, numerous governments across the world have been heavily investing in robotic companies for the development of advanced firefighting robots. Therefore, factors such as the utility of firefighting robots, continuous advancement in the field of robotics and encouragement by government agencies are expected to boost the demand for the firefighting robots during the forecast period from 2017 to 2025.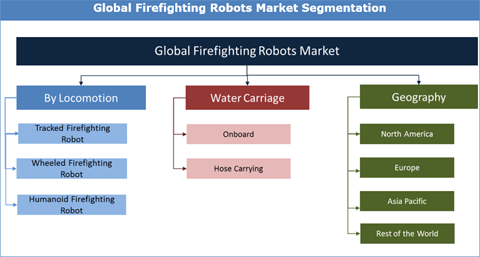 The report titled "Firefighting Robots Market - Growth, Future Prospects and Competitive Analysis, 2017-2025" provides vital observations into the global firefighting robots market with an emphasis on the market size and evaluation for the period of 2015 to 2025. The study offers complete top to bottom examination on different market segments such as locomotion, water carriage and various major countries across the globe. The study also provides comparatively analysis of each sub-segment for the years 2016 and 2025. The report additionally, provides a deep perspective on ongoing market trends including market drivers, limitations, and vital growth opportunities.
The report includes detailed profiling of the leading firefighting robot manufacturers, their market positioning, market approach adopted and key advancements in order to help strategic decision makers. Some of the major firefighting robot manufacturers mapped in the report include Agni Industries Fire Service, Ltd., BSS Holland B.V., Changzhou Changtan Robot Co., Ltd., DigiRobotics LLC, DOK-ING d.o.o., DRB Fatech Co., Ltd., Howe and Howe Technologies, IZ Holding, InRob Tech Ltd., Lockheed Martin, LUF GmbH, Ontario Drive & Gear Ltd., Parosha Holdings, QinetiQ Group PLC and Ryland Research Ltd.
Other in-depth analysis provided in the report includes:
Present and future market trends to identify growth pockets within the firefighting robots industry
Key market dynamics such as market drivers, market restraints and their effects on the overall firefighting robots market
Current market occurring and future prospects in the firefighting robots market
Comprehensive competitive analysis
Market size data for trailing two years (2015 and 2016)
Overall, the research study provides an overall perspective of the global firefighting robots market, offering estimates and market size for the period from 2017 to 2025, based on the previously mentioned factors.