Expansion of Supermarkets to Drive the Flake Ice Machine Market Growth
The flake ice machine market was valued at US$ 1.77 Bn in 2017 and expected to be growing at a compounded annual growth rate (CAGR) of 8.2% from 2018 to 2026. One of the most important advantages of flake ice is, being thin, flake ice do not damage the delicate fish skin. With excellent characteristics, flake ice finds wide application in the processing industries. Moreover, the sea food industries is one of major users of flake ice. Furthermore, flake ice also finds application in dye making and plays a vital role in concreting. It helps to avoid any cracks in concreting. One of the most prominent factors aiding the flake ice machine market growth is the significant growth of the super markets and hypermarkets across the world. Countries such as China and India have remained in the forefront in this context with a high growth of such infrastructures in recent years. Consumers are increasingly preferring modern trade formats like supermarkets and hypermarkets which are stepping up to fulfil the needs of consumers.
Market Synopsis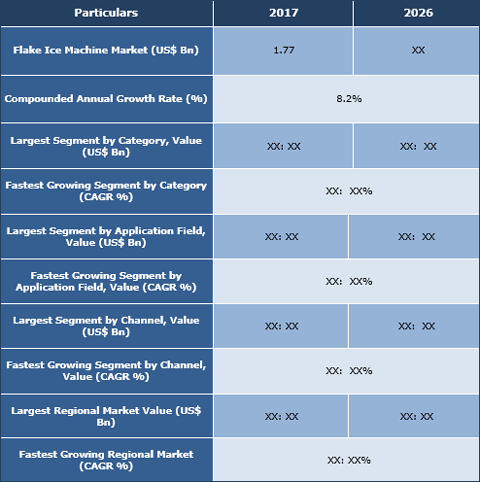 Get a sample copy for more information
Fishery and Aquatic Food Processing Industry to Remain an Important Application Field for Flake Ice
Fishery and aquatic food processing stood as the largest segment in terms of value in 2017. Flake ice is extensively used in the fishery and aquatic food processing industry. Flake ice is one of the best method for cooling seafood products quickly in order to preserve peak freshness. Moreover, the fact that flake ice is harmless, portable and cheap is another important factor aiding its adoption in the fishery and aquatic food processing industry. Flake ice helps in keeping the fish cold, moist & glossy and at the same time proves beneficial to prevent dehydration, which is often common in case of other methods of cooling, such as refrigerated storage without ice.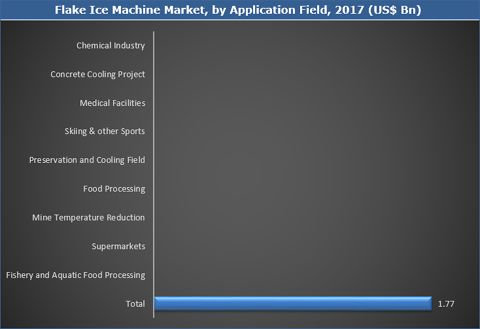 Get a sample copy for more information
Product Innovation to Remain an Important Strategy for Manufacturers to Gain a Competitive Advantage
The flake ice machine market is highly competitive with the presence of both domestic as well as international players. Product quality, brand recognition, availability, performance, product innovation and product pricing are some of the major criteria on which the market players usually compete. The players in order to get a competitive advantage often invest in product innovation. For instance, recently, MAJA, a German based manufacturer of flake ice machines, introduced a "hybrid" machine that facilitates end users such as a supermarket to initially use an HFC refrigerant but ultimately transit to CO2. The new product is specially targeted at customers who are not able to invest in CO2 refrigeration rack at the moment, but can switch over in coming years.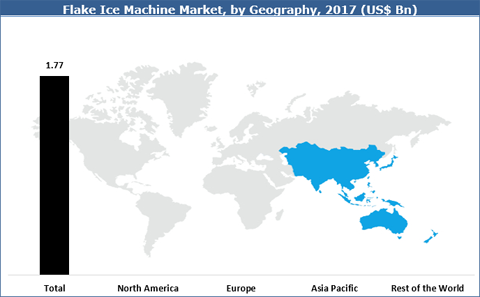 Get a sample copy for more information
Asia Pacific to Remain the Most Attractive Market for Investment during the Forecast Period
The global flake ice machine market was dominated by Asia Pacific accounting for more than 30% of the overall market value in 2017. The Flake Ice Machine Market in the region is driven by the rapid expansion of supermarkets and hypermarkets in the region. Flake ice often finds application in these retail outlets to store and display fish and seafood. In recent years, there has been a significant rise in the number of super markets and hypermarkets in Asia Pacific. China stood as the largest market in the region accounting for nearly 30% of the regional value in 2017.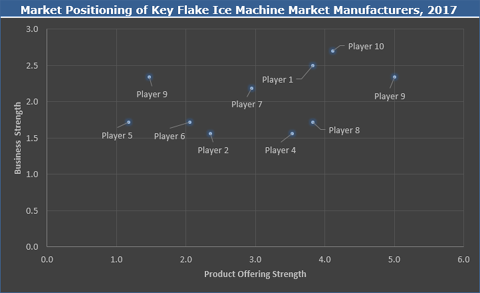 Historical & Forecast Period
This research report presents the analysis of each segment from 2016 to 2026 considering 2017 as the base year for the research. Compounded Annual Growth Rate (CAGR) for each respective segments are calculated for the forecast period from 2018 to 2026.
Report Scope by Segments
The report elucidates the detailed outline of global flake ice machine market by categorizing the market in terms of capacity, application field, channel and geography.
ATTRIBUTE
DETAILS
Research Period
2016-2026
Base Year
2017
Forecast Period
2018-2026
Historical Year
2016
Unit
USD Billion
Segmentation

By Capacity (2016–2026; US$ Bn)
• Low Capacity (less than 3000 KG/Day)
• Medium Capacity (3000 KG/Day to 10000 KG/Day)
• High Capacity (More than 1000 KG/Day)

By Application Field (2016–2026; US$ Bn)
• Fishery and Aquatic Food Processing
• Supermarkets
• Mine Temperature Reduction
• Food Processing
• Preservation and Cooling Field
• Skiing & other Sports
• Medical Facilities
• Concrete Cooling Project
• Chemical Industry

By Channel (2016–2026; US$ Bn)
• Direct Sales
• Distributor

Geography Segment (2016–2026; US$ Bn)
• North America (U.S. and Canada)
• Europe (U.K., Germany, France, and Rest of Europe)
• Asia Pacific (Japan, China, India, and Rest of Asia Pacific)
• Rest of World (Middle East & Africa (MEA), Latin America)
Key players profiled in the report include North Star, Focusun, MAJA GmbH & Co. KG, Scotsman, ICEMAN Corporation, Hoshizaki, Industrial Refrigeration Pvt. Ltd., Ice-O-Matic, Telstar and Recom among others.
Key questions answered in this report
What was the global flake ice machine market size in 2017 and forecast for 2026?
What are the current market trends in the flake ice machine market?
What are the various valuable opportunities for the players?
Which are the bestselling flake ice machine brands in the market?
Which is the largest regional market for flake ice machines?
Which region expected to be the fastest growing and why?
What are new products launched by the leading flake ice machine manufacturers?
What are the key strategies adopted by the leading players in market?