Geographic information systems (GIS) refers to the gathering, storage, manipulation, presentation and analysis of geo-spatial data associated to any geographic location in the world. The geographic information systems (GIS) make use of various input types such as existing maps, satellite imagery, aerial imagery, and 3D scanners, among others to create digital maps of geographic locations. Moreover, GIS allows manipulation of geographic data collected from numerous sources to align with each other and stores a normalized digital map. The GIS enables organizations and entities to quickly assess and compare various geographical locations based on specific natural features such as temperature, altitude, seismic activities and availability of resources among others. In addition, the GIS data can contain numerous parameters such as population, infrastructure, and demographics pertaining to any specific location. Thereby, the usage of GIS offers numerous benefits for government bodies and organizations maintain categorized databases of various locations. The GIS market comprises various components such as hardware, software, data, and services provided by various participants in the geographic information ecosystem.
Geographic information systems (GIS) have proved immensely helpful for various government bodies in planning and commissioning of numerous infrastructure projects. In addition, numerous businesses have realized the potential of using geographic information systems (GIS) for various purposes. One of the supply side drivers of the growth in the geographic information systems (GIS) market include technological advancements in 3D mapping. The latest systems are capable of delivering deeper geo-spatial data with higher degree of accuracy. With the use of aerial unmanned vehicles (AUVs), precise satellite positioning with global navigation satellite system (GNSS) and light detection and ranging (LiDAR), GIS are able to capture and store precise geographical data enabling enhanced data manipulation and presentation. Thereby, the geographic information systems (GIS) have gained immense popularity and higher adoption in the recent years.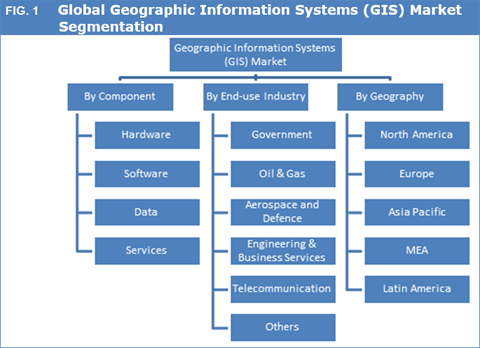 The report titled "Global Geographic Information Systems (GIS) Market- Growth, Future Prospects and Competitive Analysis, 2016 – 2024" offers strategic insights into the global geographic information systems (GIS) market along with the market size and estimates for the duration 2014 to 2024. The said research study covers in-depth analysis of multiple market segments based on components, end-use industry and cross-sectional study across different geographies and sub-geographies. The study covers the comparative analysis of different segments for the years 2015 & 2024. The report also provides a prolific view on market dynamics such as market drivers, restraints and opportunities. In addition, the report covers a section providing analysis on the key applications of geographic information systems (GIS) in various end-use industries across the world.
In order to help strategic decision makers, the report also includes competitive profiling of the leading providers of geographic information systems (GIS), market positioning and key developments. Some of the major players profiled in the report are Hexagon AB, Autodesk, Inc., Bentley Systems, Inc., Environmental Systems Research Institute (ESRI), FARO Technologies, Inc., Topcon Positioning Systems, Inc., Trimble, Inc., Pitney Bowes, Inc., MacDonald, Dettwiler and Associates Ltd., SuperMap Software Co., Ltd., Pasco Corporation, Ubisense Group Plc., Schneider Electric SE, Geodezia Zrt. and South Surveying & Mapping Instrument Co., Ltd.
Other in-depth analysis provided in the report includes:
Current and future market trends to justify the forthcoming attractive markets within the geographic information systems (GIS) industry
Market fuelers, market impediments, and their impact on the market growth
In-depth competitive environment analysis
Trailing 2-Year market size data (2014 – 2015)
SRC (Segment-Region-Country) Analysis
Overall, the research study provides a holistic view of the global geographic information systems (GIS) market, offering market size and estimates for the period from 2016 to 2024, keeping in mind the above mentioned factors.