Gravimeter is a type of accelerometer that measures the gravitational force by constantly measuring downward acceleration of the Earth's gravity. Gravimeters are primarily used in exploration phases prospecting for subsurface deposits of natural resources such as mineral ores and petroleum reserves. In addition, these instruments are used by geodesists to study gravitational field and shape of the Earth. Gravimeters are commonly used across a wide range of applications including metrology, geodesy, seismology, petroleum and mineral exploration, geophysical surveys and several others.
The most prominent factor driving the gravimeters market is the superior benefits of gravity measurement as compared to other exploration methods. Gravity measurement is relatively less costly and reliable as compared to other methods such as seismic exploration. Gravimeters are highly effective in applications having lower depths. In addition, gravity measurement is easy to perform and is a non-destructive process. Further, anticipated growth in the oil & gas sector too is projected to emerge as a driving factor for gravimeter market. However, declining exploration budgets from the mining industry may hamper the market growth from the segment.
Evolution of gravimeters too has played a crucial role in the market growth. For instance, absolute gravity measurement is difficult method as it requires accurate measurement of time and distance. Over the period of time, use of lasers and atomic clocks have facilitated precise measurement of time and distance. This makes absolute gravity measurement more accurate and reliable. Another prominent factor driving the gravimeters market growth is the steady pace of advancement in the industry. Apart from land-based applications, gravimeters are now used on airplanes as well as ships. This significantly broadens and simplifies the application area of gravimeters, thereby supporting the market growth.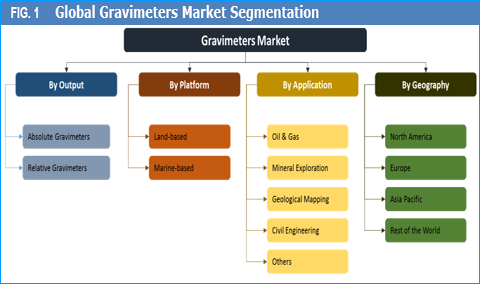 The report titled "Global Gravimeters Market- Growth, Future Prospects and Competitive Analysis, 2017 – 2025" provides in-depth analysis into the global gravimeters market in addition to market size and estimates for the period from 2015 to 2025. The research study provides strategic insights on various market segments based on output, platform, application and cross-sectional analysis for different geographic regions. The report offers comparative analysis of various segments for the years 2016 and 2025.
In order to help decision makers, the report covers competitive profiling of the leading manufacturers of gravimeters, competitive landscape and key market developments. Some of the major players included in the report are Scintrex Limited, AOSense, Inc., Muquans SAS, ZLS Corporation, Micro-g LaCoste, Inc., GWR Instruments, Inc. and Canadian Micro Gravity Pty Ltd.
Other detailed analysis covered in the report includes:
Current and future market trends to point out attractive investment areas within the gravimeters industry
Market drivers, market restraints, and their impact on the market estimations
In-depth competitive analysis
2-year historic market size data (2015 – 2016)
Overall, the research study provides a comprehensive view of the global gravimeters market, offering market size and estimates for the forecast period from 2017 to 2025, considering the above mentioned dynamics.