"Extraordinary growth in public-cloud and data-center revenues is likely to fuel the growth of the Hyperscale Data Centers Market"
Globally, the hyperscale data centers market is expected to grow with a CAGR of more than 17.5% during the forecast period from 2019 to 2027, starting from US$ 18.55 Bn in 2017. Hyperscale data centers are designed to offer a single largely scalable computer architecture. The primary idea behind developing hyperscale data center is to start with small infrastructure in order to keep the initial investments as low as possible. Based on the increasing demand, the initial infrastructure can be expended by adding new nodes to the cluster. Furthermore, growing demand for online services such as social networking, gaming websites, and live channels is generating large volume of data, which needs proper storage and processing. Cloud computing has been changing data storage requirements and its rapid growth is expected to generate high demand for cloud resources and data centers. Moreover, hyperscale data centers provides various advantages such as maximizing the cooling effect, allocating electrical power in discrete packages, ensure electricity availability, and balances workloads across servers. These accomplishments of hyperscale data centers also drive its adoption. Hyperscale data centers are largely adopted by big companies such as Amazon and Google. Due to increasing number of IT companies and rapid growth on the computer technologies is thereby supporting the hyperscale data center to emerge as one of the fastest-growing technologies in the IT infrastructure world. However, hyperscale data center consume large amount of power which generates heat that is harmful for the environment, and also in order to develop a hyperscale data center, the initial investment and installation cost is very high. Also, there can be issues with limitation of storage space which could also decline the rate of adoption of hyperscale data center. These factors are likely to hinder the growth of this market during the forecast period.
Market Synopsis
Get a sample copy for more information
"Networking equipment segment to dominate the hyperscale data centers market"
Based on component, the hyperscale data centers market is segmented into solutions and services. The solutions segment covers the market for cooling, IT racks and enclosures, power, LV/MV distribution, networking equipment and DCIM. The networking equipment segment is likely to dominate the hyperscale data center market by holding market share of around 30%. As there is rapid increase in size of IT facilities to support the widespread business operations, there is growing need for smooth data transfer and data integration. Integration of a large number of servers and storage devices requires effective network infrastructure to ensure effective communication and sharing of the enterprise data. Also, large companies are gradually moving towards adopting software-defined networking technology which help them achieve high performance, and low expectancy in data processing and transmission. These factors largely drive the demand for networking equipment, and thus fuel the growth of this market.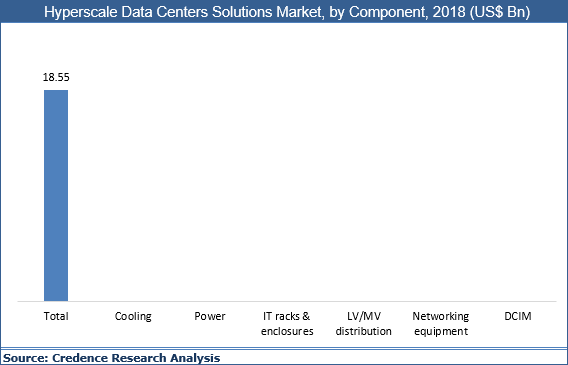 Get a sample copy for more information
"North America is expected to dominate the market in near future"
North America dominates the hyperscale data centers market by holding largest market share of the total revenue generated worldwide. Owing to the technological advancements and increasing adoption of cloud-based solution for big data storage and cloud computing in North America, this region has a greater impact on the overall market size of the hyperscale data centers. Following North America, Europe holds the second position in the global market owing to the increasing adoption of this solution in various industry verticals. As the companies in North America and Europe have a high spending capacities, these regions dominate the global market, however Asia-Pacific is expected to grow at a highest CAGR during the forecast period. As countries such as India and China provide significant IT infrastructure, has strong presence of OTT providers and telecom operators and large customer base, the hyperscale data center market is experiencing a boom in this region. Moreover, there is a strong internet penetration rate in this region which also provides high growth opportunities to the service providers.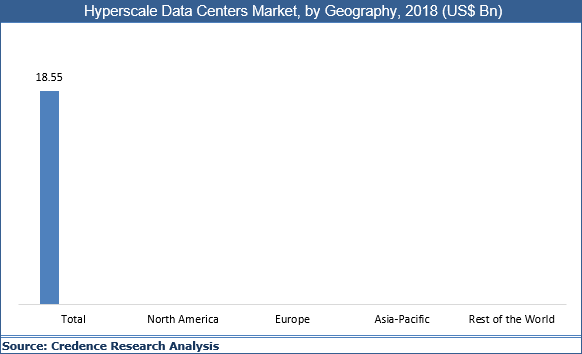 Get a sample copy for more information
Some of the prominent players operating in the Schneider Electric SE, NVIDIA Corporation, Sandisk LLC, Lenovo Group Ltd., IBM Corporation, Intel Corporation, Microsoft Corporation, Cisco Systems, Inc., Dell, Inc., Huawei Technologies Co., Ltd., Cavium, Inc., and Broadcom Ltd. among others.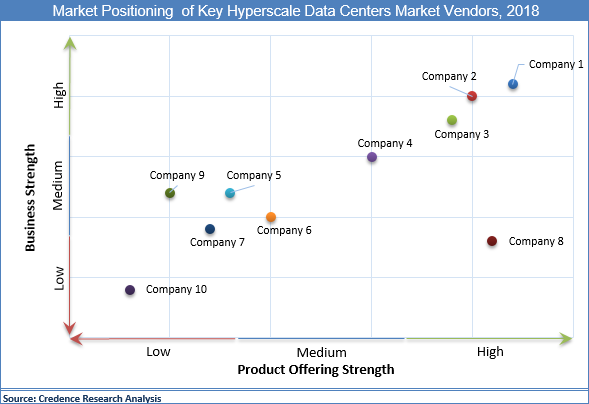 Historical & Forecast Period
This research report presents the analysis of each segment from 2017 to 2027 considering 2018 as the base year for the research. Compounded Annual Growth Rate (CAGR) for each respective segments calculated for the forecast period from 2019 to 2027.
Report Scope by Segments
The hyperscale data centers market report provides market size and estimates based on market dynamics and key trends observed in the industry. The report provides a holistic view of global hyperscale data centers market based on solution, service, application, end-user and geography. Key segments covered in the report are as follows:
ATTRIBUTE
DETAILS
Research Period
2017-2027
Base Year
2018
Forecast Period
2019-2027
Historical Year
2017
Unit
USD Billion
Segmentation

Component Segment (2017–2027; US$ Bn)
• Solution
o Cooling
o Power
o IT racks & enclosures
o LV/MV distribution
o Networking equipment
o DCIM
• Service
• Installation & deployment
• Maintenance & support
• Monitoring services

Application Protocol Segment (2017–2027; US$ Bn)
• BFSI
• Government
• IT & telecom
• Entertainment & media
• Others

End User Segment (2017–2027; US$ Bn)
• Cloud providers
• Colocation providers
• Enterprises

Geography Segment (2017–2027; US$ Bn)
• North America (U.S., Rest of North America)
• Europe (U.K., Germany, France, Rest of Europe)
• Asia Pacific (China, Japan, India, Rest of Asia Pacific)
• Rest of the World (Middle East & Africa, Latin America)
Key questions answered in this report
What was the market size of hyperscale data centers in 2018 and forecast up to 2027?
Which is the largest regional market for networking equipment segment?
What are the major trends followed in hyperscale data centers market across different regions?
Who are the key hyperscale data centers companies leading the market?
What are the key strategies adopted by the leading hyperscale data centers companies in market?
Unique data points of this report
Statistics on hyperscale data centers penetration and spending worldwide
Recent trends across different regions in terms of adoption of hyperscale data centers for various applications in various industries
Notable developments going on in hyperscale data centers industry
Attractive investment proposition for segments as well as geography
Comparative scenario for all the segments for years 2018 (actual) and 2027 (forecast)