Industry Outlook
Industrial mezzanines are the simple artificial floor constructed inside the building infrastructure in order to expand the existing working space. Industrial mezzanines serve as a vital tool in effective utilization of unused vertical space available in manufacturing units. These mezzanines are extensively used to create workspace for machinery, buffer & storage, temporary or permanent cabins and walkthroughs for easy access. Industrial mezzanines offer several advantages in addition to space utilizations including flexibility, cost-effectiveness and are very effective for leased spaces where additional solid construction is usually prohibited. All the aforementioned factors made industrial mezzanines a must-have solution for industries across different verticals.
Market Synopsis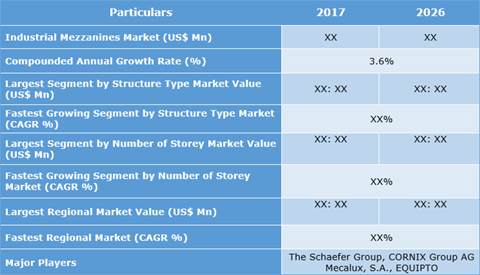 Get a sample copy for more information
"Free Standing Structure' Stands Tall in Terms of Market Value in 2017"
According to structure type, industrial mezzanines are divided into four categories namely: free standing, building-supported, shelving-supported and rack-supported. In 2017, free standing industrial mezzanines dominated the overall segment in terms of demand and market value. Free standing mezzanines are easy to assemble and dis-assemble and offer unmatched flexibility as they are not dependent on any fixed structure. These mezzanines offer modular and hassle-free customizations with the building and hence are preferred over other variants. In 2017, shelving-supported and rack-supported industrial mezzanines trailed free standing mezzanines. Such mezzanines are used to store material and are preferred by warehouses and supply chain industries. Building-supported mezzanines contributed least to the overall market value in the year 2017. With limit new structures erections, building-supported mezzanines projected to make nominal growth in coming years.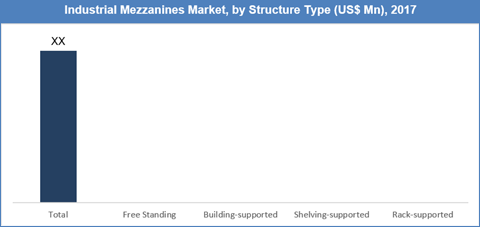 Get a sample copy for more information
"Single Storey Mezzanines' Anticipated to Maintain its Height in Terms of Market Value Throughout the Forecast Period From 2018 to 2026"
Single storey mezzanines lead the industrial mezzanines market in 2017 and anticipated to dominate the segment throughout the forecast period from 2018 to 2026. Single storey mezzanines are quite popular with small medium as well as big industrial enclosures as these mezzanines economical, easy to install and completely flexible to be accommodated into any available space. Multi-storey mezzanines offer various option from two storey mezzanines up to limit of celling of the industrial infrastructure. Higher mezzanines are generally used for monitoring and inspection of tall equipment and machineries. Limited adoption rate anticipated to affect the growth of multi-storey industrial mezzanines throughout the forecast period from 2018 to 2026.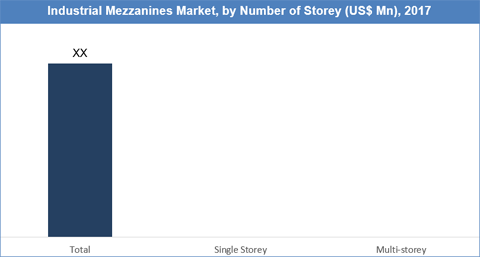 Get a sample copy for more information
"Positive Growth in Manufacturing Industries in Asia Pacific Supports the Demand for Industrial Mezzanines"
Post-2011 recession, industrial manufacturing, and processing sector in Asia Pacific steadily caught the road to recovery, regenerating the growth opportunities for existing and new industries. Rising disposable income and consumers' confidence encouraged the growth of industries in industrial nations including China, India, and South Korea, among others. This turned out be a boon for associated industries such as infrastructure industry, logistics & supply chain and industrial mezzanines industry. Consequently, Asia Pacific led the global industrial mezzanines market in 2017. Well established industries in Europe helped the region to bag second rank in overall industrial mezzanines and anticipated to hold on to its position throughout the forecast period from 2018 to 2026. North America and Rest of the World are projected to follow Asia Pacific and Europe respectively in coming years.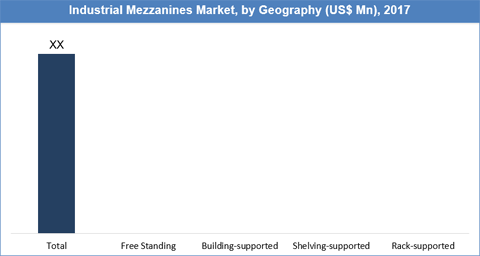 Market Segmentation
ATTRIBUTE
DETAILS
Research Period
2016-2026
Base Year
2017
Forecast Period
2018-2026
Historical Year
2016
Unit
USD Million
Segmentation

by Structure Type (2016–2026; US$ Mn)
• Freestanding Mezzanines
• Building-supported Mezzanines
• Shelving-supported Mezzanines
• Rack-supported Mezzanines

by Number of Storey (2016–2026; US$ Mn)
• Single Storey Mezzanines
• Multi-storey Mezzanines

Geography Segment (2016–2026; US$ Mn)
• North America (U.S., Rest of North America)
• Europe (U.K., Germany, France, Rest of Europe)
• Asia Pacific (China, Japan, India, Rest of APAC)
• Rest of the World (Latin America, Middle East and Africa)
"Unorganized Market Offers Bright Prospects for Companies to Mark their Presence"
Industrial mezzanines market is quite fragmented and highly competitive market with several local companies contributes to the overall market value. All these companies have limited geographical presence and operate on a contractual basis. No major players have claimed their dominance in this unorganized market. Consequently, the market proposes tremendous opportunities for major brand across the globe dealing in industrial infrastructure and material & space management to make their foothold strong in this segment. The companies can enter market by incorporating strategies such as acquisitions, partnerships, and mergers with local companies to make the most of their efforts. Some of the leading industrial mezzanines vendors profiled in the research study includes The Schaefer Group, CORNIX Group AG, Dexion (Gonvarri Material Handling), Mecalux, S.A., EQUIPTO (Consolidated Storage Companies, Inc.), MECA Storage Systems, Wildeck, Inc., Stanley Vidmar (Stanley Black & Decker, Inc.), Cogan Wire and Metal Products Ltd., PortaFab Corporation, Kimer Estanterias, and Jungheinrich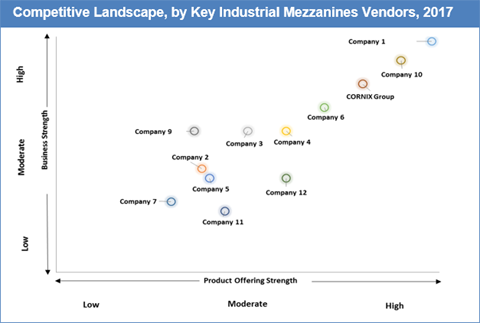 Key questions answered in this report
What are the latest market trends shaping the industrial mezzanines market providing valuable opportunities for the key industry participants?
How industry safety regulations and government policies encouraged the global as well as regional industrial mezzanines market?
Which are the prominent range of products manufactured by the key players?
Which is Largent and fastest growing segment in terms of power output, drive type and mode of operation?
Which are the most lucrative geographical region/ country for overall industrial mezzanines market?
What are the market size and trend in emerging markets such as Asia Pacific, Middle East & Africa and Latin America?