Industry Outlook
Microservers are small sized specialized servers equipped with processors and are used extensively to execute lightweight tasks compare to traditional rack servers. Microservers are making their way into data centers of small and medium-size enterprise with limited technical staff. Owing to their small size, these servers can be packed in cluster and requires low power to operate. Such servers are extensively used for various application such as data centers, data & media storage and smart appliances. Owing to continuously expanding application areas and various merits over traditional servers, the microservers market registered a market value of US$ 4.27 Bn in 2017. Proliferation of artificial intelligence (AI) and internet of things (IoT) expected to upscale the market to US$ 35.54 Bn in 2026 growing with a CAGR of 26.7%.
Market Synopsis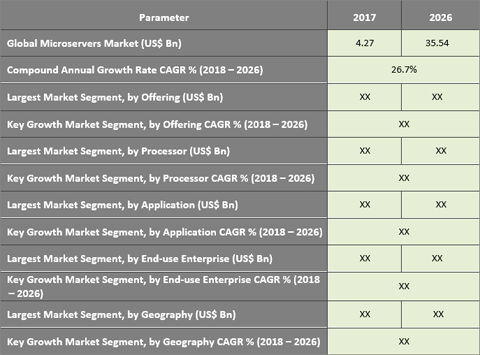 Get a sample copy for more information
"Purchasing & Installation Claimed Considerable Market Share in Microservers Market"
Progressive rate of establishment of new companies and consistently flourishing data applications allowed purchasing and installation to dominated offering segment. Small and medium scale enterprises are preferring microservers by purchasing and installing them at a considerable rate. As these servers can be easily maintained by limited IT personnel, service for microservers lacks luster at present. However, with continued proliferation of microservers, service offering projected to grow at higher growth rate compared to purchasing and installation.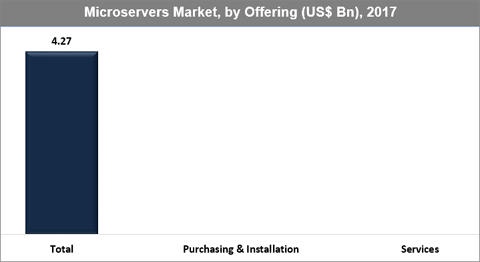 Get a sample copy for more information
"Intel Processors Commands an Upper-hand Over Other Processor to Dictate the Market"
In 2017, Intel processors emerged as the largest processor used across the several microprocessors. Intel processor already has been in almost 60% enterprise level servers and have clear lead over Arm processors owing to their dominant market position. ARM processors are gaining momentum in market with its energy efficient and small size microprocessor offering tough competition to Intel. However, ARM processor requires modification in existing architecture and porting software for compatibility issues. Consequently, ARM processor projected to experience steady growth in coming years.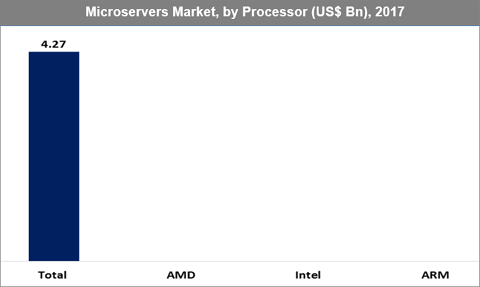 Small Enterprise Holds the Key for the Growth of Microservers Market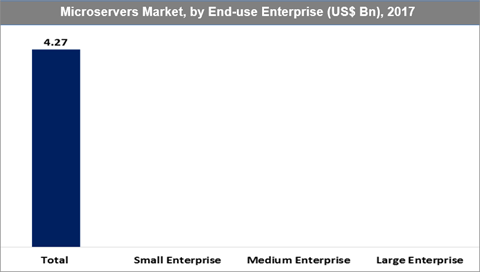 Get a sample copy for more information
Growing number of IT start-ups and web-hosting companies with limited budget and resources prefer to opt for microservers. These serves are economical, weedy and diminutive is physical attribute and packs power to carry out trivial computing task efficiently compared to high specification alternatives. The merits aided small enterprises to establish their infrastructure at relatively lower set-up and running cost as microservers operate on low power and require limited space. Small enterprise trailed by medium enterprise in terms of market value. Such enterprise often uses microservers along with traditional serves to get the best of both worlds. Large enterprise and data centers rarely used microserver initially, however, these large enterprises are also recognizing its power and their market share projected to increase consistently in coming years.
"Powered by Intel Processor, North America is a Clear Leader in Global Microservers Market"
Backed by Intel microservers and presence of multiple small media and large computing enterprises, North America appears to be at top of the podium. The dominant position of North America expected to remain undisputed throughout the forecast period from 2018 to 2026. North America is followed by Europe in terms of market value. However, Asia Pacific estimated to demonstrate highest growth rate, all thank to growing IT and data centers in China and India. With significant development in AI and IoT, Asia Pacific is forecasted to be the global leader beyond forecast period.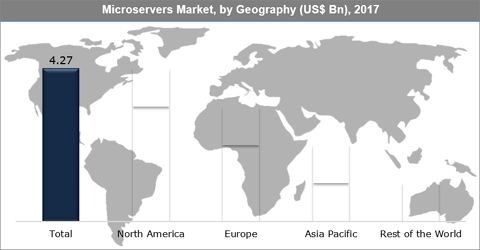 Market Segmentation
ATTRIBUTE
DETAILS
Research Period
2016-2026
Base Year
2017
Forecast Period
2018-2026
Historical Year
2016
Unit
USD Billion
Segmentation

By Offering (2016–2026; US$ Bn)
• Purchase & Installation
• Services

By Processor (2016–2026; US$ Bn)
• AMD
• Intel
• ARM

By Application (2016–2026; US$ Bn)
• Data & Media Storage
• Data Analytics
• Cloud Computing
• Others (Artificial Intelligence, Robotics, Internet of Things, etc.)

By End-use Enterprise (2016–2026; US$ Bn)
• Small Enterprise
• Medium Enterprise
• Large Enterprise

Geography Segment (2016–2026; US$ Bn)
• North America (U.S. and Canada)
• Europe (U.K., Germany, France, and Rest of Europe)
• Asia Pacific (Japan, China, India, and Rest of Asia Pacific)
• Rest of World (Middle East & Africa (MEA), Latin America)
"Microservers Companies Needs to Cope up with Dynamic Advancements to Stay Competitive"
Similar to any disruptive technology microservers market is also highly fragmented characterizes by some of the most prominent tech giants. These companies are facing an intense competition to be at the epitome of market. Almost every company studied in this research study focuses on their product development by making their microservers more efficient, energy efficient and cost-effective. Strategic acquisitions, alliances, and corporations are few of the most common strategies observed by major companies other than product development. Some of the key microservers vendors profiled in this research study include IBM Corporation, The Hewlett-Packard Company, Dell, Fujitsu Ltd., Hitachi, Ltd., NEC Corporation, Intel Corporation, Advanced Micro Devices, Inc., Arm Holdings, Tyan Computer Corporation, Quanta Computer Inc. and Samsung Electronics Co. Ltd among others.
Key questions answered in this report
What are the latest trends in the microservers market and potential opportunities for the computing players?
Rapidly evolving technologies such as AI, IoT, and robotics affect the growth of global as well as regional microservers market?
Which are the largest and fastest growing segment in terms of trailer type, number of axles, and end-user?
Which is the most attractive geographical region/country for overall microservers market?
How will evolving computing and processor technology play a vital role in overall microservers market in coming years?
What is the market size and trends in developing regions such as Asia Pacific, Middle East & Africa, and Latin America?