With the rising number of internet users worldwide, the demand for OTT content has risen substantially in the past few years. According to the International Telecommunication Union (ITU), the number of internet users accounted for over 16% of the global population in 2005 and has risen to over 40%, as of 2014. Due to rising advancement and penetration of smart mobile devices such as smartphones, tablets and consumer electronics such as smart televisions, the OTT market has flourished significantly in the recent years. With the further increase in internet users, the OTT market is set to only rise during the forecast period.
OTT refers to content (voice/video/other media) delivered to consumers over the internet. The most significant factor fueling the market growth is the convenience to the consumers offered by OTT content delivery service. Consumers can access the content anytime, anywhere as per their convenience through their mobile devices as well as desktops or smart televisions.
Improving internet infrastructure is another major factor bolstering the market growth. Due to advancement in the smart mobile devices, the OTT content has become highly popular over the period of time. Thus, the OTT market is estimated to register strong growth worldwide during the forecast period. Nevertheless, increasing government regulations related to the operating license may significantly hamper the market growth in the coming years.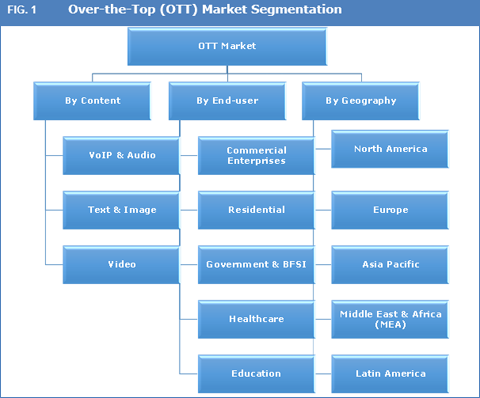 The report titled "Global Over-the-Top (OTT) Market- Growth, Share, Opportunities and Competitive Analysis, 2016 – 2023" offers strategic insights into the global OTT market along with the market size and estimates for the duration 2013 to 2023. The said research study covers in-depth analysis of multiple market segments based on content type, end-user types and cross-sectional study across different geographies and sub-geographical regions. The study covers the comparative analysis of different segments for the years 2015 & 2023. The report also provides a prolific view on market dynamics such as market drivers, restraints & opportunities and section focusing on the consumer behavior analysis.
In order to help strategic decision makers, the report also includes competitive profiling of the leading OTT service vendors, their SCOT (Strength, Challenges, Opportunities and Weaknesses) analysis, market positioning and key developments. Some of the major players profiled in the report are Apple, Inc., Netflix, Akamai Technologies, Inc., Microsoft Corporation, Google, Inc., Nimbuzz, Facebook, Inc., Yahoo, Inc. (Verizon Communications, Inc.) and Limelight Networks, Inc. among others. Other in-depth analysis provided in the report includes:
Current and future market trends to justify the forthcoming attractive markets within the OTT industry
Market fuelers, market impediments, and their impact on the market growth
In-depth competitive environment analysis
Trailing 3-Year market size data (2013 – 2015)
SRC (Segment-Region-Country) Analysis
Overall, the research study provides a holistic view of the global OTT market, offering market size and estimates for the period from 2016 to 2023, keeping in mind the above mentioned factors.