Pedestrian entrance control refers to the protection of various buildings and sensitive sites by controlling and monitoring physical access to various personnel entering the building. In addition, deployment of pedestrian entrance control systems enables building management and administrators to streamline and optimize traffic flow in order to ensure better security. Furthermore, pedestrian entrance control systems enables swift access to authorized personnel into various building locations along with security checks and validation for new entrants. Thereby, pedestrian entrance control systems have offered a viable solution for organizations to deploy enhanced security features at numerous entry points while causing minimal inconvenience to their workforce and customers. Pedestrian entrance control systems encompass various security gates, doors, turnstiles and speed gates, among others. Depending on the nature of the entry points, organizations can choose from a wide array of equipment in order to ensure optimum security of the physical site. Pedestrian entrance control systems have become pivotal for various institutions all across the world due to rising threats and physical attacks and damage. Organizations from various end-use industries including banking and finance, education, healthcare, commercial, government, manufacturing and industrial, retail, events, transportation, residential, utilities and energy, among others seek to deploy physical security solutions to ensure safety for the property and personnel.
One of the major factors driving the growth of the pedestrian entrance control systems market is the rising threat of terrorism all across the globe. It has become imperative for various organizations and governments across the world to invest in latest and advanced security solutions to ensure public and private safety of physical sites and people visiting or working there. Other factors such as rise in thefts and espionage have further fuelled the growth in the global pedestrian entrance control systems market. Some of the factors restraining the growth in this market include high initial costs, and lack of technological awareness, among others. However, with increasing demand for security and rising threats against numerous government and commercial buildings across the world, the overall pedestrian entrance control systems market is expected to witness substantial growth during the forecast period.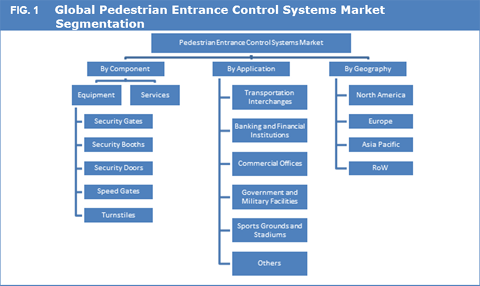 The report titled "Global Pedestrian Entrance Control Systems Market- Growth, Future Prospects and Competitive Analysis, 2017 – 2025" offers strategic insights into the global pedestrian entrance control systems market along with the market size and estimates for the duration 2015 to 2025. The said research study covers in-depth analysis of multiple market segments based on component (equipment and services), end-use industry and cross-sectional study across different geographies and sub-geographies. The study covers the comparative analysis of different segments for the years 2016 & 2025. The report also provides a prolific view on market dynamics such as market drivers, restraints and opportunities. In addition, the report covers a section providing analysis on the types of entrance control equipment deployed at various locations to ensure efficiency in traffic flow and effective security
In order to help strategic decision makers, the report also includes competitive profiling of the leading providers of pedestrian entrance control systems, market positioning and key developments. Some of the major players profiled in the report are URSA Gates Ltd., APT Controls Limited, Boon Edam, Inc., PERCo, Automatic Systems SA, Controlled Access Turnstiles, Kaba Group, Controlled Access Turnstiles, Inc., SKIDATA AG, Mecanizados Argusa, S.A. and Turnstile Security Inc.
Other in-depth analysis provided in the report includes:
Current and future market trends to justify the forthcoming attractive markets within the physical security industry
Market fuelers, market impediments, and their impact on the market growth
In-depth competitive environment analysis
Trailing 2-Year market size data (2015 – 2016)
SRC (Segment-Region-Country) Analysis
Overall, the research study provides a holistic view of the global pedestrian entrance control systems market, offering market size and estimates for the period from 2017 to 2025, keeping in mind the above mentioned factors.