Industry Outlook
The pharmaceutical excipients market expected to reach US$ 11,938.1 Mn by 2026 from US$ 6,615.7 Mn in 2017 projecting a steady growth at a compound annual growth rate (CAGR) of 6.87% during the forecast period from 2018 to 2026. The World Health Organization (WHO) 2013 initiative states that there is need for optimum research in healthcare in order to provide universal healthcare facilities to public. Pharmaceutical and biotechnology industries are working diligently to meet this aspiration. In the current scenario, a trend is noticed in the pharmaceutical industry wherein polymers obtained from natural resources are being replaced by synthetic polymers to achieve the desired drug release profile. Acrylic polymers are widely utilized owing to their increasing application in novel drug delivery systems and its easy manufacturing process. Another important trend noticed in the pharmaceutical drug manufacturing is the increasing preference for binders and coating materials e.g. Benecel™, Prosolv®, Soluplus® etc., due to their easy availability as raw material and ability to alter the drug pharmacokinetic profile either as a fast releasing or controlled release of API. North America and Europe currently dominates the pharmaceutical excipients market, as they are domicile to key players possessing developed healthcare infrastructure. Asia Pacific will be the fastest growing regional segment owing to rising prevalence of chronic diseases requiring immediate medical attention, proactive government policies majorly focusing on the expansion of pharmaceutical and biotechnology sector and tapping potential market in the far-flung remote areas with unmet medical needs.
Market Synopsis
Polymers will continue to register their significant growth in the pharmaceutical excipients market
Polymers are currently dominating the products segment in terms of market revenue and are determined to be the fastest growing segment during the forecast period from 2018 to 2026. The International Federation of Pharmaceutical Manufacturers and Associations (IFPMA) are working in synchronization with the International Conference on Harmonization (ICH) to meet the cGMP guidelines mandated for drug formulation. In the last decade, numerous adverse events related to drug formulations were registered in the global pharmacovigilance monitoring center in Uppsala (Sweden). Polymers currently constitutes over 30% of pharmaceutical excipients market due to its increasing importance in determining the safety and efficacy of the drug formulation. They are being currently produced in large scale by manufacturers such as Ashland, Inc., Lubrizol Corporation and FMC Corporation. Polymers are gaining huge popularity owing to the ease of production from natural resources and its tremendous application in novel drug delivery system, co-processing of excipients and nanotechnology (DaunoXome®).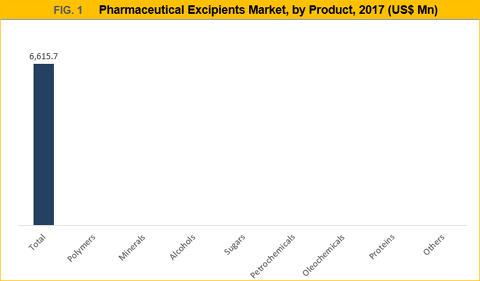 Binders segment to record highest double digit CAGR during the forecast period
Pharmaceutical excipients are used in drug formulation owing to their varied functions such as diluents and fillers, binders, solvents, coatings, flavoring agents, disintegrants, colorants, lubricants & glidants and preservatives. Currently the pharmaceutical companies such as BASF SE and The Dow Chemical Company are being driven by multifaceted demands. The rising demand for pharmaceutical products has resulted in the growth of API production and excipient consumption. Within the pharmaceutical industries the latest trend observed is the reduced R&D activity for novel excipients, decreasing price pressure and stringent regulation has forced drug manufacturers to develop excipients such as binders, coating agents and diluents to create value added products at low cost without comprising quality. The latest example is the burgeoning demand for extended release drug formulation which is made by proper application of excipients such as binders and coating agents.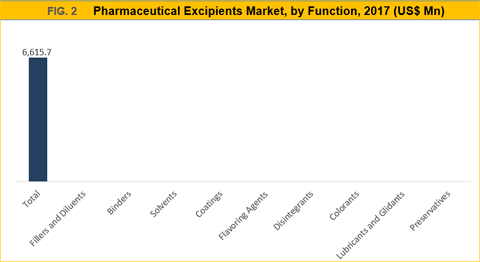 Proactive government policies in Asia Pacific to set the stage for swift growth during the forecast period
Major pharmaceutical excipients manufacturers such as BASF SE and Roquette Group are located in the Western Europe. Moreover, Europe has been pioneering in the development of APIs and pharmaceutical excipients for almost a century. The Dow Chemical Company, FMC Corporation and Lubrizol Corporation are situated in the United States and majorly contribute to the market growth in North America. Rising patient pool, proactive government policies actively engaged in the expansion of the pharmaceuticals manufacturing industry drive the pharmaceutical excipients market growth in Asia Pacific. In addition, the emergence of local players and government initiatives such as Make in India and China's 13th annual policy plan are responsible for the growth of pharmaceutical excipients market in Asia Pacific. Key vendors are establishing manufacturing subsidiaries to overcome the loss in revenue during shipment of pharmaceutical excipients. Moreover, factors such as rising prevalence of chronic diseases, availability of cheap labor and raw material serves as potential indices for the growth of pharmaceutical excipient market in Latin America and Middle East & Africa region. In Indian context, the Department of pharmaceuticals has drafted a new National Pharmaceutical Policy (NPP) that has resulted in the banishment of loan licensing to third parties for manufacturing pharmaceutical products. The intentions behind the policy was to cap trade margins, reduce unfair practices and boost domestic production.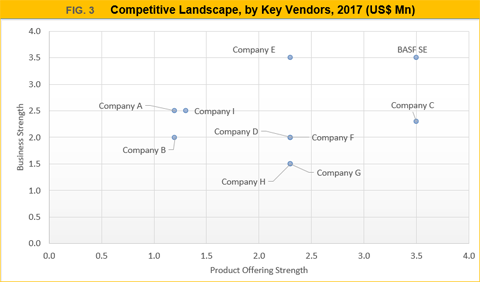 Historical & Forecast Period
2016 – Historical Year
2017 – Base Year
2018-2026 – Forecast Period
This research report presents the analysis of each segment from 2016 to 2026 considering 2017 as the base year for the research. Compounded annual growth rate (CAGR) for each respective segments are calculated for the forecast period from 2018 to 2026.
Report Scope by Segments
Pharmaceutical excipients market report furnishes quantitative analysis along with its latest market trends. The market is segmented by function, by product and geography.
By Product Segment (2016–2026; US$ Mn)
Polymers

Ethyl Cellulose
Methyl Cellulose
Hydroxy Propyl Methyl Cellulose
Povidone
Crosscarmellose Sodium
Pregelatinized Starch
Sodium Starch Glycolate
Polyethylene Glycols
Acrylic Polymers

Minerals

Calcium Phosphate
Calcium Carbonate
Clay
Silicon Dioxide
Titanium Dioxide
Others (Magnesium Oxide, Clay, Kaolinite, Phyllosilicates)

Alcohols

Glycerin
Propylene Glycol
Sorbitol
Mannitol
Others (Benzyl Alcohol, Menthol, Polyvinyl Alcohol)

Sugars\

Lactose
Sucrose
Others (Maltodextrin, Cyclodextrin, Dextrose, Saccharin)

Petrochemicals

Petrolatum
Mineral Waxes
Mineral Oils
Others (Paraben, Paraffin)

Oleochemicals

Fatty Acids
Mineral Stearates
Others (Quaternary Ammonium Salts, Triacylglycerols)

Proteins
Others (Tweens, Spans, Carbomers, Disodium Edetate)
By Function Segment (2016–2026; US$ Mn)
Fillers and Diluents
Binders
Solvents
Coatings
Flavoring Agents
Disintegrants
Colorants
Lubricants and Glidants\
Preservatives
Geography Segment (2016–2026; US$ Mn)
North America
Europe

Germany
United Kingdom
Rest of Europe\

Asia Pacific (APAC)
Latin America (LATAM)

Brazil
Mexico
Rest of Latin America

Middle East and Africa (MEA)

GCC
Rest of Middle East and Africa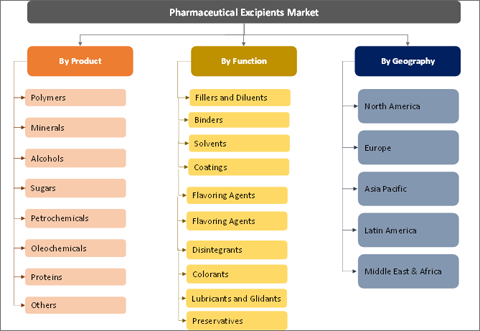 Market assessment is an important tool that furnishes us with the latest trend prevalent in the pharmaceutical excipients market with the help of compound annual growth rate and market size. Competitive analysis helps in mapping the key vendors engaged in the manufacturing of pharmaceutical excipients with a brief elucidation on the existing competition among them. Product portfolio covers the entire range of excipients utilized for the drug formulation and development. Recent news coverage gives valuable insights regarding the latest merger and acquisition and its impact on the pharmaceutical excipients market. The major players spearheading in the pharmaceutical excipients market are Archer Daniels Midland Company, Ashland, Inc., Associated British Foods Plc., Ashland, Inc., BASF SE, Croda International Plc., The Dow Chemical Company, Evonik Industries AG, FMC Corporation, Lubrizol Corporation and Roquette Group.
Key questions answered in this report
What are the latest trends in the pharmaceutical excipients market and valuable opportunities for the key players?
Who is the leading player in the global pharmaceutical excipients market?
Which is the leading and fastest region in the global pharmaceutical excipients market?
Which are the largest and fastest growing excipients in the global pharmaceutical excipients market?
Where is the maximum production happening? Which region is importing the most pharmaceutical excipients?