Industry Outlook
Polymyositis treatment market projected to grow at a CAGR of 5.9% during the forecast period from 2019 to 2027. Polymyositis is rare connective tissue disease that causes muscle inflammation leading to muscle weakness. According to prevalence studies, globally the incidence of polymyositis is around 1 to 5 per 100,000 individuals and the prevalence is approximately 5 to 22 per 100,000 individuals. Thus, high awareness related to polymyositis diagnosis & treatment, strong drug pipeline, and rising geriatric population expected to assist the growth of polymyositis treatment market in the near future.
Market Synopsis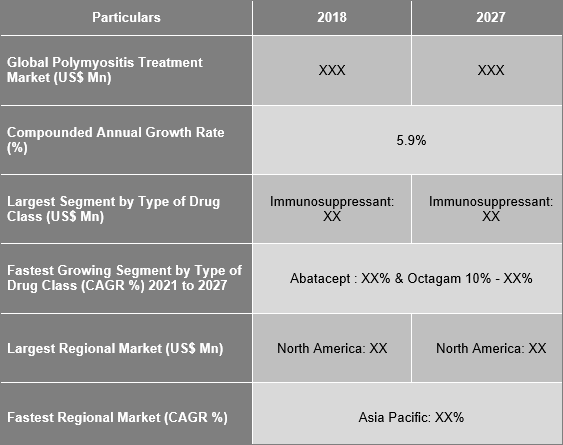 Get a sample copy for more information
"Abatacept and octagam 10% expected to grow significantly throughout the forecast period for being highly efficient compared to currently available drugs"
Pipeline of polymyositis treatment is strong and comprises potential molecules that will drive the growth of overall market in the near future. Abatacept and octagam 10% are two most potential drugs under phase III clinical trials and anticipated to perform better than the drugs present currently in the market. Abatacept is a human fusion protein of CTLA-4 & the Fc portion of human IgG1 that inhibits the co-stimulation of T cells. Octagam is an immune globulin intravenous (human) and currently octagam 5% liquid approved for treatment of primary humoral immunodeficiency (PI) and other severe combined immunodeficiencies. However, its application for polymyositis treatment is under trial but results in Phase II trials have been satisfactory in recovery of immune system.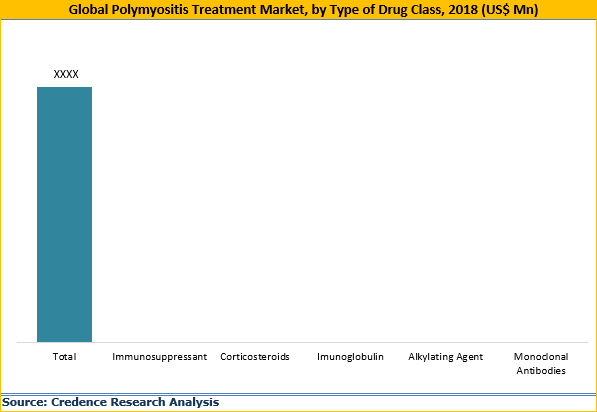 Get a sample copy for more information
"Asia Pacific is the fastest growing market due to rising geriatric population in Japan and increasing awareness related to polymyositis treatment & diagnosis"
During the forecast period from 2019 to 2027, Asia Pacific identified as the fastest growing polymyositis treatment market mainly due to increasing awareness in medical practitioners related to polymyositis, and increasing geriatric population in Japan, China & South Korea. According to studies, in 2010 prevalence of polymyositis estimated to be 13.2 cases per 100,000 individuals in Japan. Japan identified as the largest polymyositis treatment market due to rising geriatric population, increasing demand for target-specific drugs, and high awareness related to polymyositis treatment & diagnosis.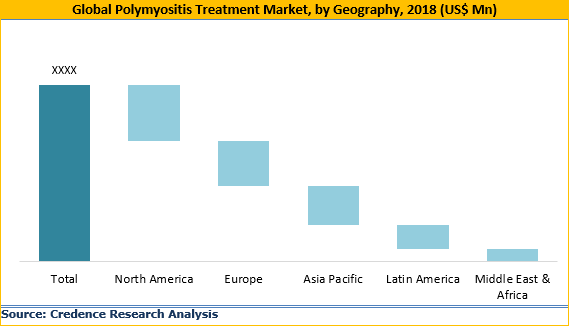 Get a sample copy for more information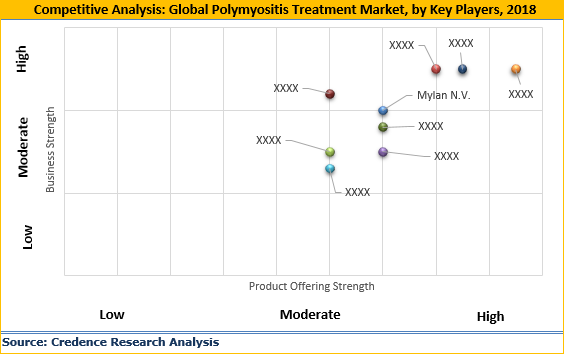 Historical & Forecast Period
The polymyositis treatment market analyzed considering current market trends for base year 2018 and based on future trends CAGRs calculated for the forecast period from 2019 to 2027.
Report Scope by Segments
This report covers the in-depth analysis of polymyositis treatment market covering market trends, strategies, and product lifecycle analyzed based on detailed qualitative and quantitative data collected through primary and secondary research. Industry stakeholders through primary interviews have assisted to study and understand market dynamics such as opportunities, drivers, & challenges further segmented to region & respective countries. This report also includes a comprehensive study of multiple segments of global polymyositis treatment such as the type of drug class, and geography. Pipeline analysis includes information related to molecules that are under clinical trial and expecting approval in the near future. The report also covers an understanding related to the competitive landscape of the major companies present in polymyositis treatment market that covers data points such as current/future business strategies, financial data, & product portfolio of respective companies.
ATTRIBUTE
DETAILS
Research Period
2017-2027
Base Year
2018
Forecast Period
2019-2027
Historical Year
2017
Unit
USD Million
Segmentation

Type of Drug Class (2017–2027; US$ Mn)
• Immunosuppressant
o Methotrexate
o Azathioprine
o Cyclosporine
o Tacrolimus
o Mycophenolate
• Alkylating Agent
o Cyclophosphamide
o Chlorambucil
• Immunoglobulin
• Monoclonal Antibodies
o Rituximab
• Corticosteroids
o Prednisone

Pipeline Analysis
• Phase III (Sales till 2027; US$ Mn)
o Ustekinumab
o Abatacept
o Lenabasum
o Octagam 10%
o Pirfenidone
• Phase I & II (Qualitative Information)
o Tocilizumab (Phase II)
o PF-06823859 (Phase II)
o IFN-Kinoid (Phase II)
o JBT-101 (Phase II)
o Tofacitinib (Phase I)
o VIB7734 (Phase I)

Geography Segment (2017–2027; US$ Mn)
• North America (U.S., Canada)
• Europe (U.K., Germany, Rest of Europe)
• Asia Pacific (Japan, China, Rest of APAC)
• Latin America (Brazil, Mexico, Rest of LATAM)
• Middle East and Africa (GCC, Rest of MEA)
The major companies present in the market studied based on recent market updates, product portfolio, financial data, and major strategies. This report also covers attractive investment proposition analyzed with the help of PESTEL analysis, which focuses on in-depth geographical research. Key players operating in the overall report are Hospira, Inc., Antares Pharma, Inc., Medexus Pharma, Inc., Fresenius SE & Co. KGaA, Mylan N.V., Alcami Corporation, Teva Pharmaceuticals, Novartis AG, and Genentech, Inc. among others.
Key questions answered in this report
Which drug class type is in high demand to treat polymyositis & Why?
What are the present market strategies & policies studied & applied by key market players & competitive landscape of the global polymyositis treatment market?
Which are the crucial & imminent geographical markets (regions and countries) in polymyositis treatment market & Why?
Which is the largest and fastest growing region & country globally?
What will be the expected sales of drugs under pipeline?