Industry Outlook
The global poultry health market is expected to reach US$ 11,506.3 Mn by 2026, and exhibit steady compound annual growth rate of 7.1% during the forecast period from 2018 to 2026. Good poultry health management is essential for poultry production since culturing a flock with best genetic potential will not grow efficiently if they are diseased or infected. Infectious disease causing agents spread very quickly through the flock due to high stocking densities in poultry farms. Therefore, for effective poultry health management, the basic aim is prevention of infection or parasite onset, or discovery at an early stage; and early treatment. As the global population is consistently increasing, the demand for livestock and animal products is also correspondingly growing. Changing lifestyle, high demand for protein and lean foods has led to growing uptake of poultry food items. The poultry health market mainly comprises drugs and diagnostic tools used for ensuring poultry flock bred for consumption such as chicken, geese, ducks, turkey and so on.
Market Synopsis
Get a sample copy for more information
"Impetus on Disease Prevention to render Dominant Status to Vaccines"
Meat consumers are becoming increasingly concerned about food safety. Several local and international standards have been put in place for avoiding undesirable substances in food derived from different animals. Evidence is also available suggesting that chicken is the most prominent carrier of microorganisms causing food poisoning in humans. Risk of infection from salmonella and campylobacter has been posing as a concern for both consumers and producers. Regulations have been formulated for preventing diseases in poultry birds and vaccines are opined to be crucial in providing immunity from infections. The demand for poultry vaccines is also driven by growing poultry production, greater government initiatives towards livestock immunization and human wellbeing and heightening demand for white meat. Technological evolution in vaccine manufacturing and growth in poultry healthcare spending are other prominent factors fueling the poultry vaccines market.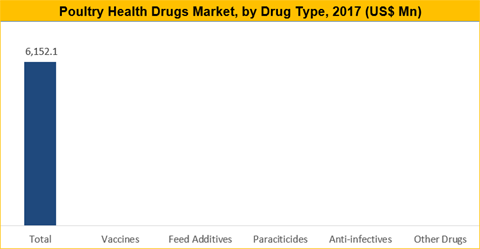 Get a sample copy for more information
"Introduction of DNA Vaccines to Shape the Future Roadmap of the Global Market"
With the outbreak of critical diseases such as Newcastle disease, respiratory infections and avian influenza, poultry farmers are increasingly opting for preventive diagnosis of the flock. This not just ensures healthy production but also avoid catastrophic losses to farmers. Technological advancement has also led to introduction of novel vaccines in the market that were previously unavailable. For instance, Merck Animal Health has an active project involving the use of electron beam to inactivate Clostridium perfringens, which will create the novel vaccine to control necrotic enteritis in flock. In November 2017, the U.S. FDA granted approval to first DNA vaccine by AgriLabs for controlling avian influenza. Introduction of DNA vaccines has been opined to be a major milestone in realizing the importance of vaccines in poultry health. DNA vaccines have rapid response and can be manufactured faster than conventional counterparts, therefore to play a promising role during the forecast period.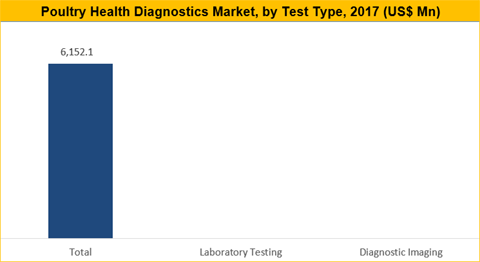 Get a sample copy for more information
"Laboratory Tests such as ELISA to Spearhead the Diagnostics Space"
Disease outbreaks, supportive government policies and technological advancements are the key factors that substantiate the pace of poultry diagnostics market. As the incidence of critical infection outbreaks such as of Newcastle disease, respiratory infections, salmonella infections and influenza is on the rise, poultry farmers worldwide are increasingly adopting preventive measures for maintaining poultry health. Outbreaks of such diseases compromise food safety and affect trade of birds and meat products, resulting in significant losses. As a result, continuous efforts are being undertaken to augment awareness in the poultry farmers about the available preventive measures. Laboratory tests currently hold the dominant position in the poultry diagnostics segment while capturing over 50% market share. High specificity, and accuracy, and their proven ability in controlling epidemic outbreaks are attributed to the dominance of this segment. Some of the prominent players in the poultry diagnostics segment are BioinGentech Biotechnology, Thermo Fisher Scientific, Biocheck Smart Veterinary Diagnostics, MEGACOR Diagnostik, IDEXX Laboratories, and others. New product development, rapid innovation in imaging technologies, mergers and acquisitions are the key growth measures observed in the poultry diagnostics market.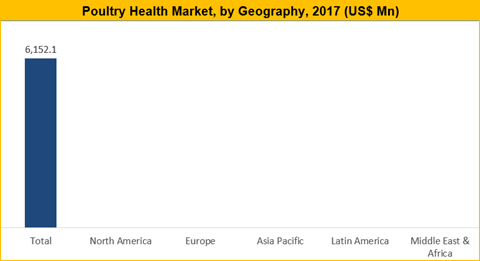 "Set to Remain the Leading Consumer of Meat Products, North America will Dominate the Market"
North America is the largest regional market for poultry health followed by Asia Pacific and Europe. The prominence of North America is mainly contributed by increasing domestic population, greater consumption of meat products, increasing preference to white and lean meat as against red meat. On the other hand, Asia Pacific will witness swift growth during the forecast period, with significant impact coming from key markets of China, Japan and India. The poultry industry in Asia Pacific has been witnessing growth like never before, as the market for protein-rich food is growing, there has been a consistently increasing demand for poultry meat and eggs. The exports of meat products from these regions are also high. Latin America will also undergo rapid market growth during the forecast period on grounds of improving awareness and growing demand for food from ever-growing population.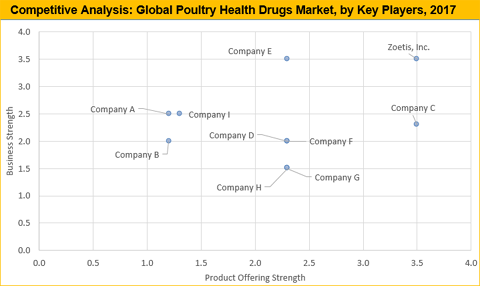 Historical & Forecast Period
This research report presents the analysis of each segment considered for the period from 2016 to 2026, having 2017 as the base year for estimations. Compounded annual growth rates (CAGRs) for each segment are calculated for the forecast period from 2018 to 2026.
Report Scope by Segments
The poultry health market report provides quantitative assessment of the industry in terms of current and forecasted market size, while also presenting the market dynamics. This market is segmented based on drugs and diagnostic tools, and geography.
ATTRIBUTE
DETAILS
Research Period
2016-2026
Base Year
2017
Forecast Period
2018-2026
Historical Year
2016
Unit
USD Million
Segmentation

by Drugs (2016–2026; US$ Mn)
• Vaccines
• Feed Additives
• Parasiticides
• Anti-infectives
• Other Drugs (fumigants, multivitamins, etc.)

by Diagnostics (2016–2026; US$ Mn)
• Laboratory Testing
• ELISA
• PCR
• Others (serology, histopathology, etc.)
• Diagnostic Imaging

Geography Segment (2016–2026; US$ Mn)
• North America (U.S., Canada)
• Europe (U.K., Germany, Rest of Europe)
• Asia Pacific (China, Japan, India, Rest of APAC)
• Latin America (Brazil, Mexico, Rest of Latin America)
• Middle East and Africa (GCC, Rest of Middle East and Africa)
Trends in the global poultry health industry are assessed for understanding the current and future outlook of the market. Analysis of the market drivers, challenges and opportunities give insights in the positive arenas and pain points currently prevalent in the market. This report also includes profiles of key players operating in the global poultry health market. Companies are profiled based on parameters such as business overview, financial information, product portfolio and key developments. The key players currently engaged in the global poultry health market are Bayer AG (Bayer Animal Healthcare), Bimeda, Inc., Boehringer Ingelheim Animal Health, Ceva Animal Health, Inc., Eli Lily and Company (Elanco Animal Health), Merck & Company, Inc., Sanofi SA (Merial Animal Health), Virbac SA, Vetoquinol SA, and Zoetis, Inc.
Key questions answered in this report
How the poultry health market stands in 2017?
In which direction will the market progress throughout the forecast period from 2018 to 2016?
What are the major factors driving and challenging the progress of the global poultry health market?
How the current market movements are opening new opportunities in the global market?
What are the key strategic initiatives being undertaken by major market players to augment or retain their positions?
Which treatment type currently holds prominence in the global market and how the scenario will move during the forecast period?
What impact will technological innovation and introduction of DNA vaccines will have on the global poultry health market?
What are the key diagnostic methods adopted by poultry farmers?
What is the current status of Asia Pacific market in the global poultry health market?
How Latin America market is moving towards future growth?
Will the market position of North America be challenged by Asia Pacific within the forecast period?