Ever-Rising Telecommunication Traffic to Bolster the Demand for Satellite Communication Equipment Globally
Satellite communication market is estimate to reach US$ 47.1 Bn by 2026, growing with a promising CAGR of 8.88% across the forecast period from 2018 to 2026. Majorly commanded by North America, satellite communication (SATCOM) equipment market is highly driven by rapidly growing IT & telecommunication sector. The SATCOM market expected to witness high growth, due to progressive increase in Internet and telecommunication traffic worldwide. The global Internet traffic demonstrated a CAGR of more than 25% during the period from 2013 to 2016. Immense increase in Internet users as well as telecommunication traffic across the world influenced more number of private players to invest in SATCOM equipment market in search of feasible ways to suffice the ever-rising demand for real-time communication. For instance, in August 2017 EchoStar Corporation, the satellite fleet operator announced that it had signed an alliance with Space Systems Loral, LLC for Jupiter-3/EchoStar-24 satellite. An alliance aimed to strengthen EchoStar Corporation's market position in the US with provision of strong network system.
Market Synopsis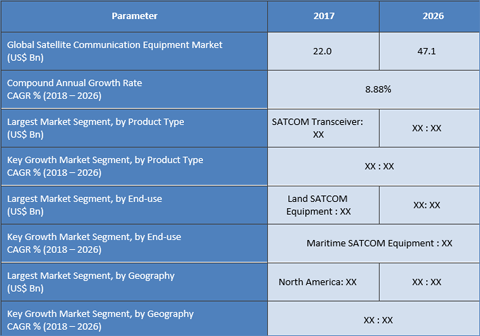 SATCOM Transceiver Expected to Retain Its Dominance Throughout the Forecast Period from 2018 to 2026
SATCOM transceivers dominate the overall SATCOM market accounting for more than 1/4th of the global market value. Majority of day-to-day modules in recent digital world equipped with navigation services. Similarly, growing number of connected vehicles demonstrating the promising growth of the navigational services. Rising penetration of navigation systems in smart digital equipment, connected vehicles and other location based functioning systems, expected increasing the demand for SATCOM transceivers in the near future. Credence Research, Inc. estimated that by 2030, more than 250 Mn units of vehicles in the China will be connected vehicles. Similarly, use of satellite transceivers for surveillance applications along with increasing spending on surveillance services by defense authorities worldwide is further driving the demand for the segment. This would ensure promising growth for SATCOM transceiver segment through the forecast period.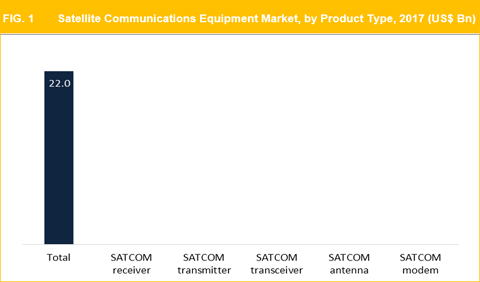 North America Leads the Market; Asia Pacific to Emerge as the Fastest Growing Regional Market
Presently, North America leads the SATCOM equipment market with over 35.0% market shares of overall market value worldwide. The U.S. with strong awareness for benefits of using SATCOM equipment across the nation primarily supporting the market growth in the region. Military satellite constellation supports the U.S. military forces from orbit to keep track on global defense activities. In addition, the U.S. military are adding commercial satellite receivers to aircraft, trucks and other equipment in order to protect their communication network from hackers and boost up security.
Asia Pacific estimated to be the fastest growing market for SATCOM equipment in the coming years. China, India, Japan and South Korea are among the leading countries having promising penetration of SATCOM equipment. These countries hold huge potential for SATCOM equipment primarily due to increasing Internet service, digital satellite broadcasting, satellite R&D projects and satellite launching among others. For instance, China's DBSat satellite has several years of collaboration with major Chinese cellular operators, which helps extending the reach of their mobile networks. Out of the two billion currently unconnected people across Asia Pacific, the vast majority with more than 80% live in India, China, Indonesia, Pakistan and Bangladesh among others. With increasing number of Internet users, media activities, space R&D projects and real time broadcasting, the trend expected to continue in Asia Pacific over the forecast period.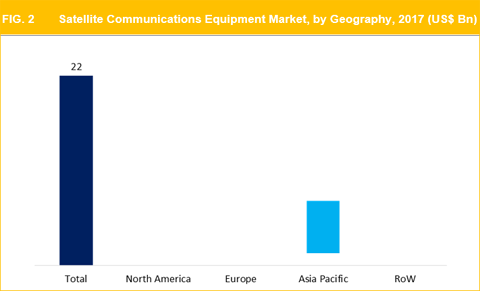 Leading Players Focusing on Merger & Acquisitions for Market Expansion
Emergence of new private players in the last few years demonstrated nature of SATCOM equipment industry as fragmented market. One of the most common strategies adopted by the global players is mergers and acquisition of small-scale network providers or their satellite communication networks. This enables the companies to expand their communication network, thereby reaching to more number of subscribers. Popular instances include acquisition of GeoEye, LLC by DigitalGlobe, Inc., acquisition of Space Systems/Loral, Inc. by MDA Corporation and acquisition of Thrane & Thrane A/S by Cobham Plc. Some of the major players profiled in the report include Digisat International, Inc., Cobham plc., Paradigm Secure Communications Ltd., Skyware Technologies Ltd., ePAK International, Inc., Digital Barriers Plc., C-COM Satellite Systems Inc., SatCom Global Ltd., Newtec Cy nv, Hughes Network Systems LLC, Aselson A. S., Nu-Cast Inc., Communications & Power Industries LLC, Orbital Tracking Corporation, Campbell Scientific, Inc. and others.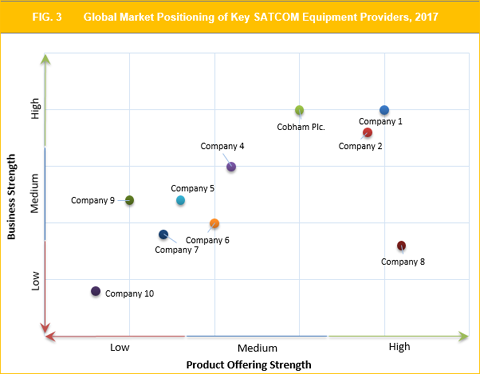 Historical & Forecast Period
2016 – Historical Year
2017 – Base Year
2018-2026 – Forecast Period
This research report presents the analysis of each segment from 2016 to 2026 considering 2017 as the base year for the research. Compounded Annual Growth Rate (CAGR) for each respective segments calculated for the forecast period from 2018 to 2026.
Report Scope by Segments
The research study on satellite communication equipment provides market size and estimates based on market dynamics and key trends observed in the industry. The report provides a holistic view of global SATCOM equipment market based on product type, end-use and geography. Key segments covered in the report are as follows:
Product Type Segment (2016–2026; US$ Bn)
SATCOM Receiver
SATCOM Transmitter
SATCOM Transceivers
SATCOM Antenna
SATCOM Modem
End-use Segment (2016–2026; US$ Bn)
Land SATCOM Equipment
Maritime SATCOM Equipment
Air & Space SATCOM Equipment
Land SATCOM Equipment, by Deployment Segment (2016–2026; US$ Bn)
Land Portable SATCOM Equipment
Land Mobile SATCOM Equipment
Land Fixed SATCOM Equipment
Land SATCOM Equipment, by Industry Vertical Segment (2016–2026; US$ Bn)
Government & Defense
Commercial
Maritime SATCOM Equipment, by Industry Vertical Segment (2016–2026; US$ Bn)
Government & Defense
Commercial
Air & Space SATCOM Equipment, by Industry Vertical Segment (2016–2026; US$ Bn)
Government & Defense
Commercial
Geography Segment (2016–2026; US$ Bn)
North America


United States
Rest of North America

Europe


United Kingdom
France
Germany
Rest of Europe

Asia Pacific (APAC)


Japan
China
India
Rest of APAC

Rest of the World (RoW)


Latin America
Middle East and Africa (MEA)
Key questions answered in this report
What was the market size of SATCOM equipment in 2017 and forecast up to 2026?
Which is the largest regional market for SATCOM equipment?
What are the key market trends observed in the SATCOM equipment market?
Which is the most promising product type, end-use and industry vertical in SATCOM equipment market?
Who are the key players leading the market?
What are the key strategies adopted by the leading players in market?
What are the key Internet usage trends across different geographies and sub-geographies?