Silver pastes has high electrical conductivity, thermal conductivity, and reflectivity. It is manufactured by using pure silver metal. It is widely used in electronics and automotive industry for making printed circuits of defogging systems, alarm circuits, and antennae. Silver paste is used in several other applications such as capacitors, inks, ceramics, adhesives, etc. Increasing demand from these end-use industries is projected to propel the demand for silver paste during the forecast period.
Considering the economic overview of the market, Asia Pacific is expected to account for a major revenue share of the global silver paste market. In 2016, Asia Pacific accounted for more than 35% market revenue share in global silver paste market. This is attributed to strong growth in automobile and electronics industry especially in India and China. Market size and forecast of each application is presented for the period 2015 to 2025 along with respective CAGR % for the forecast period 2017-2025.
Geographically, the global silver pastes market is studied for the following regional markets:
North America
Europe

Germany
France
U.K.
Italy
Rest of Europe

Asia Pacific

China
India
Japan
Rest of Asia Pacific

Latin America

Brazil
Mexico
Rest of Latin America

Middle East and Africa

GCC
Rest of Middle East and Africa
The market size and forecast for the period 2015-2025 along with the CAGRs for the period 2017-2025 for the mentioned segments are also presented in this study.
Qualitative information sets such as market dynamics (drivers, challenges and opportunities) and market inclination insights are provided in this market assessment report. Tools such as competition assessment and attractive investment proposition are also included in this study for assessment of market competition. The report concludes with company profiles section that highlights key information about the major market players operating in the global silver pastes market.
3M, AG PRO TECHNOLOGY CORP., Cermet Materials Inc., CHIMET, DuPont, Henkel AG & Company KGaA, Heraeus Holding, Johnson Matthey, Metalor, Targray Technology International Inc. etc. are few key manufacturers in global silver pastes market.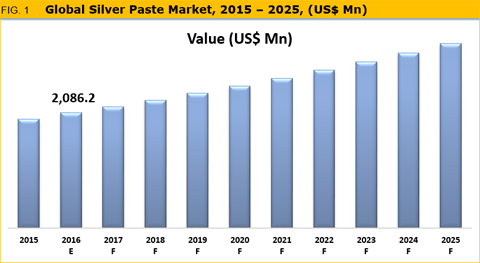 Purpose of the Report
The purpose of this strategic research study titled "Silver Paste Market – Growth, Opportunities, Share & Competitive Analysis, 2017 – 2025" is to offer industry investors, company executives, and industry participants with in-depth insights to enable them make informed strategic decisions related to the opportunities in the global silver paste market.
Target Audience

Industry Investors
Silver Paste Manufacturers
End User Industries
Traders, Distributors, and Suppliers
Government and Research Organizations
Associations and Industry Bodies

USP and Key Offerings
The report titled "Silver paste Market – Growth, Opportunities, Share & Competitive Analysis, 2017 – 2025" offers strategic insights into the overall silver paste market along with the market size and estimates for the duration 2015 to 2025. The said research study covers in-depth analysis of multiple market segments based material type, end-use industry and different geographical markets.
In order to help strategic decision makers, the report also includes competitive profiling of the leading players in silver paste market. Other in-depth analysis provided in the report includes:
Current and future market trends to justify the forthcoming attractive markets within the silver paste market
Market drivers, market impediments, and their impact on the market growth
In-depth competitive environment analysis
Historical market size data (2015 & 2016)
Overall, the research study provides a holistic view of the global silver paste market, offering market size and estimates for the period from 2015 to 2025, keeping in mind the above-mentioned factors.