Market Insights
The Silver Nanowires market revenue was valued at USD 304 million in 2020 despite a sharp downturn amid COVID 19 pandemic. However, whopping demand for silver nanowires is targeted to take market to the new height of USD 1,754 million, growing at a lucrative CAGR of over 18 toward the end of 2027.
Silver nanowires are a type of nanostructures with 10-9 m diameter, and they have aspect ratios of over 1000. Silver nanowires have unique, thermal, elastic, electric and optical properties. Silver nanowires are used for manufacturing touch screen displays, sensors, solar cells, OLED lighting, bio-medical products, and printed circuit board among others.
Silver Nanowires to Revolutionize the Touchscreen Conductive Oxides to be Used in Touchscreen Displays
The increasing production of touchscreen displays, and sensors coupled with the emergence of touch LED display is projected to boost the market during the forecast period. When combine together with graphene, silver nanowires offers an economic alternative for the indium tin oxide to be used in touchscreen display technology. Newly developed hybrid materials made from the combination of solver nanowires and graphene are poised to held rising share transparent conductive technology. Innovative silver nanowires based transparent conductive oxide is prepared by the Dycotec Materials which is extending cost benefits alongside durability and an efficient substitute for the traditionally used transparent conductive oxides. Such transparent conductive compounds are expected to drive the demand for silver nanowires in tandem with touchscreen displays industry.
Inability to Withstand Environment with Exposure to Highly Potential UV Light
Despite of numerous benefits offered by the silver nanowires in multiple areas of applications, the market growth is likely to be halted by the factors such as lack of ability of silver nanowires to withstand expiate to potentially energetic UV light. Moreover, inadequate infrastructure and requirement of huge initial investment around the world for the mass production of such materials is holding back the growth of silver nanowires market.
Impact of COVID 19
COVID 19 has affected the global Silver Nanowires industry significantly. As the COVID 19 restrictions affected the functioning of the end-use industries, the demand for silver nanowires decreased by nearly 20.1%. Lower demand for end-use industries affected the sales of silver nanowires machines as well. As the economies are recovering, the demand for electronic devices and other end use products related to silver nanowires are improving significantly. Global silver nanowires market is anticipated to attain its pre-COVID levels soon.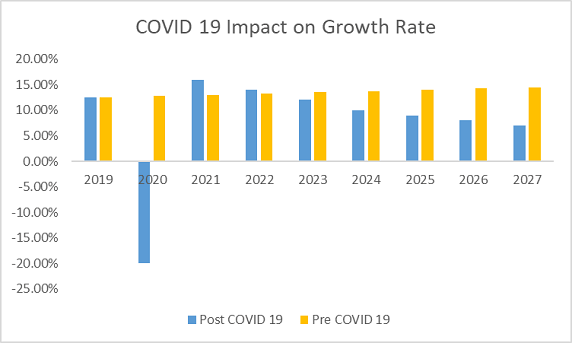 Asia-Pacific to Advance at an Attractive CAGR
Asia Pacific is leading the manufacturing of touchscreen display, transparent conductive oxides and silver nanowires as well. Most of the manufacturers have production facilities in the region. Asia Pacific is leading the export of silver nanowires while, Europe, Americas and Middle East are leading the import of silver nanowires. Hefei Vigon Material Technology is one of the significant manufacturers of silver nanowires in the region.
Broad Spectrum of Application Markets for Silver Nanowires
Silver nanowires have high conductivity, flexibility, lighter in weight and provide fast response times. Most of the electronic devices such as laptops, tablets, watches, self-service kiosks, smartphones, advertisement boards, automotive displays, and smart televisions among others have touch screen display. With televisions and other electronic devices moving towards rugged and flexible formats, the requirement of cost-effective materials like silver nanowires increases significantly. Billions of touch screens are manufactured annually worldwide and silver nanowires make one of the crucial components of them.
Solar Films to Key Revenue Stem for Silver Nanowires in Future
Silver nanowires are ideal for the fabrication of cost effective organic flexible organic solar films/cells due to their conductivity, transparency, solution processing, and flexibility among other properties. Silicon nanowire arrays in solar cells are having one of its kind 3-D geometry and in harvesting solar energy. According to International Energy Agency, the global solar installations was around 107 Giga Watt in 2020. China, U.S., Europe and India are the major countries with huge solar installations. As many countries are moving away from subsidies given to solar installations, the demand for cheaper solar films/cell is anticipated to increase significantly.
Excelling in Fabrication is a Key to Success for Silver Nanowires Manufacturers
There are multiple ways of manufacturing silver nanowires and some of the most prominent fabrication processes include, polyol method, template method, rapid synthesis, electroless deposition, etc. However, liquid polyol is most commonly used method for the manufacturing of silver nanowires. Liquid polyol facilitate low-cost production process which can be easily calibrated to achieve industrial scale production of silver nanowires.
Frequently asked questions about global Silver Nanowires industry
What are the consequences of COVID 19 on global Silver Nanowires industry?

Ans: With turmoil in economy on the account of outbreak of COVID 19 pandemic, the production, logistics and demand for touchscreen display was affected significantly. Impact of this was apparent on silver nanowires industry as well.
Who are the key players in the global Silver Nanowires industry?

Ans: ACS Material, Dycotec Materials, C3 Nano Inc, Conductive Compounds Inc, Hefei Vigon Material Technology, etc. are some of the most prominent players in the global silver nanowires industry.
Which is the fastest growing application market for global Silver Nanowires industry?

Ans: With increasing acceptance in transparent conductive oxide, the touchscreen display technology has been poised to be most crucial application for silver nanowires.
Which is the leading regional market for global Silver Nanowires industry?

Ans: Asia Pacific is leading the production as well as consumption of silver nanowires with Europe and North America to be next important geographies.
What will be the CAGR (2021 - 2027) of in global Silver Nanowires industry?

Ans: According the global Silver Nanowires market report analysis, the CAGR was calculated slightly over 18%.