The actual functionalities of social business intelligence predominately resembles that of other business intelligence types. The basic objective remains elucidating the key performance indicators and analyzing the overall performance with the help of an array of tools for reporting, visualizations, dashboards and others. However, despite the tools remaining the same, technologies for business intelligence and analytics have greatly evolved. Before the advent of social media, retrieving information from focus groups and surveys was the only way of creating buyer personas. However, immense popularity of social media has made it easier for business organizations to analyze and expand their consumer base. Social business intelligence plays a vital role in this context as it analyses from the naturally emerging trends. It provides companies important information such as search habits, customer demographics and social behavior among others.
Social business intelligence solutions are drastically reducing the time to insights and analyzing unstructured data. In case of business intelligence, the entire process is time consuming and relies on Information Technology. Whereas, social business intelligence involves a shorter time period to insights as it benefits from the instantaneous nature of Big Data. Moreover, social business intelligence facilitates sentiment analysis by capturing and monitoring rapidly generated Big Data. Other benefits of social business intelligence over conventional business intelligence include no-hassle documentation, gaining trusted followers, spying on competition, understanding customer demographics and advertising more accurately. Unlike conventional business intelligence, majority of the analyzed data is unstructured.
One of the primary factors driving social business intelligence market growth is growing usage of social media worldwide. With increasing penetration of mobile devices, social media has emerged to be an important platform where users express their opinions about a particular product or service. Moreover, this forms an important medium for understanding the view/preferences of customers about a product or service. Social media, thus, acts as an important medium for creating a positive brand image. Considering the importance of social media, it becomes immensely important to form an understanding and conduct in-depth analysis of the data generated via social media. This may include images, GIFs, videos, tweets and personal metrics among others. Organizations are therefore adopting social business intelligence considering the significant impact it can have over a business.
Despite its numerous benefits, data security remains a prime concern for the social business intelligence market. Privacy and security are of paramount importance for government and banking institutions. As the social media data is mostly stored over the cloud, ensuring reliable and effective data security becomes imperative. Reluctance towards adopting new technology is another important factor limiting the market growth.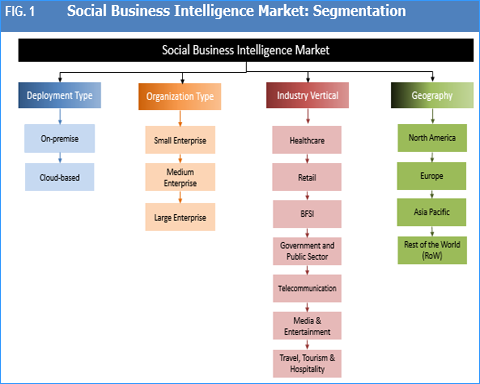 Some of the major players profiled in the report are SAP SE, Oracle Corporation, IBM Corporation, Attensity Group, Inc., SAS Institute, Inc., Adobe Systems, Inc., Microsoft Corporation, Crimson Hexagon, Inc., Google, Inc., NetBase Solutions, Inc., evolve24, LLC, Kapow Software, Inc., Lithium Technologies, Inc., Salesforce.com, Inc., Sysomos, Inc. and Cision AB among others.