Industry Outlook
Specialty fats and oils market value is projected to rise with a CAGR of 6.3% over the forecast period from 2018 to 2026. Specialty oils such as palm oil, olive oil, etc. are one of the least processed oils due to which it is gaining traction in developed countries. Increasing consumer inclination over its "natural" properties and growing health concerns due to the consumption of saturated fats has catered to the market demand for specialty oils. Also, increasing demand for snacks and fried food products due to rising disposable income and growing retail sector globally, leading to high consumption of specialty oils for the preparation of these products. On the other hand, specialty fats provide sensory attributes to the prepared food products such as chocolate, chocolate confectionery, bakery products and ice cream. Rising need for bakery products and processed foods especially in the developed countries such as the UK, Canada, and the U.S. is driving the market growth to great extent. Specialty fats such as cocoa butter (CB) acts as a prime ingredient in the food industry and gaining popularity for its unique physicochemical characteristics due to peculiar fatty acid combination. Rising consumption of high quality chocolates such as high priced dark chocolates comprising high cocoa content along with chocolates with natural flavors and zero milk solids. Moreover, rising gap between demand and supply of cocoa butter in confectionery and chocolate industry globally is met by the production of alternatives of cocoa butter such as cocoa butter replacers (CBR), cocoa butter substitutes (CBS), etc. Growing preferences for non-PHO (partially hydrogenated oils) has also resulted in rising demand for specialty fats in confectionery and processed food industries. Rising population and increased industrial uses are also contributing to the specialty fats and oils market growth. Apart from this, major industry players are involved in research and development of oilseeds through genetic engineering to avoid consumer concerns pertaining to health issues contributing to the growth of specialty oils market.
Market Synopsis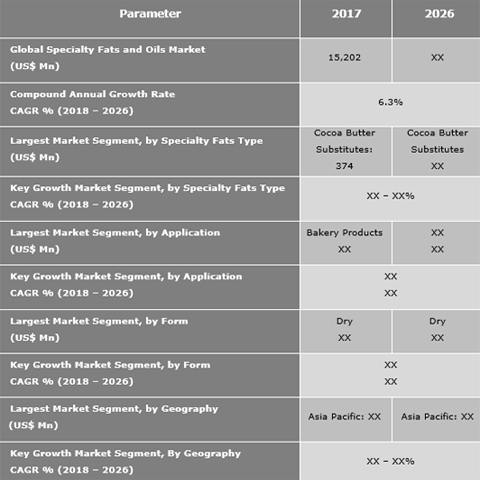 Get a sample copy for more information
"Cocoa butter substitutes & palm oil projected to dominate the specialty fats and oils market respectively"
In 2017, palm oil accounted for the major market volume share and expected to maintain its dominance over the forecast period. Palm oil is largely produced and consumed vegetable oil surpassing soybean oil. Wide availability of palm oil and its rising application is the significant factor for the market growth. Moreover, its neutral taste and flavor enhancing characteristics propelling its demand in confectionery industry, thus driving the overall market. Also, low cost of production as compared to its counterparts and the fact that palm oil is the only naturally available solid vegetable oil are few other factors contributing to market growth.
On the other hand, cocoa butter substitutes dominates the specialty fats market by type, as they contain fatty acids and physical properties similar to cocoa butter. Essential food product texture characteristics, extreme softness, and shelf life enhanced by the gloss and snap features provided by cocoa butter equivalents are other factors supporting the growth for specialty fats throughout the forecast period.
Get a sample copy for more information
"Dry form of specialty fats and oils projected to dominate the global specialty fats and oils market"
In 2017, dry form of fats accounted for the maximum share as it bears resemblance in physical properties and chemical properties to dairy butter, cocoa butter and whipping cream that makes it an ideal alternative for these products. Specialty fats lessens the abrasive effect of sugar and flour while processing and inhibits absorption of water in flour. Specialty fats prevents the formation of gluten in dough's, thus minimizing the sticking of dough to belt or baking surface. In addition to this, dry oils provide optimum fat content and maintain the palatability & quality of food product, thereby stimulating the market demand for dry oil.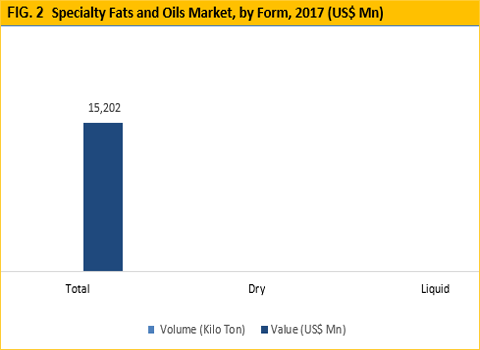 Get a sample copy for more information
"Bakery products segment to record fastest CAGR and largest share of global specialty fats and oils application market"
In 2017, bakery products dominated the specialty fats and oils application market by volume in 2017 and expected to maintain its dominance throughout the forecast period. Increasing usage for palm kernel oils in bakery products helps in achieving required blend without modifying the melting, rheological, and processing characteristics of the final products, projected to enhance the overall demand. In addition, growing demand for natural, healthy, and organic baked products such as cakes, pastries, donuts, pie, etc. also contribute to the market growth. Moreover, growing use of cocoa butter substitutes (CBS) in order to improve the fat composition and fat stability of finished bakery products propelling the demand for CBS during the forecast period. Constant change in consumer consumption patterns, concurrent rise in number of bakery stores, increasing availability of branded bakery products through amplified retailing channels are few other factors boosting the growth of bakery products segment.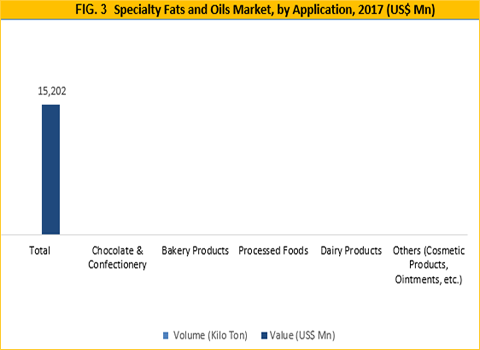 "Rapid demand for specialty fats and oils in Asia Pacific projected to catapult the market growth"
Asia Pacific stands distinctly with a significant market share owing to rising disposable income, purchasing power, growing middle class population, and changing dietary habits. Moreover, growing concern over health and wellness in emerging regions of China and India along with rising per capita consumption of specialty oils and fats is expected to bolster the global market. Rising acceptance of western style products such as olive oil, butter, cocoa butter, etc. has underpinned the overall growth of specialty fats and oils market. Also, consumer demand for processed food products provides promising prospects for growth as well as diversification in the region's specialty fats and oils sector. North America on the other hand is expected to witness moderate growth owing to application of specialty fats and oils for nut salad dressing also for non-food purposes such as biodiesel and fatty acids production.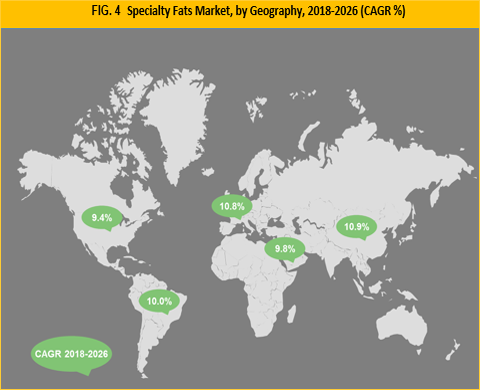 "Cargill is one of the promising players in the specialty fats and oils market"
Cargill's constant endeavor to cater to rampant customer needs and requirements has led to consistent research and development, expansion, and up gradation of state-of-the-art facilities. Cargill offers variety of oils and fats that has been widely embraced among bakery and confectionery applications. Moreover, Cargill strategy of expansion with constant research and development has also helped it in becoming the market pioneer in edible oils segment. For instance, in December 2017, Cargill introduced the lowest saturated fat, high oleic canola oil after its 10 years of research and development of canola hybrid. This oil is in high demand by food industries and restaurant owners as it provides high yield, resistance to diseases, and improve shelf life of fried food products. Rising efforts by consumers to reduce the consumption of both saturated and trans-fat to reduce the risk of cardiovascular disease is expected to grow the demand for Cargill's canola oil in coming years.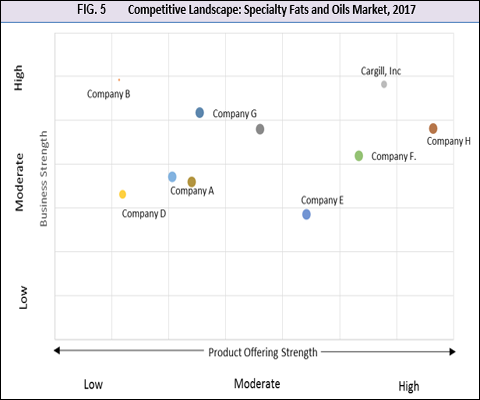 Historical & Forecast Period
Our study analyzed each market segment during the period of 2016 to 2026 with 2017 as the base year. Forecast period of 2018 to 2026 is considered for the CAGR calculation.
Report Scope by Segments
Specialty fats and oils market report represents understanding about the current market strategies and dynamics along with quantitative and quantitative analysis of the overall market. The report enlightens the thorough outline of global specialty fats and oils market by categorizing the market in terms of type, form, application and geography. Our interest of publishing this broad research report is to aid the food and beverage professionals and market stakeholders in assisting decisions and strategic initiatives in the specialty fats and oils market.
ATTRIBUTE
DETAILS
Research Period
2016-2026
Base Year
2017
Forecast Period
2018-2026
Historical Year
2016
Unit
USD Million
Segmentation

Type Segment (2016–2026; Kilo Ton, US$ Mn)
• Specialty Fats
o Cocoa Butter Equivalents
o Cocoa Butter Substitutes
o Cocoa Butter Replacers
o Cocoa Butter Improvers
o Dairy Fat Replacers
o Other Specialty Fats (sal, mango kernel butter, kokum butter, etc.)
• Specialty Oils
o Palm Oil
o Soybean Oil
o Coconut Oil
o Cotton Seed Oil
o Rapeseed Oil
o Other Specialty Oils (olive oil, peanut oil, etc.)

Form Segment (2016–2026; Kilo Ton, US$ Mn)
• Dry
• Liquid

Application Segment (2016–2026; Kilo Ton, US$ Mn)
• Chocolates and Confectioneries
• Bakery Products
• Processed Foods
• Dairy Products
• Others (cosmetic products, ointments, etc.)

Geography Segment (2016–2026; Kilo Ton, US$ Mn)
• North America (U.S., Canada)
• Europe (U.K., Germany, France, Rest of Europe)
• Asia Pacific (Japan, China, India, Rest of APAC)
• Latin America (Brazil, Mexico, Rest of Latin America)
• Middle East and Africa (GCC, Rest of MEA)
This research report describes leading continents and their major countries, along with profiles of key players operating in overall market and their planned developments. Our report further defines the overall market dynamics such as drivers, challenges, and opportunities prevalent in the market to understand global specialty fats and oils market more explicitly. Our in-depth segmentation analysis up to country level highlights revenue pockets and investment opportunities in the market. Key players profiled include AAK AB, Cargill Inc., Mewah International, Wilmar International, Bunge Limited, IoI Group, International Foodstuff Company Limited, Musim Mas, Fuji Oil and The Nisshin Oillio Group. .
Key questions answered in this report
What are the current market trends in the specialty fats and oils market and valuable opportunities for the players?
How the governmental laws affects the global as well as the regional markets?
Which are the prominent technologies and recent innovations in the market?
Which is the most successful business model implemented in the market?
Which is the most lucrative region for investment?
What is the market size and trend in emerging markets such as China, India and Brazil?
Which are the prime applications of specialty fats and oils among different geographies?