"Increasing Deep-water Exploration Activities to Boost the Submersible Pumps Market"
In 2018, the global submersible pumps market was valued at US$ 11.40 Bn and expected to grow with a CAGR of 5.3% during the forecast period from 2019 to 2027. Submersible pumps market is expected to witness robust growth in the near future owing to rising infrastructural development and increasing industrialization worldwide. Increasing number of deep-water exploration activities and steadily growing water and wastewater management industry are the major growth factors for submersible pumps market. Moreover, huge resurgence in the industrial sector post economic recession and resultant increase in influx of investments is the other major growth factor for submersible pumps market. Therefore, we are expecting regulated growth in the submersible pumps market during the forecast period.
Market Synopsis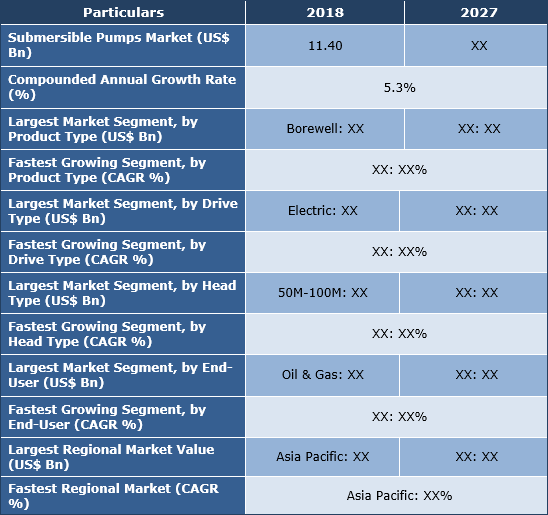 Get a sample copy for more information
"Revenue from Electric Submersible Pumps to Remain Highest During the Forecast Period"
Electric segment held the highest market share in the global submersible pumps industry, accounting for over 60% of the market revenue in 2018. Owing to effectiveness of electric submersible pumps in wells with low gas/oil ratio, low bottom-hole pressure, and low bubble point, their adoption has significantly increased over the years in oil & gas sector that accounts for majority of market value share. In addition to oil & gas sector, electric submersible pumps are also extensively used in industry verticals including agriculture, water & wastewater, and mining & construction among others. Regulated and steady demand from the aforementioned industry verticals is driving electric submersible pumps market. As a result, we are expecting that electric segment will continue to grow throughout the forecast period.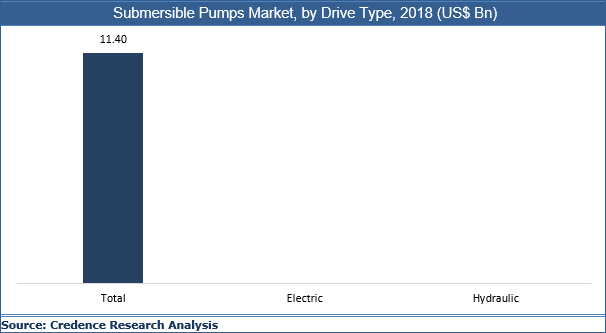 Get a sample copy for more information
"Asia Pacific to Remain Highest Revenue Contributor throughout the Forecast Period"
Asia Pacific was the leader in submersible pumps market accounting for more than 1/3rd of the market share in terms of both volume and revenue in 2018. Massive investments in infrastructure developments coupled with steady rise in oil & gas and mining activities is driving demand for submersible pumps, especially in developing countries such as China and India. Furthermore, extensive use of submersible pumps in commercial and domestic field for water extraction is also giving the much-needed impetus to the market in Asia Pacific. Consequently, we are expecting a robust growth in the Asia Pacific region throughout the forecast period.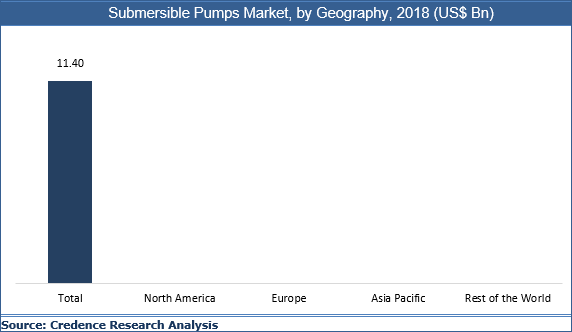 Get a sample copy for more information
Major market companies are focusing on strategies such as product launch to expand their market position. For instance, in 2018, Tsurumi Manufacturing Co. Ltd. launched a new submersible pump in their GSZ series. These pumps deliver a maximum head of 70m and capacity of 19m3/min. The GSZ series pumps are reliable in heavy-duty projects such as mining, construction, tunnel and quarries. New product launch and mergers & acquisitions are expected to remain key strategies in the market in years to come.
Some of the prominent players operating in the submersible pumps market include Kirloskar Brothers Ltd., Franklin Electric, Schneider Electric SE, KSB Aktiengesellschaft, Flowserve Corporation, Caprari, Andritz AG, Tsurumi Manufacturing Co. Ltd., Hitachi Industrial Equipment Systems Co. Ltd., Shakti Pumps India Limited, Pedrello SpA, Lubi Pumps, Ingeteam Corporation, S.A., Atlas Copco Group, Kubota Corporation, Ebara Corporation, Grundfos Holding A/S, Schneider Electric SE, CG Power and Industrial Solutions Limited, and Faradyne Motors among others.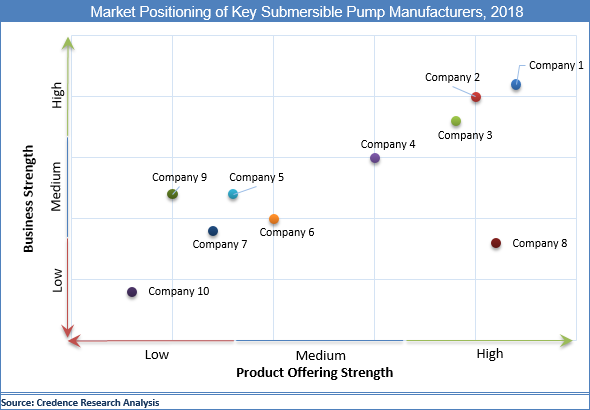 Historical & Forecast Period
This research report presents the analysis of each segment from 2017 to 2027 considering 2018 as the base year for the research. Compounded Annual Growth Rate (CAGR) for each respective segments calculated for the forecast period from 2019 to 2027.
Report Scope by Segments
The submersible pumps market report provides market size and estimates based on market dynamics and key trends observed in the industry. The report provides a holistic view of global submersible pumps market based on product type, drive type, head type, end-user type and geography. Key segments covered in the report are as follows:
ATTRIBUTE
DETAILS
Research Period
2017-2027
Base Year
2018
Forecast Period
2019-2027
Historical Year
2017
Unit
USD Billion
Segmentation

Product Type (2019–2027; US$ Bn)
• Borewell
• Openwell
• Non-Clog

Drive Type (2019–2027; US$ Bn)
• Electric
• Hydraulic

Head Type (2019–2027; US$ Bn)
• Below 50M
• 50M-100M
• Above 100M

End-User Type (2019–2027; US$ Bn)
• Agricultural
• Oil & Gas
• Water & Wastewater
• Mining & Construction
• Others (Energy & Power and Others)

Geography Segment (2019–2027; US$ Bn)
• North America (U.S., Rest of North America)
• Europe (U.K., Germany, France, Rest of Europe)
• Asia Pacific (China, Japan, India, Rest of Asia Pacific)
• Rest of the World (Middle East & Africa, Latin America)
Key questions answered in this report
What was the market size of submersible pumps in 2018 and forecast up to 2027?
Which is the largest regional market for submersible pumps?
What are the major trends followed in overall submersible pumps across different regions?
What are the key market trends and high-growth opportunities observed in the submersible pumps market?
What are the drivers of the submersible pumps market?
Which are the leading submersible pump manufacturers worldwide?
What are the key strategies adopted by the leading submersible pumps manufacturers?
Unique data points of this report
Statistics on submersible pumps worldwide
Recent trends across different regions in terms of adoption of submersible pumps
Notable on-going developments in the submersible pumps industry
Attractive investment proposition for different segments of submersible pump market
Comparative scenario for all the segments for years 2018 (actual) and 2027 (forecast)