Volatile organic compounds (VOC) recovery units are used to recover vapor of compounds including natural gas, gasoline and several others. In the chemical industry, these units find application primarily in the downstream and upstream processes. Owing to high return on investment and low cost of installation, VOCs are widely used in upstream and downstream process. One of the major factors driving adoption of VOC recovery is stringent environmental legislations enforced to reduce the harmful effects of VOC emission. Stricter legislation by the governments has encouraged many companies to enhance controlling and measuring their solvent emissions. Environmental regulations relating to reduction in emission of hydrocarbon into the atmosphere in order to improve operational safety and air quality is projected to remain the major factor driving the growth of the VOC recovery market.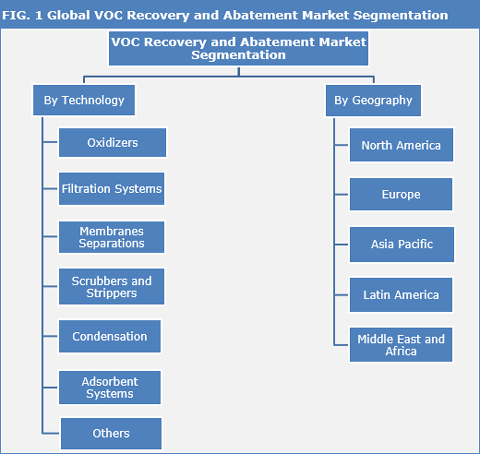 The report titled "Global VOC Recovery and Abatement Market - Growth, Future Prospects and Competitive Analysis, 2017– 2025" offers strategic insights into the global VOC recovery and abatement industry along with the market size and estimates for the duration 2015 to 2025. The said research study covers in-depth analysis of multiple market segments based on product type and cross-sectional study across different geographies. The study covers the comparative analysis of different segments for the years 2016 & 2025. The report also provides a prolific view on market dynamics such as market drivers, trends, restraints and opportunities. In addition, the report incorporates a separate section highlighting key trends analysis of the overall VOC recovery and abatement market.
In order to help the strategic decision makers, the report also includes profiles of the leading VOC recovery and abatement manufacturers, their business strategies and key developments. Some of the major players profiled in the report are The Linde Group, Anguil Environmental Systems, Inc., Climate Technologies Corp., DCL International Inc., Multi Fan Systems Limited, Praxair Technology, Inc., VOCZero Ltd., Wartsila Corporation, Bay Environmental Technology (Beijing) Co., Ltd, Air Products and Chemicals, Inc., Babcock & Wilcox MEGTEC LLC, TANN Corporation, Baker Furnace, Inc., CECO Environmental Corp, PETROGAS system Inc., Polaris s.r.l., Air Clear, LLC., Catalytic Products International, Inc., Epcon Industrial Systems LP, and Amcec Inc. Further, the report also covers market positioning of the key players operating in the VOC recovery and abatement market. The section further includes a brief analysis on key strategies adopted by the major players operating in the market. Other in-depth analysis provided in the report includes:
Current and future market trends to justify the forthcoming attractive markets within the VOC recovery and abatement market
Market driver, market impediments, and their impact on the market growth
In-depth competitive environment analysis
Trailing 2-Year market size data (2015 – 2016)
SRC (Segment-Region-Country) Analysis
Overall, the research study provides a holistic view of the global VOC recovery and abatement market, offering market size and estimates for the period from 2017 to 2025, keeping in mind the above mentioned factors.