Water pumps are one of the most important devices used for a wide variety of end-use applications. Over the years, the water pumps have evolved as simple water drawing devices for various applications including commercial and residential purposes. Some of the water pumps available in the market include variants of centrifugal pumps and positive displacement pumps. Centrifugal pumps are used for applications related to medium head and discharge. On account of rise in applications such as water pumps for the homes, commercial buildings, and agricultural purposes, the centrifugal pumps have experienced a higher growth till date. However, for high discharge, positive displacement pumps are extensively used for industrial applications. The water pumps are used in end-use applications which include residential purpose, municipal and waste water management, industrial sector, power, and energy sector and other auxiliary applications.
The water pumps market has been majorly driven by growth in the residential infrastructures and agricultural activities especially in growing economies such as China, India and Brazil, among others. Various factors such as need of more healthy and safe drinking water, water and energy conservation and growing industries have boosted the demand for new and improved water pumps. Thereby, the market has witnessed an increasing demand for new water pumps to cater to varied applications. As a result, the water pumps market has been witnessing an increasing demand for various types of centrifugal and positive displacement pumps. Moreover, with ongoing product development for more energy efficient pumps, the market is expected to witness significant growth during the forecast period from 2017 to 2025.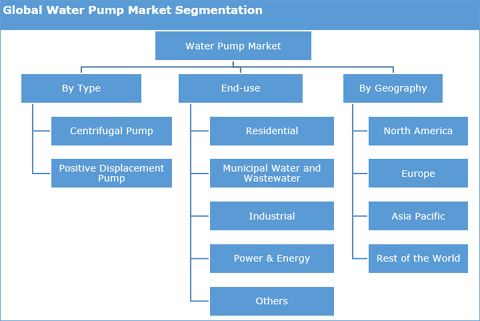 The report titled "Water Pump Market- Growth, Future Prospects and Competitive Landscape, 2017-2025" offers strategic insights into the global water pumps market with a focus on the market size and estimates for the duration 2015 to 2025. The said research study covers in-depth analysis of multiple market segments based on type, end-use and cross-sectional study across different geographies. The study covers the comparative analysis of different segments for the years 2016 & 2025. The report also provides a prolific view on market dynamics such as market drivers, restraints, and opportunities.
In order to help strategic decision makers, the report also includes competitive profiling of the leading water pumps manufacturers, their strategies, market positioning and key developments. Some of the major players profiled in the report include Flowserve Corporation, Sulzer Ltd., Ebara Corporation, Weir Group plc, Torishima Pump Mfg. Co., ITT Corporation, Gardner Denver, Inc., KSB Aktiengesellschaft, Kirloskar Brothers Limited, and Grundfos Holding A/S. Other in-depth analysis provided in the report includes:
Current and future market trends to justify the forthcoming attractive markets within the water pumps market.
Market fullers, market impediments, and their impact on the market growth
In-depth competitive environment analysis
Trailing 2-Year market size data (2015 – 2016)
Overall, the research study provides a holistic view of the global water pumps market, offering market size and estimates for the period from 2015 to 2025, keeping in mind the above-mentioned factors.