Growing focus of enterprise to enhance overall customer interaction experience is one of major drivers boosting growth of the WebRTC market. Also, widening application area of WebRTC solutions in BFSI and public sectors is driving the adoption of WebRTC enabled solutions and services. Further, increasing demand for real-time communication and increasing number of social networking and internet users is expected to support growth of the WebRTC market over the forecast period. However, lack of awareness among end-users regarding the benefits of WebRTC solutions and services is hampering growth of the market. Additionally, inefficient network infrastructure in developing regions is impeding adoption of the WebRTC solutions and services.

Report Scope
This report analyzes the global WebRTC market in terms of type, service, application, end-user vertical, and geography. The global WebRTC market has been segmented based on type into solution and service. On the basis of service, the global WebRTC market is segmented into consulting, implementation, integration and support. Based on application, the market is bifurcated into social networking, gaming, voice calling, video conferencing, and others. The end-user segment includes BFSI, public sector, healthcare, transportation, manufacturing, media & entertainment, IT & telecom, energy & utility, and retail. The global WebRTC market covers major geographies such as North America, Europe, Asia Pacific, and Rest of World.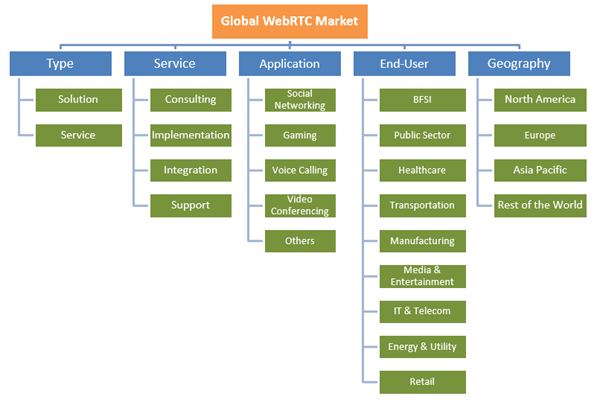 1.1 Report Description
Purpose of the Report
The purpose of this strategic research study titled "Global WebRTC Market - Growth, Share, Opportunities, and Competitive Analysis, 2016 – 2023" is to offer industry investors, company executives, and industry participants with in-depth insights to enable them make informed strategic decisions related to the opportunities in the global WebRTC market.
Target Audience
Industry Investors
WebRTC Solution Providers
WebRTC Service Providers
USP and Key Offerings
The report titled "Global WebRTC Market- Growth, Share, Opportunities, and Competitive Analysis, 2016 – 2023" offers strategic insights into the global WebRTC market along with the market size and estimates for the duration 2014 to 2023. The said research study covers in-depth analysis of multiple market segments based on type, solution, end-user, and cross-sectional study across different geographies. In order to help strategic decision makers, the report also includes competitive profiling of the leading WebRTC vendors, their SCOT (Strength, Challenges, Opportunities, and Threats) analysis, market positioning, and key developments. Other in-depth analysis provided in the report includes:
Current and future market trends to justify the forthcoming attractive markets within the WebRTC market
Market fuelers, market impediments, and their impact on the market growth
In-depth competitive environment analysis
Ecosystem Analysis
SRC (Segment-Region-Country) Analysis
Overall, the research study provides a holistic view of the global WebRTC market, offering market size and estimates for the period from 2014 to 2023, keeping in mind the above mentioned factors.