Composite are formed with two or more materials that when combined, produce a new material with superior qualities that are significantly different to those found in the individual base materials. Traditionally, materials such as metals, aluminum alloys, plastics and others were being used for manufacturing an aircraft's. However, owing to composite properties such as lightweight, low density, high toughness and rigidity, low carbon emission and so on, have replaced the traditional materials. Furthermore, the market giants such as Airbus and Boeing are also utilizing increasing amounts of composite materials for manufacturing. Military aircraft and fighter aircraft also make use of composite materials within their structures as this enables reduced drag, lower radar visibility and increased resistance to temperatures that are generated during high speed flight.
In terms of fiber type, in 2016, carbon fiber accounted for over 50% share of the global market in terms of revenue and projected to maintain their hold during the forecast period of 2017 to 2025, due to its enhanced operational efficiency and weight reduction. Carbon fiber is being followed by glass fiber. Glass fiber also has some properties which provides the desirable qualities such as high strength to weight ratio, cheaper material and insensitive to moisture and weather.
By resin type, epoxy resin accounted for the largest share in the global market, representing more than 60.0% share in 2016 in terms of revenue. The second largest market in terms of resin type is phenolic resin, which is expected to increase owing to its rising usage in the interior of the aircrafts. Phenolic resin possess some superior properties such as low toxic fume, flame resistance, and excellent static-dissipative.
Of the global aerospace composite market by application, in 2016, exterior application accounted for the largest share of around 59% in terms of value. It is also projected to grow at a highest CAGR during the forecast period of 2017 to 2025. Properties such as light weight, acoustic feature coupled with eco-friendly nature are driving the use of composite in exterior application.
In 2016, the aerospace composite market by region was dominated by the North America accounting around 34% of the market. North America was followed by the Europe and Asia Pacific. Asia-Pacific being the emerging market is projected to exhibit the second highest growth between 2017 and 2025. This growth is attributed to the emerging markets such as China, and Malaysia and the ongoing industrialization and investment.
With the rise in the use of composite in the aerospace industry players are focusing on providing customized and innovative solution to the giants such as Airbus and Boeing to gain the competitive edge. Some of the key players present in this market are Solvay group, Hexcel Corp., Teijin Limited, Huntsman, and DuPont among others.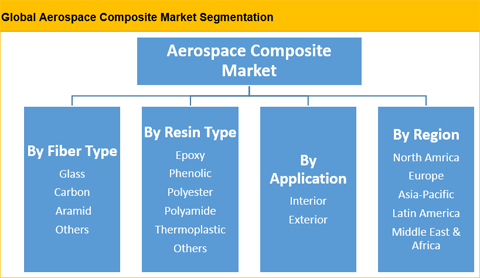 The report titled "Global Aerospace Composite Market - Growth, Future Prospects, and Competitive Analysis, 2017 – 2025" offers strategic insights into the global aerospace composite market along with the market size and estimates for the duration 2017 to 2025. The said research study covers in-depth analysis of multiple market segments based on fiber type, resin type, application and cross-sectional study across different geographies. The study covers the comparative analysis of different segments for the years 2016 & 2025. The report also provides a prolific view on market dynamics such as market drivers, restraints and opportunities.
In order to help the strategic decision makers, the report also includes profiles of the leading aerospace composites manufacturers, along with their, product portfolio and key developments. Other in-depth analysis provided in the report includes:
Current and future market trends to justify the forthcoming attractive markets within the aerospace composite industry
Market drivers, market impediments, and their impact on the market growth
In-depth competitive environment analysis
Trailing 2-Year market size data (2015 – 2016)
SRC (Segment-Region-Country) Analysis
Overall, the research study provides a holistic view of the global aerospace composite market, offering market size and estimates for the period from 2017 to 2025, keeping in mind the above mentioned factors.