"Ever-Increasing Air Traffic to Stimulate the Demand for Aircraft Sequencing Systems"
Aircraft sequencing systems market projected to witness the promising growth of 9.68% throughout the forecast period. Aircraft sequencing refers to joint sequencing and scheduling of arriving & departing of aircraft. Increasing air traffic demand as well as rising flight delays placed enormous stress on whole Air Traffic Management (ATM) system that costs passengers, airlines, and the overall economy several billions of dollars each year. Aircraft sequencing systems offer several benefits with optimizing critical bottleneck operations within the ATM related to departures, arrivals and runways. With growing air traffic and airport infrastructure development, aircraft sequencing systems market expected to surge with promising rate across the following years.
Market Synopsis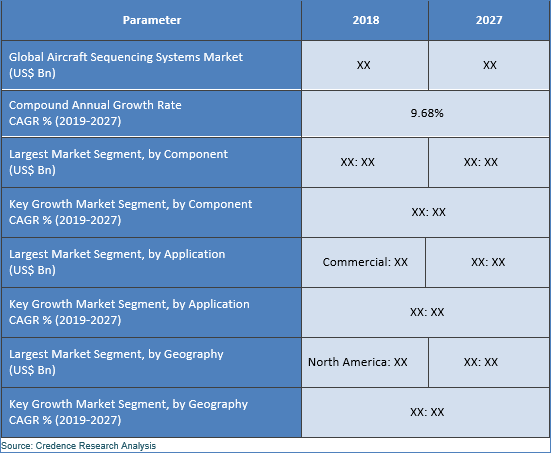 Get a sample copy for more information
"Commercial Application to Cement the Dominating Position in Aircraft Sequencing Systems Market"
Based on application, commercial segment contributed major share in the overall aircraft sequencing systems market in 2018. Worldwide consumer base for commercial aviation is increasing rapidly over the years. Such rising air passenger population ultimately paves for increasing air traffic. Similarly, commercial aircraft production is witnessing surge in demand with advanced aircraft along with better avionics, control systems, components (airframe, interiors, landing gear), and energy-efficient engines. Thus, the growing commercial air traffic expected to drive the aircraft sequencing systems market across the forecast period.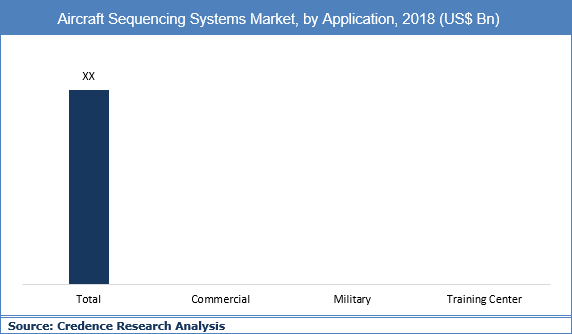 Get a sample copy for more information
"Emerging Markets' Share in Global Aircraft Sequencing Systems Market Continue to Rise with Steady Rate"
In 2018, Asia Pacific market witnessed the higher growth rate in terms of market value. Major contributors for the growth of Asia Pacific aircraft sequencing systems market is increased air traffic, both within ASEAN countries and on global routes. Robust growth in both international and domestic travel is expected with an order of approximately 13,000 new aircraft in the Asia-Pacific region. Asia Pacific region, economically, projected to show robust growth due to factors such as trade agreements at regional levels, increased accessibility of air services, and GDP growth. This would thus meet demand for rising corporate and tourist travelers from both domestic as well as international routes across the region. Countries such as India and China projected to stabilize the growth attained by North American countries.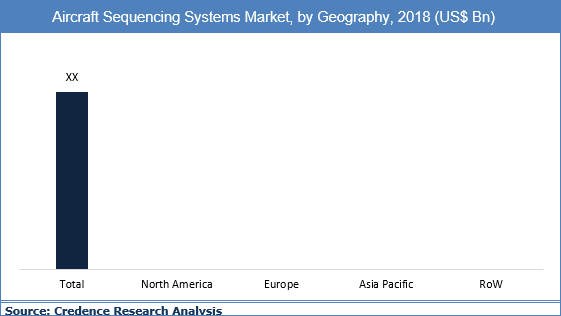 Get a sample copy for more information
Key players of global aircraft sequencing systems market include Eurocontrol, ATRiCS, Harris Corporation, ADB SAFEGATE, Amadeus IT Group, S.A., The Aerospace Corporation, Thales Group, Copperchase Ltd., Collins Aerospace, PASSUR Aerospace, Inc. and Airtospoft among others.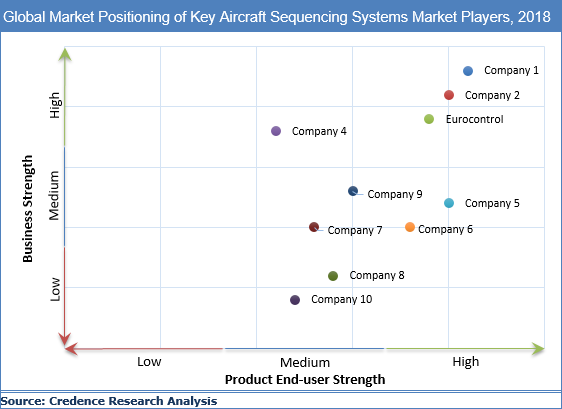 Historical & Forecast Period
This research report presents the analysis of each segment from 2017 to 2027 considering 2018 as the base year for the research. Compounded Annual Growth Rate (CAGR) for each respective segments calculated for the forecast period from 2019 to 2027.
Report Scope by Segments
Aircraft sequencing systems market report provides market size and estimates based on market dynamics and key trends observed in the industry. The report provides a holistic view of global aircraft sequencing systems market based on component type, application and geography. Key segments covered in the report are as follows:
ATTRIBUTE
DETAILS
Research Period
2017-2027
Base Year
2018
Forecast Period
2019-2027
Historical Year
2017
Unit
USD Billion
Segmentation

Aircraft Sequencing Systems Component type (2017–2027; US$ Bn)
• Software
• Services

Application Type (2017–2027; US$ Bn)
• Commercial
• Military
• Training Center

Geography Segment (2017–2027; US$ Bn)
• North America (U.S., Rest of North America)
• Europe (U.K., France, Germany, Rest of Europe)
• Asia Pacific (Japan, China, India, Rest of APAC)
• Rest of the World (Latin America, Middle East & Africa)
Key questions answered in this report
What was the market size of aircraft sequencing system in 2018 and forecast up to 2027?
Which is largest regional market for aircraft sequencing system?
What are the key market trends observed in the aircraft sequencing systems market?
Which are the most promising component type and application in aircraft sequencing systems market?
Who are the key players leading the market?
What are the key strategies adopted by the leading players in market?
What are the key technology trends in aircraft sequencing system across different geographies and sub-geographies?