Industry Outlook
The overall growth of animal genetics market is attributed to the growing demand for meat products, need for breeding disease resistant animals due to increasing demand for non-antibiotic produce, increasing outbreaks of diseases in farm animals and so on. Growing awareness in the consumers with respects to the hazards associated with antibiotic usage, and its ban in prominent European countries is also facilitating key trends in the market. With selective breeding, animals are born with best traits and create population with robust performance. Animal genetics assist in producing animals with the best possible genetic traits. For example, a genetically modified swine shall produce more meat which shall also have high protein content. Animal genetic testing in bovine species may produce cattle yielding more milk, less prone to diseases, etc. This potential of animal genetics has been recognized with evidence and thus support the market growth. Growing demand for healthy animal-derived protein, consistent growth in the global population, and growing disposable incomes are drivers of the global animal genetics market. Conversely, lack of skilled personnel may hold back the market growth.
Market Synopsis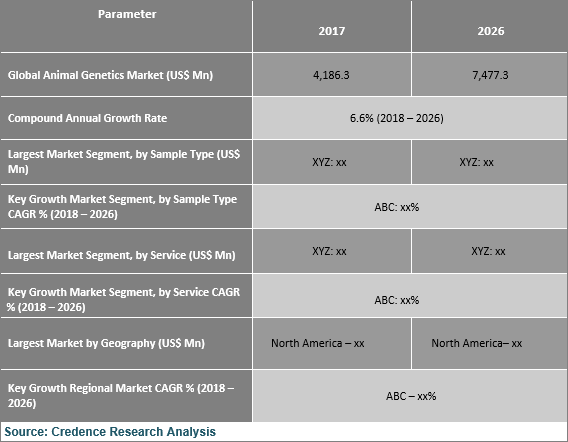 Get a sample copy for more information
"Bovine species holds dominance across all sample types"
Based on the sample types, the global animal genetics market is classified into live animals and genetic material. Genetic improvement in bovine animals has been among the largest areas in animal genetics. Traditional genetic improvement processes in cattle have been limited due to time required along with heavy expenses incurred along with the expenses associated with progeny test paradigm. Recent evolution in the field of genomic selection programs with single nucleotide polymorphism genotypes shall increase the pace of genetic gain through reducing the genetic intervals, while increasing the reliability of the breeding value. Introduction of genetic studies and evaluations in bovine husbandry has turned out to be beneficial in several ways. This has resulted in breeding disease resistant animals, there has also been augmented yield in the form of milk, and protein rich meat, while also helped in determining the best possible genetic traits while preserving the other pool.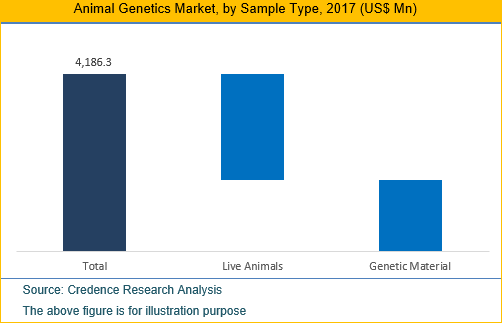 Get a sample copy for more information
"The demand for veterinary genetic disease testing to progress at swift pace"
Based on service types, the global animal genetics market is classified into DNA typing, genetic trait tests and genetic disease tests. Among these, DNA typing application shall mainly have research application throughout the forecast period. However, genetic disease testing shall be observed to be a rapidly growing application in the field of veterinary genetics. The growing global population, has urged the need for better food yield. This has resulted in rearing healthier poultry and cattle that shall be free from both communicable and non-communicable diseases. Though communicable diseases in limits can be efficiently monitored, non-communicable disease conditions require constant and detailed monitoring. Use of genetic testing in predetermining the risk of genetic diseases therefore can be an efficient tool not just for targeting the vulnerable animals, but also in pre-deciding the more of action for treatment.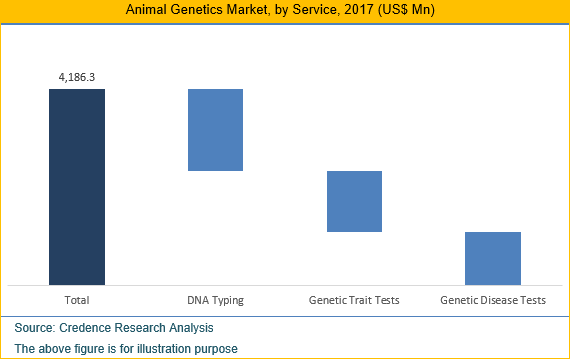 Get a sample copy for more information
"North America and Europe to remain the largest market for animal genetics and its further applications"
The veterinary market in North America and Europe have already reached stability, with a majority of the novel technologies, products and solutions being first introduced in these regions. The regions also house some of the largest players in this field. Greater awareness, higher research funding, and availability of skilled researchers and workforce are the key factors supporting their dominance. Furthermore, Western Europe and Europe also have well-structured regulatory and research environment, supporting rapid commercialization of novel genetic testing solutions. Asia Pacific due to increased CRO activities shall be witnessing rapid growth during the forecast period.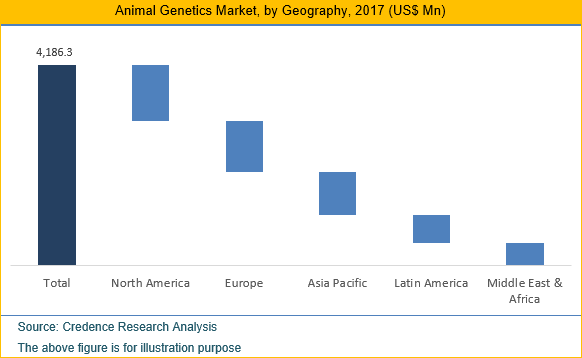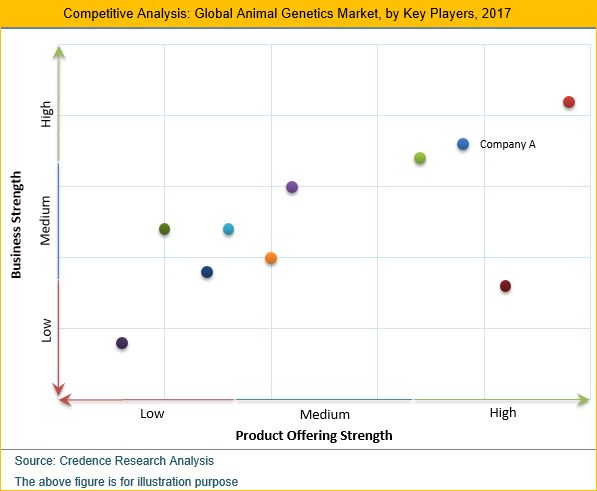 Historical & Forecast Period
This research report presents the analysis of each considered segment for the period from 2016 to 2026, having 2017 as the base year for estimations. Compounded annual growth rates (CAGRs) for each segment are calculated for the forecast period from 2018 to 2026.
Report Scope by Segments
The animal genetics market report provides quantitative assessment of the industry terms of current and forecasted market size, while also presenting the market dynamics. This market is segmented based on types, and geography.
ATTRIBUTE
DETAILS
Research Period
2017-2027
Base Year
2018
Forecast Period
2019-2027
Historical Year
2017
Unit
USD Million
Segmentation

By Sample Type (2016–2026; US$ Mn)
• Live Animals
o Avian
o Bovine
o Porcine
o Equine
o Canine
o Others
• Genetic Material
o Embryo
 Bovine
 Equine
 Others
o Semen
 Bovine
 Canine
 Porcine
 Equine
 Others
o Others

By Service (2016–2026; US$ Mn)
• DNA Typing
• Genetic Trait Tests
• Genetic Disease Tests

Geography Segment (2016–2026; US$ Mn)
• North America (U.S., Canada)
• Europe (U.K., Germany, France, Rest of Europe)
• Asia Pacific (China, Japan, Australia, Rest of APAC)
• Latin America (Brazil, Mexico, Rest of Latin America)
• Middle East and Africa (GCC, South Africa, Rest of Middle East and Africa)
This report also includes company profiles section that gives insights on the company overview, product portfolio, financial information and key developments of major market players. The major players profiled in this report include Zoetis, Inc., Animal Genetics, Inc., Hendrix Genetics, Grimaud Groupe, CRV Holding B.V., Envigo (Harlan Laboratories, Inc.), EW Group GmbH, Genus PLC, Neogen Corporation, Vetgen, and Topigs Norsvin.
Key questions answered in this report
What is the historic and future market size of the global animal genetics market during the period 2016-2026?
What if the estimation of the growth rate of this market during the forecast period 2018-2026
Which sample type is the most used for genetic testing in veterinary applications?
Which are the key tests that are mostly performed in veterinary application?
Which are the major strategies adopted by the market players?
Based on the regional demarcation, will Asia Pacific surpass the domination of North America within the forecast period?