Artificial intelligence is a branch of science and technology which deals with the process of making machines and related processes smart with the help of intelligent computer programming. The prime purpose of artificial intelligence is to create an expert system capable of exhibiting intelligent behaviors such as learning, demonstrate and implementation. Machines enabled with artificial intelligence are capable of performing tasks efficiently under different circumstances with understanding, learning and thinking abilities similar to human beings. Artificial intelligence enables organizations to improve the performance of already installed systems with simple modifications in their pre-existing infrastructure. The overall efficiency of the process is raised significantly with minimum or no dependability on human judgments and supervision.
Artificial intelligence has been adopted by a variety of end-use industry verticals such as manufacturing and processing, BFSI, oil and gas, healthcare, agriculture, automotive and retail, among others. Manufacturing and healthcare industries were one of the first end-use industries which benefited significantly due to the adoption of artificial intelligence. The proliferation of artificial intelligence in the aforementioned industries has aided organizations to achieve optimum working capabilities through complete utilization of resources. In addition, many established players such as Google, IBM and Microsoft Cooperation, among others have been making heavy investments in order to develop the whole array of technologies falling under artificial intelligence category. Major international companies have invested approximately US$ 30 Bn towards the development and promotion of artificial intelligence in the year 2016. With increasing number of companies engaged in the development of artificial intelligence and rise in the demand for technology by different end-use industry verticals, the overall artificial intelligence market is expected to demonstrate significant growth in the following years.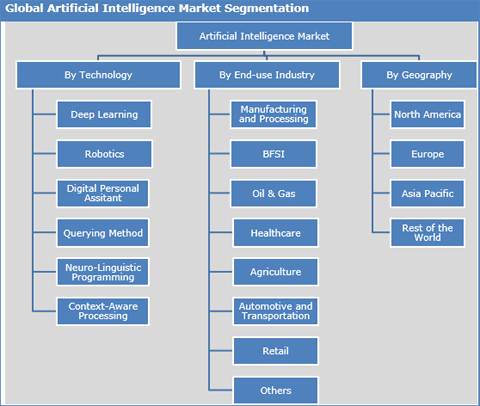 The report titled "Artificial Intelligence Market- Growth, Future Prospects and Competitive Landscape, 2017-2025" offers strategic insights into the global artificial intelligence market with a focus on the market size and estimates for the duration 2015 to 2025. The said research study covers in-depth analysis of market segments based on technology, end-use industry and cross-sectional study across different geographies. The study covers the comparative analysis of each sub-segment for the years 2016-2025. The report also provides a prolific view on market dynamics such as market drivers, restraints, and opportunities.
In order to help strategic decision makers, the report also includes competitive profiling of the leading artificial intelligence developers, their strategies, market positioning and key developments. Some of the major players profiled in the report include Google, Inc., IBM Corporation, Microsoft Corporation, Nvidia Corporation, Intel Corporation, General Vision, Inc., Numenta, Inc., Sentient Technologies Holdings Ltd., Fingenius Limited, Inbenta Technologies, Inc.
Other in-depth analysis provided in the report includes:
Current and future market trends to justify the forthcoming attractive markets within the artificial intelligence industry
Market fuelers, market impediments, and their impact on the market growth
Market inclination insights and key trend analysis for artificial intelligence market
In-depth competitive environment analysis
Trailing 2-Year market size data (2015 – 2016)
Overall, the research study provides a holistic view of the global artificial intelligence market, offering market size and estimates for the period from 2017 to 2025, keeping in mind the above-mentioned factors.