"Increasing Application of Artificial Turfs across Businesses, Homes, Golf Courses, Public Spaces and Municipalities Aiding the Artificial Turf Market Growth"
The artificial turf market stood at US$ 3.25 Bn in 2017 and expected to reach US$ 8.56 Bn in 2026 growing at a CAGR of 10.5% during the forecast period from 2017 to 2026. Artificial turfs are replacing natural turfs across the world everywhere from Olympic stadiums and professional league arenas to grade school sports fields. Artificial turfs resemble natural grass surfaces and offer various benefits such as all-weather utility, versatility & preparation and low maintenance among others. As artificial turfs are recyclable, require less water, and reduce the use of pesticides & fertilizers, they have a low impact on the environment. As a result of these factors, artificial turfs are finding increased application across businesses, homes, golf courses, public spaces and municipalities. Moreover, these turfs provide a lush, attractive landscape solution and at the same time requires minimal resources and maintenance while saving millions of gallons of water each year. The demand for artificial turfs from developing and emerging economies expected to be on the high owing to increasing disposable income of the people. This factor will positively influence the use of artificial turfs for landscaping purposes. Therefore, there lies healthy growth opportunities for the artificial turf market to flourish in the coming years.
Market Synopsis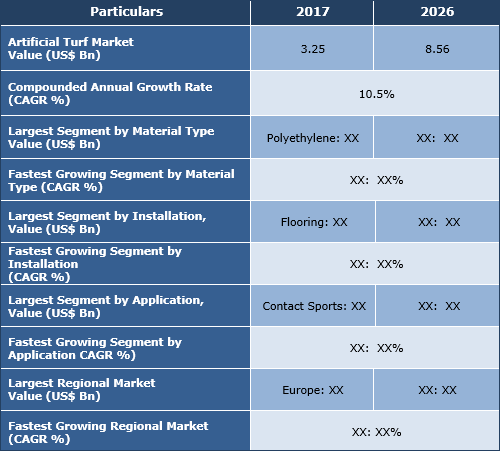 Get a sample copy for more information
"Polyethylene Segment stood as the Largest Material Segment in 2017"
In terms of material type, the polyethylene segment accounted for the largest share in 2017. Globally, it the most preferred choice of turf material as a result of various factors such as softness, durability and resiliency. However, the polyamides segment expected to witness a high growth rate during the forecast period. Factors such as high melting point, long color holding capacity and excellent wear resistance are some of the important factors that will support the growth of the segment.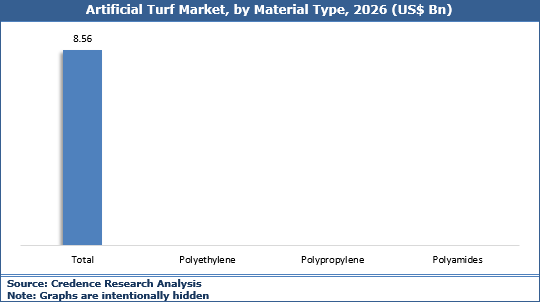 Get a sample copy for more information
"Asia Pacific to Remain the Most Lucrative Market for Investment for Artificial Turf Manufacturers"
Europe stood as the largest market for artificial turf in 2017. Factors such as the presence of a large number of sports stadiums and many leading artificial turf manufacturers headquartered in the region compliments the market growth in Europe. Some of the leading artificial turf manufacturers headquartered in Europe includes, SportGroup, Tarkett, Victoria PLC and SIS Pitches among others. However, Asia Pacific expected to emerge as the fastest growing segment in coming years. Rapid urbanization, high investment in infrastructure and growing number of commercial playground surfaces in the region expected to drive the artificial turf market in the region.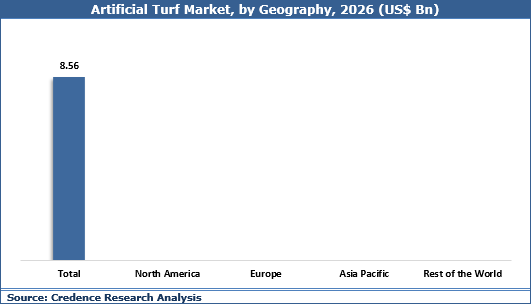 Get a sample copy for more information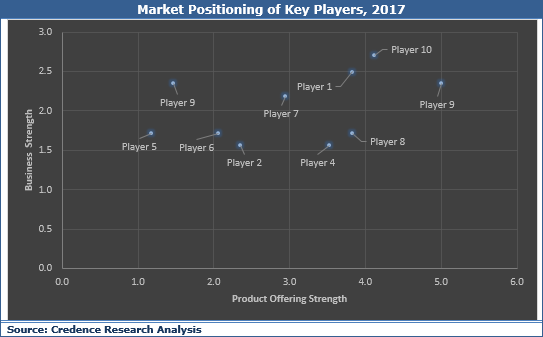 Report Scope by Segments
The report elucidates the detailed outline of global artificial turf market by categorizing the market in terms of material type, installation, application, and geography.
ATTRIBUTE
DETAILS
Research Period
2016-2026
Base Year
2017
Forecast Period
2018-2026
Historical Year
2016
Unit
USD Billion
Segmentation

Material Type (2016–2026; US$ Bn)
• Polyethylene
• Polypropylene
• Polyamides (Nylon)

Installation (2016–2026; US$ Bn)
• Wall Cladding
• Flooring

Application (2016–2026; US$ Bn)
• Contact Sports
• Non-contact Sports
• Leisure and Landscaping

Geography Segment (2017–2027; US$ Bn)
• North America (U.S. and Canada)
• Europe (U.K., Germany, France, and Rest of Europe)
• Asia Pacific (Japan, China, India, and Rest of Asia Pacific)
• Rest of World (Middle East & Africa (MEA), Latin America)
Key players profiled in the report include Tarkett, Dowdupont, Shaw Industries, Victoria PLC, Sport Group, ACT Global, SIS Pitches, Tigerturf, Matrix Turf, Soccer Grass and Nurteks Hali among others.
Key questions answered in this report
What was the global artificial turf market size in 2017 and forecast for 2026?
What are the current trends in the artificial turf market?
What are the various valuable opportunities for the players in the market?
Which is the largest regional market for artificial turf market?
Which region expected to be the fastest growing and why?
What are the future prospects for the artificial turf market?
What are the major drivers and restraints influencing the market growth?
What are the new innovations by the leading players?
What are the key strategies adopted by the leading players in market?