Bathroom cabinets has undergone substantial design and technological advancement over the past few decades resulting in impressive styling and remodeling demand. The global bathroom cabinets market is experiencing a substantial growth due to rise in housing development projects, which demands high end household amenities. Especially in the countries such as China and India, due to growing real estate market, the market for bathroom cabinets is gaining momentum. Moreover, bathroom renovations and remodeling are trending in the market due to growing consumer interest in bathroom décor and rising disposable income of the people. Surge in demand for customized countertop materials such as engineered stone, lava stone, granite, marble, etc. owing to wide range of pattern, price affordability and accountability of these products in bathroom application is expected to spur market growth through the forecast period.
On the basis of material type, the global bathroom cabinets market is segmented into wood, ceramics, metal, glass and stone material. In terms of revenue contribution, wood segment accounted for major share of global bathroom cabinets market. It accounted for 41.89% market share in 2016. However, stone segment is anticipated to witness the highest CAGR of 7.1% during the forecast period (2017-2025).
On the basis of application, the global bathroom cabinets market is segmented into residential and non-residential application. In terms of revenue contribution, residential application accounted for major share of bathroom cabinets market. In 2016, segment accounted for 71.23% of global bathroom cabinets market. Bathroom cabinets demand from residential application has increased significantly over past few years due to rising demand from new house constructions and renovations of old properties.
For the purpose of this study, the global bathroom cabinet market is categorized into North America, Europe, Asia Pacific, Latin America and Middle East & Africa. In 2016, Asia Pacific was observed as the largest market for bathroom cabinets. This growth is attributed to the growing demand from developing economies such as China and India due to surging real-estate industry and developing infrastructure facilities in these countries. Asia Pacific region contributed to 36.33% revenue share in 2016. The region is anticipated to witness highest growth rate over the forecast period.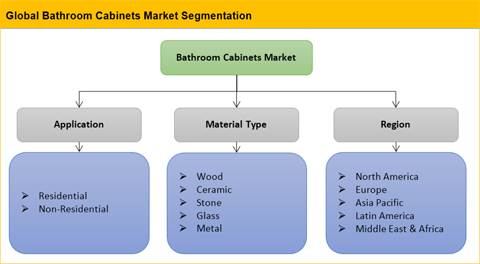 The report titled "Global Bathroom Cabinets Market - Growth, Future Prospects, and Competitive Analysis, 2017 – 2025" offers strategic insights into the global bathroom cabinets market along with the market size and estimates for the duration 2015 to 2025. The said research study covers in-depth analysis of multiple market segments based on material type, application and cross-sectional study across different geographies. The study covers the comparative analysis of different segments for the years 2016 & 2025. The report also provides a prolific view on market dynamics such as market drivers, restraints and opportunities.
In order to help the strategic decision makers, the report also includes profiles of the leading bathroom cabinets' manufacturers, along with their, product portfolio and key developments. Other in-depth analysis provided in the report includes:
Current and future market trends to justify the forthcoming attractive markets within the bathroom cabinets' industry
Market fuelers, market impediments, and their impact on the market growth
In-depth competitive environment analysis
Trailing 2-Year market size data (2015 – 2016)
SRC (Segment-Region-Country) Analysis
Overall, the research study provides a holistic view of the global bathroom cabinets' market, offering market size and estimates for the period from 2017 to 2025, keeping in mind the above mentioned factors.