Industry Outlook
The global blood-brain barrier market projected to reach US$ 5,704.2 Mn by 2026 from US$ 696.4 Mn in 2017, growing at a CAGR of 25.0% during the forecast period from 2018 to 2026. The blood-brain barrier (BBB) prevents free flow of elements from circulatory system to the cerebrospinal fluid (CSF) or brain with specific exchange of elements regulated by blood-brain barrier and blood-CSF barrier. They key components of BBB are endothelial cells, capillary basement membrane, astrocytes, and pericytes. Physiologically water, CO2, oxygen and lipid soluble molecules are capable of travelling across the blood-brain barrier; adenosine triphosphate (ATP) produced by mitochondria carries out the active transport.
Market Synopsis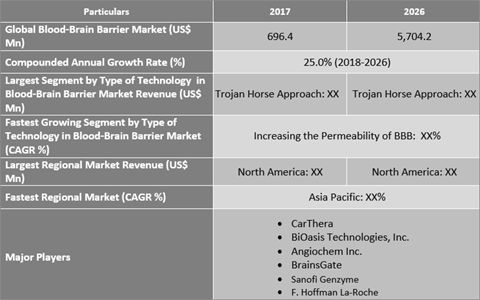 Alzheimer's & Parkinson Diseases are the most prevalent diseases assisting the growth of blood-brain barrier market
In year 2016, epilepsy, Alzheimer's and Parkinson's disease dominated the market with more than 50% of the market share collectively owing to increasing prevalence of these diseases, introduction of novel diagnostic technology for these diseases, and rising awareness programs organized by governmental and non-governmental organizations is assisting the growth of diagnostic market of these diseases. In addition, increasing geriatric population and rising prevalence of lifestyle-specific CNS disorders are assisting the growth of global demand for blood-brain barrier technologies. According to Sanofi S.A., Epilepsy is the most common neurological disorder affecting about 20-50 million people worldwide. The disease is more frequent in children than in adults, the highest incidence being in the neonatal period of life, and then declining markedly before rising in the old age. During the forecast period 2018 to 2026, Asia Pacific identified as the fastest growing blood-brain barrier market due to major driving factors such as mounting prevalence and incidence of diseases affecting central nervous system in geriatric population.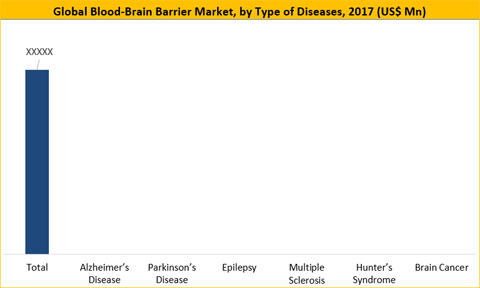 Technological advancements and rising accessibility to modern technology in developing countries of Asia Pacific is driving the market growth
In base year 2016, North America accounted for the largest share in global blood-brain barrier market due to key driving factors such as rising prevalence of neurological diseases, supportive reimbursement policies, high awareness related to early neurological disease diagnosis and treatment, and incessant developments in the field of blood-brain barrier technologies research and development. According to a research report, an estimated 5.4 million Americans have Alzheimer's disease and today someone in America develops Alzheimer's disease every 68 seconds. By 2050, it is expected that one new case of Alzheimer's disease will be diagnosed for every 33 seconds, or nearly a million new cases per year, and Alzheimer's disease global prevalence is projected to reach 16 million. During the forecast period 2018 to 2026, Asia Pacific was identified as the fastest growing BBB market due to key driving factors such as increasing prevalence of CNS disorders, rapidly evolving healthcare infrastructure, and rising awareness associated with neurological diseases. Thus, increasing awareness is fueling the rate of diagnosis, and mounting accessibility of patients to modern treatment solutions especially observed in developing countries of this region.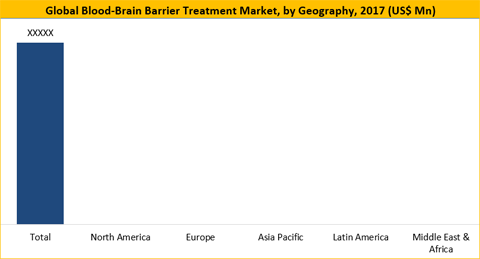 Blood-brain barrier technologies are developing rapidly and its pipeline is very strong
The blood-brain barrier comprises technologies as follows:
SonoCloud – (Phase I/IIa)
MRI-guided laser ablation + Doxorubicin + Etoposide + Dynamic contrast-enhanced (DCE) MRI – (Phase I)
P03277 + Gadobenate dimeglumine + MRI – (Phase II Completed)
Carboplatin + Mannitol + Melphalan + Sodium Thiosulfate – (Phase I/II)
Intra-arterial Cerebral Infusion of Trastuzumab (Phase I)
25% Mannitol + Low-dose Intra-arterial Bevacizumab – (Phase II)
The most promising products in this list are SonoCloud, and P03277 + Gadobenate dimeglumine, SonoCloud is owned by CARTHERA, and Guerbet owns P03277 + Gadobenate dimeglumine.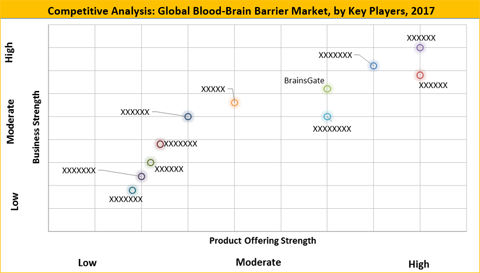 Historical & Forecast Period
2016 – Historical Year
2017 – Base Year
2018-2026 – Forecast Period
The blood-brain barrier market analyzed considering current market trends for base year 2017 and based on future trends CAGRs calculated for the forecast period from 2018 to 2026.
Report Scope by Segments
This report on blood-brain barrier market offers in-depth information related to market dynamics and global trends. The report provides comprehensive summary of the global blood-brain barrier market by segmenting the market based on type of technology and geography. The objective of publishing this in-depth research report is to assist the industry stakeholders in carrying-out decisions and strategy implementation in the blood-brain barrier market.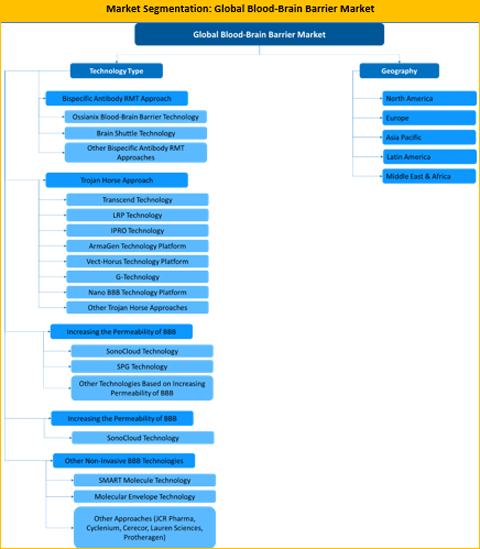 Technology Type Segment (2016–2026; US$ Mn)
Bispecific Antibody RMT Approach

Ossianix Blood-Brain Barrier Technology (Ossianix)
Brain Shuttle Technology (Roche)
Other Bispecific Antibodies Based Technologies

Trojan Horse Approach

Transcend Technology (biOasis)
LRP Technology (Angiochem)
IPRO Technology (Iproteos)
ArmaGen Technology Platform (ArmaGen)
Vect-Horus Technology Platform (Vect-Horus)
G-Technology (BBB Therapeutics)
Nano BBB Technology Platform (Sagetis Biotech)
Other Technologies Based on Trojan Horse Approach

Increasing the Permeability of BBB

SonoCloud Technology (CarThera)
SPG Technology (BrainsGate)
Other Technologies Based on Increasing Permeability of BBB

Passive Diffusion
Other Non-Invasive BBB Technologies

SMART Molecule Technology (ICBI)
Molecular Envelope Technology (Nanomerics)

Other Approaches (JCR Pharma, Cyclenium, Cerecor, Lauren Sciences, Protheragen)
Geography Segment (2016–2026; US$ Mn)
North America

Europe


United Kingdom
Germany
Rest of Europe

Asia Pacific (APAC)

Latin America (LATAM)


Brazil
Mexico
Rest of LATAM

Middle East and Africa (MEA)

This report further describes the major qualitative assessment factors including key market trends, market drivers & restraints, to assist in better understanding of global blood-brain barrier market. Furthermore, the key players analyzed graphically based on their product offering, market strategies and business strength. The report also provides attractive investment proposition based on the extensive geographical research carried out based on PESTEL analysis. Key players profiled in the report include Allon Therapeutics, Inc., Angiochem Inc., Armagen Technologies, Inc., BrainsGate, Bristol-Myers Squibb, BiOasis Technologies, Inc., Sanofi Genzyme, CarThera, Cephalon Inc., F. Hoffman La-Roche, Janssen Pharmaceutica NV, and others.
Key questions answered in this report
Which are the key blood-brain barrier technologies?
Which pipeline products are most promising in the near future and expected to be launch by 2026?
What are the current market trends in the blood-brain barrier industry and evolving growth opportunities for the companies operating in this market?
Which are the most attractive countries in Asia Pacific and other developing regions?
North America blood-brain barrier market size and effect of latest technologies and upcoming technologies in this market?