Industry Outlook
Body oils market projected to grow at a CAGR of 4.2% during the forecast period from 2018 to 2026. In 2017, Asia Pacific held the leading market share in terms of revenue. Body oils function as an emollient and an occlusive thus preventing cell cohesion and transepidermal water loss. It has essential ingredients such as vitamins, fatty acids, antioxidants, and polyphenols among others.
There is a continuous spending on beauty care products among the consumers across globe. Within the cosmetic products, skin care dominated the market. Awareness towards having healthy skin is driving the demand for different types of body oil. Body oils are important substitutes of body lotions that are applied on the skin and has several benefits such as maximizing the amount of moisture content, cleansing, and exfoliating the skin. In addition to this, body oils is beneficial for muscle pain, which is prevalent at different ages. Modern medicines prescribed often results in side effects such as stomach irritation and drowsiness among others. Treatment of the muscle pain with essential body oils acts as an alternative medicine and provides relief, relaxation and blood circulations.
Increasing number of spas and wellness centers across the globe is a major factor driving the demand for global body oils market. Rise in the wages of people experiences conflicting pulls regarding decisions of work and leisure. However, hectic schedules demand relaxation and there is an increasing trend to visit spa and wellness centers among the consumers. Additionally, preferences for organic products is another factor boosting the demand for the body oils. Consumers seek natural ingredients instead of the artificial ones thus influencing the manufacturers to focus upon product innovation and new product launch. In 2018, Just Herbs launched virgin coconut oil, which is 100% natural and the product has natural antifungal, antibacterial and antiviral compounds that protects the skin from skin infections.
However high cost of production of body oils possess a major restrain to the market. The processes such as cold pressing of oils is expensive as they are processed without chemical extraction thus maintaining high nutrient value.
Market Snapshot: Global Body Oils Market Value
Get a sample copy for more information
"Wet Oils Captured the Major Chunk of the Body Oils Market in 2017"
In 2017, wet oils segment accounted for the largest in terms of value share of over 30% and expected to maintain its dominance during the forecast period although the market share for the products is expected to decline on account of increased shift towards usage of dry oils. Wide availability of wet oils across various retail chains results in high purchase of wet oils. Under the wet oils segment, almond and coconut oils are widely used by consumers across the globe. Almond oils consists of hypoallergenic properties that are beneficial for sensitive skin. In addition to this, the oils is rich in vitamin E and combats harmful ultra violet rays and stress from hectic work schedules. On the other hand, coconut oils has natural antibacterial and antifungal properties and acts as a moisturizer for the skin.
Dry oils segment identified as the fastest growing segment during the forecast period. These oils easily absorbed within the skin and are high in polyunsaturated acids.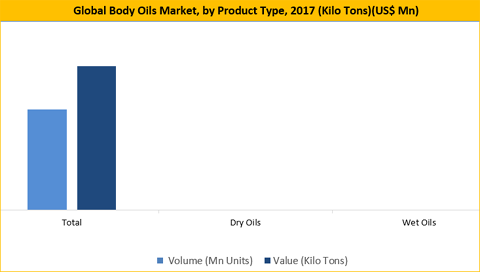 Get a sample copy for more information
"Easy Accessibility and Availability across all Distribution Channels Triggering the Overall Market Growth"
Hypermarket and supermarket captured the largest market share by distribution channel in 2017, followed by specialty stores and online channel. Efficient advertisement, point of sale displays, wide array of products propels the impulse of buying among the customers. In developing economies, manufactures of body oil are focusing on selling products through supermarket and hypermarket in order to grab more number of customers, which in turn expected to trigger the growth of this segment during the forecast period. Online channel expected to witness fastest growth during the forecast period. E-commerce platforms enables the customers to explore best products while at home without visiting the shop physically to buy the same products. Therefore, convenience factor of consumer expected to increase the growth of online channel segment during the forecast period. Recent trends show that the companies are focusing on expansion of the e-commerce platforms as part of their strategy in order to increase the revenue of body oil products as it reduces their maintenance cost of the stores.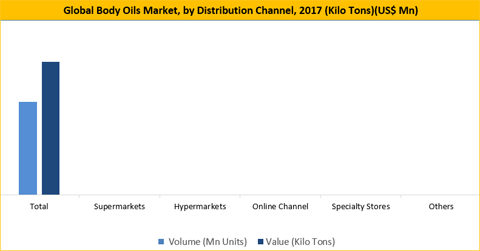 Get a sample copy for more information
"Increasing Number of Spas and Wellness Center across the Globe is to propel the Growth of Body Oils"
Spa and wellness centre captured the largest market share by end-use application in 2017, followed by personal use and medical therapeutics. Rise in services such as body massages triggering the demand for body oils among the consumers. With the rising consumer demand and their discretionary spending, personalized services, spas are focussing upon strengthening their brand positioning in order to support premium prices.
Personal use segment expected to witness the fastest growth during the forecast period. High prices in spas often refrains the consumers to visit on regular basis. They prefer home spas and massages as they are more affordable compared to professional treatment.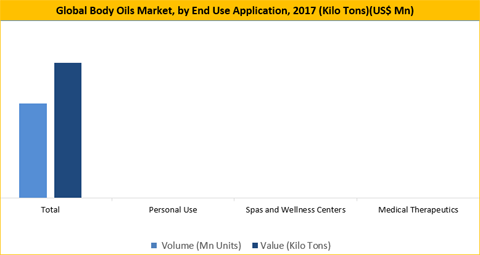 "Rising Disposable Income and Huge Population Base in Asia-Pacific, Making it the leading Region for Body Oil Products"
Asia Pacific region accounted for the largest share in global body oils market and projected to witness promising growth during the forecast period from 2018 to 2026. Increasing demand for body oils products from millennial, rising awareness related to health, rising discretionary spending & living standard, and growing population are some of the factors propelling the growth of body oils in the region. Presence of leading brands such as Unilever, Patanjali, Himalaya, Sephora Singapore, etc. coupled with rising distribution channel in counties such as Japan, India Singapore, etc. also contributing to the growth of body oils market in the region.
Europe and North America followed Asia Pacific region in 2017. Shift in consumer preference towards environment friendly and natural products is triggering the demand for body oils. Penetration of premium products, strong awareness pertaining to the health problems, and constant introduction of personalised variant products by the companies are other factors driving the demand for body oils.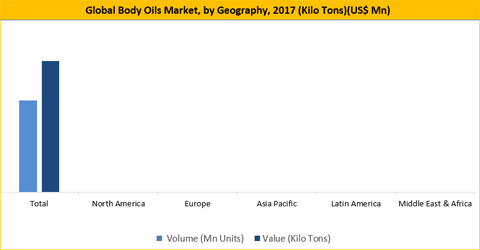 "New Product Development is the Key Strategy by the Global Players"
Body oils market characterized by intense competition among the manufacturers. The growth of the market mainly attributed to new product launches, supported by promotional activities, and advertisements carried out by major manufacturers. Trend shows that manufacturers are striving to introduce multi-benefit value-added products in order to grab more number of customers across the globe. Some of the major players operating in the body oils market are Avon Products Inc.,Aveda Corporation,Bath & Body Works,Clarins Group, Dessert Essence,E.T. Brown Drug, Suki Skincare, Nutregena Company among others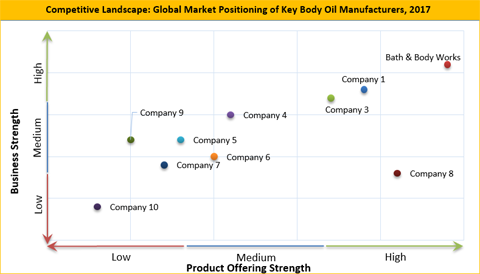 Historical & Forecast Period
Our study analyzed each market segment during the period of 2016 to 2026 with 2017 as the base year. Forecast period between 2018 and 2026 considered for the CAGR calculation.
Report Scope
The report enlightens the thorough outline of global body oils market by categorizing the market in different segments given below:
ATTRIBUTE
DETAILS
Research Period
2016-2026
Base Year
2017
Forecast Period
2018-2026
Historical Year
2016
Unit
USD Million
Segmentation

By Product Type (2016–2026; Kilo Tons, US$ Mn)
• Dry Oils
o Rosehip Seed Oil
o Evening Primrose Oil
o Sesame Oil
o Grape Seed Oil
o Others (safflower, camelina, etc.)
• Wet Oils
o Coconut Oil
o Almond Oil
o Jojoba Oil
o Hemp Oil
o Others (neem, castor, etc.)

By Distribution Channel (2016–2026; Kilo Tons, US$ Mn)
• Supermarkets
• Hypermarkets
• Online Channel
• Specialty Stores
• Others (convenience stores, unorganized stores, etc.)

By End-use Application (2016–2026; Kilo Tons, US$ Mn)
• Spa & Wellness Centers
• Personal Use
• Medical Therapeutics

Geography Segment (2016–2026; Kilo Tons, US$ Mn)
• North America (United States and Canada)
• Europe (U.K., Germany, France, Rest of Europe)
• Asia Pacific (China, Japan, India, Rest of Asia Pacific)
• Latin America (Brazil, Mexico, Rest of Latin America)
• Middle East and Africa (GCC, Rest of MEA)
This research report describes leading continents and their major countries, along with profiles of key players operating in overall market and their planned developments. Our report further defines the overall market dynamics such as drivers, challenges, and opportunities prevalent in the market to understand global body oils market more explicitly. Our in-depth quantitative and quantitative analysis of each segment up to country level highlights revenue pockets and investment opportunities in the market.
Key questions answered in this report
What are the current market trends in the body oils market and valuable opportunities for the players?
How the environmental regulations affect global as well as the regional markets?
Which is the most lucrative region for investment?
What is the market size and trends in emerging markets?
Which are the prime distribution channels for body oils across different geographies?
Which are the major product types of body oils and their market sizes?
Which are the leading players and their market positions?