Full body scanners are imaging equipment which can be used to detect, locate and identify any suspicious object hidden on or within a human body. In order to overcome the limitations of metal detectors, numerous security agencies have been making use of full body scanners to reveal harmful objects. Furthermore, the use of such scanners limits the requirement of physical pat downs and enables security authorities to detect any metallic or non-metallic object without physical contact with the person. Full body scanners are widely used in the developed nations especially, in the North America and Europe regions. Deployment of full body scanners at various airports, transportation terminals and other government and correctional facilities has led to enhanced security and reduced time required to frisk individuals.
Full body scanners primarily make use of two different technologies namely, millimeter wave and backscatter X-ray. The millimeter wave scanners project millimeter wave energy at the subjects and then analyze the resulting reflected energy. This type of body scanners have gained immense popularity in the recent years on account of higher degree of personal safety and privacy. The backscatter X-ray scanners make use of advanced X-ray imaging technology wherein the scanners detect radiation reflected from the subjects. Initially, the backscatter X-ray scanners had gained immense adoption in various airports across North America and Europe. However, on account of concerns pertaining to X-ray radiation and personal privacy, these types of scanners are no longer used for airport applications in most of the developed markets. Irrespective of the technologies, full body scanners have been subject to immense criticism for aspects such as physical harm, effectiveness and privacy, among others. However, with growing security concerns and rising vulnerabilities of various critical sites, the adoption of full body scanners is expected to grow in the following years.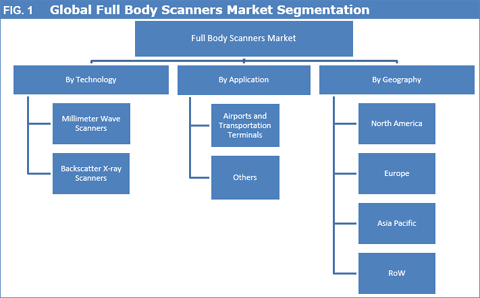 The report titled "Global Full Body Scanners Market- Growth, Future Prospects and Competitive Analysis, 2017 – 2025" offers strategic insights into the global full body scanners market along with the market size and estimates for the duration 2015 to 2025. The said research study covers in-depth analysis of multiple market segments based on technology, application and cross-sectional study across different geographies and sub-geographies. The study covers the comparative analysis of different segments for the years 2016 & 2025. The report also provides a prolific view on market dynamics such as market drivers, restraints and opportunities.
In order to help strategic decision makers, the report also includes competitive profiling of the leading providers of full body scanners, market positioning and key developments. Some of the major players profiled in the report are Smiths Group plc., Rapiscan Systems, Adani Systems, Inc., L3 Security & Detection Systems, Westminster International Ltd, Iscon Imaging, Millivision Technologies, OD Security, Nuctech Company Limited and Brijot Imaging Systems, Inc.
Other in-depth analysis provided in the report includes:
Current and future market trends to justify the forthcoming attractive markets within the body scanners industry
Market fuelers, market impediments, and their impact on the market growth
In-depth competitive environment analysis
Trailing 2-Year market size data (2015 – 2016)
Overall, the research study provides a holistic view of the global full body scanners market, offering market size and estimates for the period from 2017 to 2025, keeping in mind the above mentioned factors.
Related Reports:
Handheld Ultrasound Scanners Market